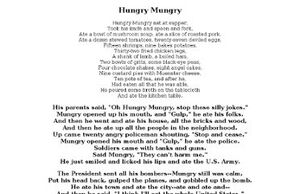 Hungry Mungry is the villain protagonist of Shel Silverstein's poem of the same name. He is known for eating everything in sight, whether it's dead or alive, natural or artificial, edible or inedible, etc. 
Original Poem 
Hungry Mungry sat at supper, 
Took his knife and spoon and fork,
Ate a bowl of mushroom soup, ate a slice of roasted pork, 
Ate a dozen stewed tomatoes and twenty-seven deviled eggs, 
Fifteen shrimps, nine baked potatoes, thirty-two fried chicken legs, 
A shank of lamb, a boiled ham,
Two bowls of grits, some black-eyed peas, 

Four chocolate cakes, eight angle cakes, nine custard pies with muenster cheese, 
Ten pots of tea, and after he had eaten all that he was able, 

He poured some broth on the tablecloth and ate the kitchen table. 
His parents said, "Oh Hungry Mungry, stop these silly jokes." 
Mungry opened up his mouth, and "Gulp," he ate his folks. 
Gallery
Images
Community content is available under
CC-BY-SA
unless otherwise noted.