Click To Help DIO!

DIO has declared that this article has stopped in time, and any and all information on it may be outdated.
Help improve this article by checking and updating it's info wherever necessary
And now time resumes!

✔
| | | |
| --- | --- | --- |
| " | Ah, but we both know our play isn't over, Bruce. And ultimately I will emerge as the hero of our bitter comedy. | " |
| | ~ Hush | |
| | | |
| --- | --- | --- |
| " | You've had your time on the altar. You've made this city into something that can work perfectly for you. I'm here to take it all away. Everything you've never deserved. | " |
| | ~ Hush. | |
Thomas "Tommy" Elliot, also known as Hush, is a villain from the Batman series. He and Bruce Wayne (Batman) were childhood friends, but they were also each others opposite. Hush became a villain at an early age, and managed to become a surgeon. He is the secondary antagonist and titular character of the Batman: Hush storyline.
Alternate Versions
Absolute Power
In an alternate timeline where Batman saved his parents while traveling back in time, Bruce Wayne and Tommy Elliott were still friends as adults.
Flashpoint
In the alternate timeline of the Flashpoint event, Hush is subsequently killed by Batman., 
Facts
Real Name: Thomas "Tommy" Elliot
Occupation: Surgeon
Base of Operations: Gotham City
Eyes: Brown
Hair: Reddish-brown
Height: 6 ft 3 in
Weight: 225 lb
First Appearance: Batman #609 (January 2003)
Attributes
Great physical strength, augmented by a hatred of Bruce Wayne
World-class surgeon, capable of extraordinary medical breakthroughs
Master of disguise
Determined to destroy Bruce Wayne
In Other Media
DC Universe Online
Hush appears in DC Universe Online, voiced by J. Shannon Weaver.
Lego Batman
Hush is a playable character in Lego Batman: The Video Game'. He can be unlocked after rescuing all the civilian hostages throughout the game. He uses two handguns as weapons and can build objects and shoot faster than other characters. When left idle, he raises his hand to his mouth and makes a "hush" expression. He is also unlockable through the "Villain Hunt" minigame in the Nintendo DS version.
Hush appears in Lego Batman 2: DC Super Heroes, voiced by Nolan North. He appears as a boss fight and an unlockable playable character.
Nolan North reprises his role as Hush in Lego Batman 3: Beyond Gotham.
Batman: Arkham series
Main article: Hush (Arkhamverse)
Hush made an appearance in the video game Batman: Arkham City during a side mission; he was another serial killer who has been killing people inside Arkham City by cutting off their faces in order to graft a replica of Bruce Wayne's face onto his own. He returns in a side activity in the 2015 sequel Batman: Arkham Knight
Like Batman, he was voiced by Kevin Conroy.
The Batman
Hush was originally going to be featured in a planned DTV set on the animated series The Batman, along with that universe's versions of Riddler, Catwoman, Joker, Clayface, Mr. Freeze, and Penguin. The project was later scrapped by DC and WB. There is some sketch art of Hush in Legions of Gotham. Hush was also going to be introduced in the episode "Rumors", written by Joseph Kuhr. DC didn't like the idea, and the villain Rumor (voiced by Ron Perlman) was created in his place.
Gotham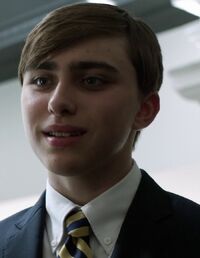 A young Tommy Elliot appears as a recurring character in the Fox television show Gotham, which acts as an origin series to characters appearing in the Batman franchise. He appears in the eighth episode of season 1 titled "The Mask" as a classmate and enemy of Bruce Wayne, although later becomes Bruce's friend in season 4.
When Bruce Wayne returns to his private school on the urging of his butler and guardian Alfred, he is approached by Tommy Elliot and a friend of Tommy's. Although Tommy acts well-meaning at first, he takes a sick fascination in the recent murders of Bruce Wayne's parents Thomas and Martha Wayne and begins to ask details, which causes Bruce to leave in disgust, much to Tommy's amusement. Later on in the day, Tommy mocks Bruce's mother, causing the pair of them to get into a fight although Tommy gains the upper hand as he uses his friends to back him up. When Alfred learns of the attack and Tommy disrespecting Martha's memory, he decides to teach Bruce to stand up for himself. He takes Bruce to Tommy's residence, where he gives Bruce his father's watch. Bruce wraps the watch round his knuckles and punches Tommy repeatedly in the face, managing to bring him down. Bruce and Alfred then leave together to have pizza, leaving Tommy on the doorstep bleeding and sore.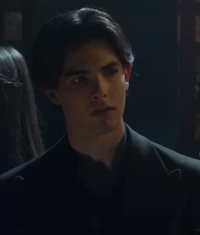 Tommy returns in the fourth season, in which Bruce begins to socialise with the other rich kids of Gotham City, which includes Tommy himself. Tommy has been shown to have matured and changed in personality since season 1, and admits that he deserved his beating at the hands of Bruce, even stating that he should have been struck harder. The group later attend a nightclub in Gotham City, which Bruce buys and impresses his new friends. Tommy begins to socialise with Bruce more often, and attends a party at Wayne Manor, which is subsequently broken up by Alfred due to Bruce's erratic nature.
Film
Hush appears in Batman Unlimited: Mech vs. Mutants, voiced by Dave B. Mitchell. He appears as an inmate at Arkham Asylum who claims he doesn't belong there and needs to be released to an uncaring Penguin, who just walks by him.
DC Animated Film Universe
Main article: Riddler (DC Animated Movie Universe)
Hush appears as the main villain of Batman: Hush. This version is really Edward Nygma instead of Tommy Elliott who is portrayed as a supporting character of the film until he was killed.
Arrowverse
Main Article: Tommy Elliot (Arrowverse)
Tommy Elliot appears in the first season of Batwoman in the episode "Down Down Down", in which he is the former childhood best friend-turned-enemy of Bruce Wayne, who had disappeared from Gotham City for three years. He is an estate developer instead of surgeon and commits crimes in an attempt to bring Bruce/Batman out into the open to get revenge on him, but instead ends up going up against Bruce's cousin Kate Kane, who is operating as the new vigilante Batwoman. He is later arrested and sent to Arkham Asylum.
He is portrayed by Gabriel Mann.

Villains
Comics
Alfred Stryker | Alice | Amanda Waller | Amygdala | Anarky | Arkham Knight | Arnold John Flass | Azrael | Baby Doll | Bane | Barbatos | The Batman Who Laughs | Black Glove | Black Mask | Blockbuster I | Broker | Blockbuster II | Brain | Brother EYE | Calculator | Calendar Man | Captain Fear | Carmine Falcone | Catman | Catwoman | Circus of Strange | Clayface | Claything | Clock King | Club of Villains | Cluemaster | Commissioner Loeb | Composite Superman | Condiment King | Copperhead | Court of Owls | Crazy Quilt | Crime Doctor | Curtis Base | Dark Archer | David Cain | Dark Knights | Deacon Blackfire | Deadshot | Dealer | Deathstroke | The Dawnbreaker | The Devastator | Doctor Death | Doctor Dedalus | Doctor Double X | Doctor Hurt | Doctor Phosphorus | The Drowned | Electrocutioner | Emperor Penguin | Ernie Chubb | Faceless | Film Freak | Firebug | Firefly | Flamingo | Floronic Man | Gearhead | General Ulysses Armstrong | Gorilla Boss | Gotham City Police Department | Grant Walker | Great White Shark | The Grim Knight | H.A.R.D.A.C. | Harley Quinn | Holiday | Holly Robinson | Humpty Dumpty | Hugo Strange | Hush | Jack the Ripper | James Gordon, Jr. | Jason Todd | Joe Chill | The Joker | Judge of Owls | Joker's Daughter | Key | KGBeast | King of Cats | King Snake | King Tut | Killer Croc | Killer Moth | Kite Man | Lady Shiva | League of Assassins | Leviathan | Lex Luthor | Lock-Up | Lloyd Ventrix | Mad Hatter | Mad Monk | Magpie | Malochia | Man-Bat | Maxie Zeus | The Merciless | Merrymaker | Mister Bloom | Monk | Mr. Freeze | Mrs. Freeze | Mr. Toad | Mutants | Nightslayer | Nocturna | Nyssa Raatko | Onomatopoeia | Orca | Outsider | Owlman | Penguin | Penny Plunderer | Phosphorus Rex | Planet Master | Poison Ivy | Polka Dot Man | Professor Pyg | Prometheus | Ra's al Ghul | Ragdoll | Ratcatcher | Reaper | Red Claw | Red Death | Reverse-Flash | Riddler | Roland Daggett | Roxy Rocket | Royal Flush Gang | Rupert Thorne | Sal Maroni | Scarecrow | Sensei | Sewer King | Signalman | Sinestro | Snowman | Solomon Grundy | Spellbinder | Squid | Steeljacket | Suicide Squad | Talia al Ghul | Tally Man | Ten Eyed Man | Terrible Trio | Thomas Wayne Tiger Shark | Timecode | Tony Zucco | Tweedledum and Tweedledee | Two-Face | Ubu | Vandal Savage | Ventriloquist | Ventriloquist II | Ventriloquist III | Vertigo | Victim Syndicate | Victor Zsasz | Whisper A'Daire | Wrath | Zebra-Man
Movies
Batman (1966): Joker | Catwoman | Penguin | Riddler
Batman (1989): Joker | Bob Hawkins | Alicia Hunt | Carl Grissom | Max Eckhardt | Vinnie Ricorso | Joe Chill
Batman Returns: Penguin | Red Triangle Circus Gang (Organ Grinder, Poodle Lady, Tattooed Strongman, Stungun Clown, Thin Clown, Fat Clown, Sword Swallower & Knifethrower Dame) | Max Shreck | Catwoman | Charles "Chip" Shreck
Batman: Mask of the Phantasm: Phantasm | Joker | Salvatore Valestra | Arthur Reeves | Chuckie Sol | Buzz Bronski
Batman Forever: Riddler | Two-Face | Sugar | Spice | NygmaTech (Frogmen) | Neon Gang (Neon Gang Leader) | Salvatore Maroni
Batman & Robin: Poison Ivy | Mr. Freeze | Bane | Snowy Cones Thugs | Golums | Jason Woodrue
Batman Begins: Ra's al Ghul | League of Shadows (Ra's Decoy) | Scarecrow | Carmine Falcone | Victor Zsasz | Joe Chill
The Dark Knight: Joker | Joker's Thugs (Thomas Schiff, Chuckles, Kilson, Bus Driver, Happy, Dopey, Grumpy & Bus Driver) | Two-Face | Sal Maroni | The Chechen | Gambol | Lau | Bank Manager | Michael Wuertz | Burmese Bandit
The Dark Knight Rises: League of Shadows (Bane, Talia al Ghul & Barsad) | Catwoman | John Daggett
Batman v Superman: Dawn of Justice: Lex Luthor | Doomsday | Anatoli Knyazev | Mercy Graves | Cesar Santos | Amajagh | Joe Chill | Dru-Zod | Steppenwolf
Suicide Squad: Eyes of the Adversary (Enchantress & Incubus) | Suicide Squad (Deadshot, Harley Quinn, Captain Boomerang, El Diablo, Killer Croc, Slipknot & Amanda Waller) | Joker's Gang (Joker, Jonny Frost, Panda Man & Monster T) | Griggs
The Lego Batman Movie: Joker | Harley Quinn | Catwoman | Poison Ivy | Two-Face | Bane | Riddler | Phantom Zone Criminals (Zod, Sauron, Kraken, Lord Voldemort, Jaws & Gremlins)
Joker: Clowns (Joker & Clown) | Penny Fleck | Randall | Wall Street Three | Penny Fleck's Boyfriend
Community content is available under
CC-BY-SA
unless otherwise noted.