Wiki Targeted (Entertainment)
Play Sound



Click to help Cruella!

This scum Hypnotick is driving Cruella insane!
IT MUST BE REWRITTEN OR ADDED TO!!
So sayeth the great Lord of Darkness Sauron, or he will send Darth Vader to terminate you.

Help improve this article by rewriting, expanding, updating the poorly written text of the article. ✓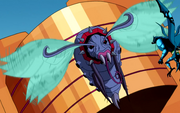 Hypnotick is the [http:// Nemitrex Nemitrex ]'s DNA sample of a Psycholeopterran from the planet Klymyss. Hypnotick's species is the predatory species of Neccrofigians. 
Appearence
Hypnotick looks like a cross between a moth and a bug. It is purple-greyish in color and has two antannaes, four wings, two large fangs sticking out of its mouth, four tiny legs and a dual stinger. Hypnotick wears a red spiked collar with the Nemitrex on it.
Powers and Abilities
Hypnotick can fly as fast as Big Chill, if not a little bit faster. Hypnotick can turn intangible at will and survive in cold areas just like [http:// Big Chill Big Chill] . By emitting some sort of powder while immediately flapping its wings, Hypnotick creates large overlapping circles. These circles can hypnotize anyone who looks at them.
Weaknesses
Like the smuggled Psycholeopterran, Hypnotick can be contained in a super tangible container as seen in Malefactor
History
Hypnotick first appeared in

Malefactor:

   Slamworm turned into Hypnotick to battle Big Chill

In Part 1 Showdown: Part 1:

​Terroranchula turned into Hypnotick to battle Big Chill, but Azmuth forced her to turn back with a whistle
Khyber turned his dog back into Hypnotick twice, both times being turned back by Rook using the whistle
Khyber's Panuncian