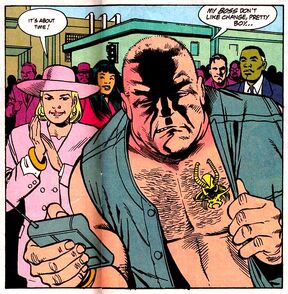 Ibac's alter-ego is Stanley "Stinky" Printwhistle, a crook who attempted to blow up a bridge, but was caught in the explosion. He is saved by Lucifer, who offers Printwhistle the chance to become a champion of evil in exchange for his mortal soul. Printwhistle accepts, and is told to speak the magic word "IBAC". By doing so, the frail, grey-haired criminal transforms into Ibac, a brutal muscleman with a buzz cut. Saying "IBAC" again transforms Ibac back into Printwhistle. Because he hasn't been able to defeat Captain Marvel, Printwhistle has not been obliged to give his soul to the devil, and has reformed, but being weak-willed, he has often been forced by other criminals into becoming the evil Ibac again.
While Captain Marvel is empowered by six mythological and Biblical figures, Ibac is empowered by four of the most evil and terrifying men to have ever walked the earth: Ivan the Terrible, who supplies Terror, Cesare Borgia, who gives Ibac Cunning, Attila the Hun, who gifts him with Fierceness, and Caligula, the sponsor of Cruelty. Also, while Captain Marvel transforms using magic lightning bolts, Ibac's transformations are accomplished with the power of mystical green fire and brimstone.
One Year Later
Ibac is seen among the captured villains in Salvation Run.
Powers
Power of Ibac: In order to change form, Stanley must be able to call upon the name of Ibac.
I for the Terror of Ivan the Terrible (Superhuman Stamina)
B for the Cunning of Cesare Borgia (Superhuman Durability)
A for the Fierceness of Attila the Hun (Superhuman Strength)
C for the Cruelty of Caligula (Superhuman Endurance)
Television History
Kid Super Power Hour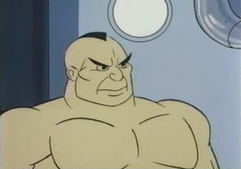 Ibac appears in The Kid Super Power Hour with Shazam! episode "Best Seller." He sends the Marvel Family a special book which is a transporter that enabled the Hiss-Men to capture Billy Batson, Mary Batson, and Freddy Freeman while they are sleeping, and bring them to Ibac with their mouth's gagged. He plans to attack humanity in pre-historic times, allowing the Hiss-Men to take over by using a device which turns humans into Hiss-Men and kidnapping humans from the present, but is defeated and left in the past being chased by a dinosaur while the Marvels take the technology.
Batman: The Brave and the Bold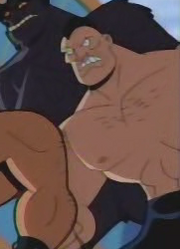 Ibac makes a brief cameo in Batman: The Brave and the Bold episode "The Malicious Mr. Mind." He is seen as one of the members of The Monster Society of Evil fighting against the Marvel Family and Batman.
Young Justice
Ibac is mentioned in the episode "Misplaced" in a news report which talks about how he and Sabbac were defeated by Captain Marvel earlier in the day.

Villains
Comics
Abra Kadabra | Amanda Waller | Amos Fortune | Amazo | Anarky | Angle Man | Anti-Justice League | Anti-Monitor| Appellaxians | Aquarius | Asmodel | Atomic Skull | Axis America | Barbatos | The Batman Who Laughs | Black Adam | Black Hand | Black Lantern Corps | Black Manta | Black Spider | Blockbuster | Brainiac | Bronze Tiger | Brother Eye | Brotherhood of Evil | Cadre | Calculator | Calendar Man | Captain Boomerang | Captain Cold | Castle Bat | Catalyst | Catman | Cheetah | Chemo | Cheshire | Circe | Clayface | Clock King | Cluemaster | Copperhead | Construct | Cosmic King | Crazy Quilt | Crime Syndicate of America | Crucifer | Cybogirl | Darkseid | Dark Supergirl | Deadline | Deadshot | Deathstroke | Demolition Team | Demons Three | Despero | Doctor Alchemy | Doctor Destiny | Doctor Double X | Doctor Impossible | Doctor Light | Doctor Manhattan | Doctor Phosphorus | Doctor Polaris | Doctor Poison | Doctor Psycho | Doctor Regulus | Doctor Sivana | Dominators | Doomsday | Dragon King | Dumas | Earthworm | Eclipso | Electrocutioner | Elite | Epoch the Lord of Time | Evil Star | Fatal Five | Felix Faust | Fiddler | Floronic Man | Funky Flashman | Gamemnae | General Eiling | Genocide | Gentleman Ghost | Golden Gilder | Goldface | Gorilla Grodd | Gunhawk | Hector Hammond | Hellgrammite | Human Flame | Hyena | Ibac | Icicle | Imperiex | Injustice League | Intergang | I.Q. | Johnny Sorrow | Joker | Key | Killer Frost | Killer Moth | Kite Man | Kobra | Kobra Cult | Krona | League Buster | League of Assassins | Legion of Doom | Lex Luthor | Libra | Lobo | Mad Hatter | Mageddon | Magpie | Manchester Black | Manhunters | Matter Master | Maxwell Lord | Mekanique | Merlyn | Mirror Master | Mister Atom | Mister Mind | Mister Nebula | Mongul | Mordru | Morgaine Le Fey | Neron | Neutron | Nightshade | Obsidan | Ocean Master | Parademons | Parasite | Penguin | Perpetua | Pied Piper | Plastique | Poison Ivy | Professor Ivo | Professor Zoom | Prometheus | Psycho-Pirate | Queen Bee | Queen of Fables | Ra's al Ghul | Rainbow Raider | Rama Khan | Red Death | Red King | Red Panzer | Red Volcano | Riddler | Roulette | Royal Flush Gang | Satanus | Scarecrow | Science Squad | Secret Society of Super Villains | Shadow-Thief | Shaggy Man | Shark | Simon Stagg | Sinestro | Solomon Grundy | Star Sapphire | Starbreaker | Starro | Steppenwolf | Suicide Squad | Superboy-Prime | Tattooed Man | Terra-Man | T.O. Morrow | Ultra-Humanite | Vandal Savage | Volcana | Warp | Weather Wizard | White Martians | Wizard
Theatrical Movies
Justice League: Steppenwolf | Parademons (Parademon Scout) | Black Clad (Black Clad Alpha) | Lex Luthor | Deathstroke | Ares
Zack Snyder's Justice League: Darkseid's Elite (Darkseid, Steppenwolf, DeSaad, Granny Goodness, & Parademons) | Lex Luthor | Deathstroke | Black Clad (Black Clad Alpha) | Ares | Joker
Direct-to-video Movies
Justice League: The New Frontier: The Centre | Captain Cold
Justice League: Crisis on Two Earths: Crime Syndicate of America (Owlman, Ultraman, Superwoman, Johnny Quick, Power Ring, J'edd J'arkus, & Black Power) | Lex Luthor | White Martians | President Slade Wilson | Rose Wilson
Justice League: Doom: Legion of Doom (Vandal Savage, Bane, Cheetah, Ma'alefa'ak, Metallo, Mirror Master, & Star Sapphire) | Royal Flush Gang (King, Queen, Jack, Ace, & Ten)
Justice League: The Flashpoint Paradox: Professor Zoom | Wonder Woman | Aquaman | Ocean Master | Black Manta | Deathstroke | Lex Luthor | Clayface | Rogues (Captain Cold, Captain Boomerang, Top, Heat Wave, & Mirror Master) | Joker | Yo-Yo
Justice League: War: Darkseid | Desaad | Parademons | Ocean Master
Justice League: Throne of Atlantis: Ocean Master | Black Manta | The Trench | Lex Luthor
Justice League vs. Teen Titans: Trigon | Legion of Doom (Lex Luthor, Cheetah, Solomon Grundy, Toymaster, & Weather Wizard) | Atomic Skull | Ra's al Ghul
Justice League vs. the Fatal Five: Fatal Five (Emerald Empress, Mano, Persuader, Tharok, & Validus) | Bloodsport | Two-Face | Harley Quinn | Poison Ivy

Community content is available under
CC-BY-SA
unless otherwise noted.