Jurassic World: Dominion Dominates Fandom Wikis - The Loop
Play Sound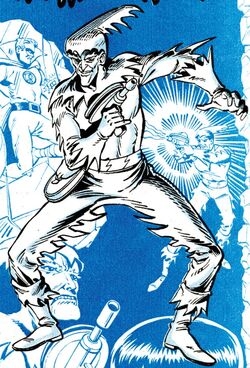 Icicle is the name of the two villains in DC Comics. They both are recurring foes of the Justice Society of America.
Biography
Icicle 1
Dr. Joar Mahkent was a scientist who invented a cold gun and used it to commit crimes. He clashed with the Green Lantern (Alan Scott) on a regular basis alone and the JSA as part of the Injustice Society of the World.
Icicle 2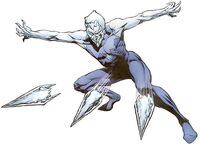 Cameron Mahkent, son of Joar Mahkent was a metahuman born with ice powers.
Other Media
Television
In the show Justice League episode "Legends" an alternate version of Icicle called Mr. Blizzard appears. In this episode, he was voiced by Corey Burton.
The Cameron Mahkent version appears in the Young Justice in the episode "Independence Day" causing mayhem on a bridge but is stopped by Green Arrow and Speedy. He later appears in the episode "Terrors where it is revealed that he let himself be captured so he can help the original Icicle and the other ice villains in a prison break but they all fail.
However it is revealed the original Icicle is helping The Light and he succeeds in getting Hugo Strange becoming the warden of the prison. Both of them later made cameos in the episode "Coldhearted".
In the episode "Beneath" the second helps Queen Bee, Psimon, Mammoth, Shimmer, and Devastation transport the kidnapped runaways but a group of heroes infiltrate their operation.
While Psimon and Miss Martian are in a psychic battle he tries to kill her but is stopped by Bumblebee. He later appears in the episode "Darkest" where he helps Black Manta, Tigress, and the Terror Twins destroy the Team's base and capture some of them. He also has a crush on Tuppence Terror. The original is voiced by James Ramar while the second is voiced by Yuri Lowethal.
He later appears in Superman/Batman Public Enemies helping his fellow ice villains try to collect the bounty on Superman but they were all taken down. In this film, he was voiced by Michael Gough.
Gallery

Villains
Comics
Adolf Hitler | Amos Fortune | Atomic Skull | Avatar of Tech | Black Adam | Blackbriar Thorn | Brainwave | Brutale | Captain Nazi | Crime Champions | Darkseid | Demons Three | Doctor Destiny | Doctor Polaris | Dragon King | Eclipso | Empty Hand | Evil Star | Extant | Felix Faust | Fiddler | Fisherman | Fourth Reich | Gambler | Gentleman Ghost | Gog | Ian Karkull | Icicle | Injustice Society | Johnny Sorrow | Key | Kid Karnevil | King Kull | Kobra | Kulak | Major Force | Mekanique | Mirror Master | Monocle | Mordru | Nekron | Onimar Synn | Per Degaton | Plasmus | Psycho-Pirate | Roulette | Science Squad | Secret Society of Super Villains | Solomon Grundy | Spectre | Spirit King | Sportsmaster | Thinker | Ultra-Humanite | Vandal Savage | Weather Wizard | Weeper | White Dragon | Wizard | Wotan
Movies
Justice Society: World War II
Charles Halstead | Brainiac
Television
Stargirl
Injustice Society of America (Icicle, Brainwave, Sportsmaster, Tigress, Solomon Grundy, Gambler, Dragon King, Anaya Bowin, & Wizard) | Eclipso | Injustice Unlimited (Cindy Burman, Fiddler, & Artemis Crock) | Shade

Villains
Comics
Abra Kadabra | Amanda Waller | Amos Fortune | Amazo | Anarky | Angle Man | Anti-Justice League | Anti-Monitor | Appellaxians | Aquarius | Asmodel | Atomic Skull | Axis America | Bane | Barbatos | The Batman Who Laughs | Black Adam | Black Hand | Black Lantern Corps | Black Manta | Black Mask | Black Spider | Blockbuster | Blue Beetle (Dark Multiverse) | Brainiac | Bronze Tiger | Brother Eye | Brotherhood of Evil | Cadre | Calculator | Calendar Man | Captain Boomerang | Captain Cold | Castle Bat | Catalyst | Catman | Catwoman | Cheetah | Chemo | Cheshire | Circe | Clayface | Clock King | Cluemaster | Copperhead | Construct | Cosmic King | Crazy Quilt | Crime Syndicate of America | Crucifer | Cyborgirl | Darkseid | Dark Supergirl | Deadline | Deadshot | Deathstroke | Demolition Team | Demons Three | Despero | Doctor Alchemy | Doctor Destiny | Doctor Double X | Doctor Impossible | Doctor Light | Doctor Manhattan | Doctor Phosphorus | Doctor Polaris | Doctor Poison | Doctor Psycho | Doctor Regulus | Doctor Sivana | Dominators | Doomsday | Dragon King | Dumas | Earthworm | Eclipso | Electrocutioner | Elite | Empty Hand | Enchantress | Epoch the Lord of Time | Eradicator | Evil Star | Fatal Five | Felix Faust | Fiddler | Floronic Man | Funky Flashman | Gamemnae | General Eiling | Genocide | Gentleman Ghost | Golden Gilder | Goldface | Gorilla Grodd | Great Darkness | Gunhawk | Harley Quinn | Hector Hammond | Hellgrammite | Human Flame | Hyena | Ibac | Icicle | Imperiex | Intergang | I.Q. | Johnny Sorrow | Joker | Key | Killer Croc | Killer Frost | Killer Moth | Kite Man | Kobra | Kobra Cult | Krona | League Buster | League of Assassins | Legion of Doom | Lex Luthor | Libra | Lobo | Mad Hatter | Mageddon | Magpie | Manchester Black | Manhunters | Matter Master | Maxwell Lord | Mekanique | Merlyn | Mirror Master | Mister Atom | Mister Mind | Mister Nebula | Mr. Freeze | Mongul | Mordru | Morgaine Le Fey | Multiplex | Nekron | Nekron (Pre-Crisis) | Neron | Neutron | Nightshade | Obsidan | Ocean Master | Overman | Pariah | Parademons | Parasite | Penguin | Perpetua | Pied Piper | Plastique | Poison Ivy | Professor Ivo | Professor Zoom | Prometheus | Psycho-Pirate | Queen Bee | Queen of Fables | Ra's al Ghul | Rainbow Raider | Rama Khan | Red Death | Red King | Red Panzer | Red Volcano | Riddler | Roulette | Royal Flush Gang | Satanus | Scarecrow | Science Squad | Secret Society of Super Villains | Shadow-Thief | Shaggy Man | Shark | Simon Stagg | Sinestro | Solomon Grundy | Star Sapphire | Starbreaker | Starro | Steppenwolf | Suicide Squad | Superboy-Prime | Tattooed Man | Terra-Man | T.O. Morrow | Two-Face | Upside Down Man | Ultra-Humanite | Vandal Savage | Volcana | Warp | Weather Wizard | White Martians | Wizard
Theatrical Movies
Justice League: Steppenwolf | Parademons (Parademon Scout) | Darkseid | Black Clad (Black Clad Alpha) | Lex Luthor | Deathstroke | Ares
Zack Snyder's Justice League: Darkseid's Elite (Darkseid, Steppenwolf, DeSaad, Granny Goodness, & Parademons) | Lex Luthor | Deathstroke | Black Clad (Black Clad Alpha) | Ares | Joker
Direct-to-video Movies
Justice League: The New Frontier: The Centre | Captain Cold
Justice League: Crisis on Two Earths: Crime Syndicate of America (Owlman, Ultraman, Superwoman, Johnny Quick, Power Ring, J'edd J'arkus, & Black Power) | Lex Luthor | White Martians | President Slade Wilson | Rose Wilson
Justice League: Doom: Legion of Doom (Vandal Savage, Bane, Cheetah, Ma'alefa'ak, Metallo, Mirror Master, & Star Sapphire) | Royal Flush Gang (King, Queen, Jack, Ace, & Ten)
Justice League: The Flashpoint Paradox: Professor Zoom | Wonder Woman | Aquaman | Ocean Master | Black Manta | Deathstroke | Lex Luthor | Clayface | Rogues (Captain Cold, Captain Boomerang, Top, Heat Wave, & Mirror Master) | Joker | Yo-Yo
Justice League: War: Darkseid | Desaad | Parademons | Ocean Master
Justice League: Throne of Atlantis: Ocean Master | Black Manta | The Trench | Lex Luthor
Justice League League: Gods and Monsters: Will Magnus
Justice League vs. Teen Titans: Trigon | Legion of Doom (Lex Luthor, Cheetah, Solomon Grundy, Toymaster, & Weather Wizard) | Atomic Skull | Ra's al Ghul
Justice League vs. the Fatal Five: Fatal Five (Emerald Empress, Mano, Persuader, Tharok, & Validus) | Bloodsport | Two-Face | Harley Quinn | Poison Ivy

Video Games
Injustice: Gods Among Us: One Earth Regime (Superman, Wonder Woman, Yellow Lantern, The Flash, Aquaman, Cyborg, Shazam, Nightwing, Raven, Hawkgirl, Sinestro, Black Adam, Killer Frost, Solomon Grundy, Catwoman, Bane, & Doomsday) | Joker | Lex Luthor | Deathstroke | Ares
Injustice 2: Brainiac | Gorilla Grodd | Captain Cold | Reverse Flash | Cheetah | Deadshot | Poison Ivy | Bane | Scarecrow | One Earth Regime (Superman, Wonder Woman, Aquaman, Cyborg, Nightwing & Black Adam) | Dr. Fate | The Lords of Order | Grid | Atrocitus | Joker | Darkseid
See Also
Justice League Dark Villains | Justice League International Villains | Justice Society Villains | Young Justice Villains

Villains
Comics
Black Manta | Black Spider | Brain | Brick | Bronze Tiger | Brother Blood | Brotherhood of Evil | Catman | Cheshire | China White | Clayface | Clock King | Count Vertigo | Constantine Drakon | Crumbler | Cupid | Deadshot | Deathstroke | Double Down | Dr. Light | Dr. Sivana | Electrocutioner | Jinx | Joker | Killer Croc | Kodiak | Komodo | League of Assassins | Longbow Hunters | Mammoth | Merlyn | Metallo | Mister Freeze | Neron | Onomatopoeia | Professor Ojo | Professor Zoom | Prometheus | The Queen | Ra's al Ghul | Red Dart | Richard Dragon | Riddler | Royal Flush Gang | Skylark | Solomon Grundy | Stinger | Warp | Wizard
Movie
DC Showcase: Green Arrow: Merlyn | Count Vertigo
Television
Season 1: Oliver Queen | Malcolm Merlyn | China White | Edward Fyers | Billy Wintergreen | Adam Hunt | Constantine Drakon | Martin Somers | Deadshot | Jason Brodeur | Royal Flush Gang | Huntress | Frank Bertinelli | Firefly | Ted Gaynor | Count Vertigo | Amanda Waller
Season 2: Oliver Queen | Deathstroke | Isabel Rochev | Brother Blood | Anthony Ivo | League of Assassins (Nyssa al Ghul & Al-Owal) | China White | Dollmaker | Mayor | Officer Daily | Amanda Waller | Count Vertigo | Cyrus Gold | H.I.V.E. (Milo Armitage) | William Tockman | Suicide Squad (Bronze Tiger, Deadshot & Shrapnel) | Huntress | Frank Bertinelli | Clinton Hogue
Season 3: Oliver Queen | League of Assassins (Ra's al Ghul, Maseo Yamashiro, Nyssa al Ghul & Chase) | Matthew Shrieve | Amanda Waller | China White | Werner Zytle | Komodo | Cooper Seldon | Captain Boomerang | Roy Bivolo | Danny Brickwell | Deathstroke | Michael Amar | Joseph Cray | Suicide Squad (Deadshot & Cupid) | H.I.V.E. (Mina Fayad) | Jake Simmons
Season 4: Oliver Queen | H.I.V.E. (Damien Darhk, Ruvé Darhk, Malcolm Merlyn, Andrew Diggle, Milo Armitage, Phaedra Nixon, Mina Fayad, Thomas, Demolition Team, Michael Amar, Danny Brickwell & Cooper Seldon) | Shadowspire (Baron Reiter, Conklin & Joyner) | Amanda Waller | Lonnie Machin | Jeremy Tell | Rogue Anti-Vigilante Task Force (Liza Warner) | Vandal Savage | Calculator | Cupid | Brie Larvan | Evelyn Sharp
Season 5: Oliver Queen | Prometheus | Talia al Ghul | Evelyn Sharp | Black Siren | Konstantin Kovar | Ishmael Gregor | Tobias Church | Lonnie Machin | Ragman | Janet Carroll | J.G. Walker | Derek Sampson | Scimitar | Vigilante | Dominators | Laura Washington | Hideo Yamane | Sean Sonus | James Edlund | China White | Liza Warner | Cupid | Anatoly Knyazev | Captain Boomerang | Justin Claybourne
Season 6: Oliver Queen | (Ricardo Diaz, Black Siren, Anatoly Knyazev, Kimberly Hill & Sam Armand) | Cayden James | Sheck | Vigilante | Alex Faust | Jackals (Joe Wilson & Nylander) | Dark Arrow | Overgirl | Eobard Thawne | Prometheus (Earth-X) | Quentin Lance (Earth-X) | Athena
Season 7: Oliver Queen | Ninth Circle (Emiko Queen, Dante, Virgil & Beatrice) | Kevin Dale | Ricardo Diaz | Longbow Hunters (Red Dart, Kodiak & Silencer) | Stanley Dover | Danny Brickwell | Derek Sampson | John Deegan | Monitor | A.M.A.Z.O. | Psycho-Pirate | Ghost Initiative (Joe Wilson, China White & Cupid)
Season 8: Oliver Queen | Anti-Monitor | Deathstroke Gang (John Diggle, Jr. & Grant Wilson) | Monitor | Athena | Edward Fyers | Billy Wintergreen | Shadow Demons | Lex Luthor

Video Games
Injustice: Superman | Killer Frost | Solomon Grundy | Sinestro | Black Adam | Wonder Woman | Nightwing | Raven | Catwoman | The Flash | Bane | Gorilla Grodd

Villains
Protagonists