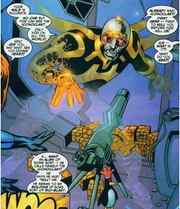 Iconoclast
was an enemy of the Fantastic Four.
History
The enigmatic being called Iconoclast was sent by unknown forces to "null" the Invisible Woman, before she could do the same to his people. Using cloaking technology, Iconoclast stalked Susan Richards, before finally attacking her while she was spending some quality time with her husband, Reed. Susan managed to knock him out of a window, but Reed couldn't see Iconoclast, or his energy blasts directed towards his wife.
Iconoclast and the Invisible Woman fought in the snow outside, until the rest of the Four showed up. Noticing the footprints in the snow, Reed directed the Torch to burn the snow, covering Iconoclast in a thin mist, making him visible. But even though the Four could see him, they still couldn't attack him, as he'd simply turn intangible to avoid their blows. Susan eventually tricked Iconoclast into blindly striking at her until she had levitated them over a river, where she managed to drop him into the water, causing his cloaking device to short circuit and explode.
Iconoclast attended a gathering of enemies of the Fantastic Four held by the Puppet Master, who suggested that they combine their forces. Iconoclast left with the others, without even acknowledging the Puppet Master's scheme.
Community content is available under
CC-BY-SA
unless otherwise noted.