Click To Help Darkseid!

Darkseid has declared that this article requires immediate Cleanup in order to meet a higher standard.
Help improve this article by improving formatting, spelling and general layout - least it fall victim to an Omega Effect


✔

Immortus (real name: Nathaniel Richards) is a fictional character, a supervillain appearing in the Marvel comic book universe. He is the future counterpart of Kang the Conqueror and the half-brother of Reed Richards (AKA Mr. Fantastic.) He is most frequently an enemy of the Avengers.
History
At some point in his personal timeline, Kang became weary of battle, due to frustration and the loss of his son Marcus and consort Ravonna in several timelines.
He was approached by the alien Time-Keepers — time travelers from the end of the universe, the last living creatures in existence — to become their agent, preserving timelines rather than conquering them in exchange for immortality.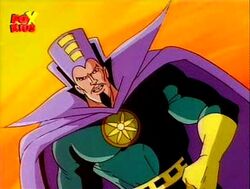 He accepted and reinvented himself again, this time as Immortus, the lord of the other-dimensional realm of Limbo.
Community content is available under
CC-BY-SA
unless otherwise noted.