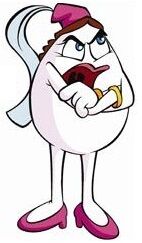 Ines is antagonic anti-hero character from interrnet series series Huevocartoon. Is an insensitive, hypocritical and violent roe that interrupts the poems frequently.
Personality
Partly she is very critical and demanding, despising the romantic courts of her beloved Tenorio, which is not interested at all, to seem too cheesy or floundering, attacking him with insults and offenses against him.
Role in the Show
The apparitions he plays alongside tenorio, is known to interrupt every time he recites his poetry and these end up fighting berval or physically, concluding the chapters in frustrations initiated by his whims
Inés participated in Eggbrother VIP and it can be perceived that it is more grumpy and complexed with respect to its rivalry with (Huevita Spears) Spears Egg ,was expelled next to the Mr. Dongo ,although they were expelled accidentally by fault of Ferdinand.
Community content is available under
CC-BY-SA
unless otherwise noted.