Jurassic World: Dominion Dominates Fandom Wikis - The Loop
Play Sound

✓



Click To Help Dr. Wily!

Dr. Wily has declared that this article is still under construction.
Please don't delete or edit this article yet, it may contrast with the original author's edits.
After I finish this article, the world will be mine! MWAHAHAHAHA!
This article's content is marked as Mature
The page Mature contains mature content that may include coarse language, sexual references, and/or graphic violent images which may be disturbing to some. Mature pages are recommended for those who are 18 years of age and older.


If you are 18 years or older or are comfortable with graphic material, you are free to view this page. Otherwise, you should close this page and view another page.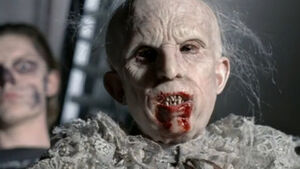 Thaddeus Montgomery, better known as Infantata, is a being crafted from the pieced together remains of Charles and Nora Montgomery's child, Thaddeus. He serves as a minor yet pivotal antagonist in the first season of American Horror Story. primarily portrayed by Benjamin Woolf. Though never referred to as "Infantata" or "the Infantata" in the dialogue of the series, this name has been given as the creature once known as Thaddeus by the credits and by members of the series' production during interviews.
He is portrayed by the late Ben Woolf.
Past
Charles performed abortions in the basement of the house in the 1920s to alleviate his family's financial distress. Unfortunately, one of his patients told her boyfriend, who kidnapped Thaddeus and dismembered him in an act of revenge. After the pieces were returned to Dr Montgomery in jars, he lost his mind and attempted to sew his son back together, bringing Thaddeus back to life. To achieve this, he told Nora he used "the beating heart of one of our girls", presumably referring to an almost fully developed fetus he removed from one of the patients.
When Nora tried to nurse the reanimated Thaddeus, it bit her to quench its blood thirst. She then, realizing the truth of what her son had become, tried to kill it with a letter opener, but claimed that it wouldn't die. Nora would later kill Charles and herself over his crime and what it had forced her to do. The Infantata continues its existence in the basement, slaking its blood thirst.
Infantata once attacked Tate when he was a young boy. Nora rescued him and told him it would disappear if he closed his eyes and told it to go away, which began her motherly relationship with Tate.
Trivia
He is the first character inspired by Frankestein in the American Horror Story series, the second is Kyle Spencer .
Concerning Infantata's design, Ryan Murphy states that the mouth is based off of a leech mouth. The character's overall "look" is inspired by the genetic disease Progeria, and the character's clothing is inspired by one worn by the Lindbergh Baby.
Ryan Murphy has said that Infantata is not a ghost, but a still-living creature that has been eating possums and bugs to sustain himself, and that he typically does not leave his hole in the basement unless provoked. Despite Infantata being alive the phrase "Go Away" apparently still works in keeping him at bay.
Villains
Murder House
Rubber Man | Constance Langdon | Hayden McClaine | Larry Harvey | Moira O'Hara | Charles Montgomery | Infantata | Bianca Forest | R. Franklin | Michael Langdon | Langdon Family | Fiona | The Devil
Asylum
Bloody Face (Dr. Oliver Thredson, Johnny Morgan & Imposters) | The Devil | Dr. Arthur Arden | Sister Jude | Timothy Howard | Leigh Emerson | Jenny Reynolds
Coven
Fiona Goode | Marie Laveau | Madison Montgomery | Delphine LaLaurie | The Axeman | Hank Foxx | Spalding | Papa Legba | Minotaur | Joan Ramsey | Archie Brener | Alicia Spencer
Freak Show
Elsa Mars | Dandy Mott | Stanley | Bette and Dot Tattler | Maggie Esmerelda | Twisty the Clown | Chester Creb | Dell Toledo | Edward Mordrake | Rita Gayheart | Larry Gayheart | Dr. Arthur Arden | Penny's Father
Hotel
Countess Elizabeth Johnson | James Patrick March | Ten Commandments Killer | Sally McKenna | Addiction Demon | Ramona Royale | Richard Ramirez | Hazel Evers | Charles Montgomery
Roanoke
Tomasyn White | Scáthach | Polk Family | Agnes Mary Winstead | Shelby Miller
Cult
Ally Mayfair-Richards | FIT (Kai Anderson, Ivy Mayfair-Richards, Beverly Hope, Harrison Wilton, Meadow Wilton, Gary Longstreet, Jack Samuels) | Winter Anderson | Babe Babbitt | Twisty the Clown
Apocalypse
Cooperative (Michael Langdon, Miriam Mead, Jeff Pfister, Mutt Nutter & Wilhelmina Venable ) | Madison Montgomery | Dinah Stevens | Ariel Augustus | The Devil | Tate Langdon | Constance Langdon | James Patrick March | Moira O'Hara | Langdon Family | Papa Legba | Delphine LaLaurie | Marie Laveau
1984
Margaret Booth | Richard Ramirez | Mr. Jingles | Lavinia Richter | Donna Chambers | Montana Duke | The Devil | Bruce
Double Feature
Part 1: Red Tide
The Chemist | Belle Noir | Austin Sommers | Alma Gardener | Lark Feldman | Ursula Khan | Flesh Phantom

Part 2: Death Valley
Theta | Valiant Thor
American Horror Stories
Season 1
Rubber (Wo)man: Scarlett Winslow | Ruby McDaniel | Maya | Adam | Tony Peterson | Infantata
Drive In: Verna | Larry Bitterman
The Naughty List: Santa
Ba'al: Ba'al| Matt Webb| Bernadette
Feral: Ferals
Game Over: Scarlett Winslow | Ruby McDaniel