Spider-Man: No Way Home Trailer Dropped - The Loop
Play Sound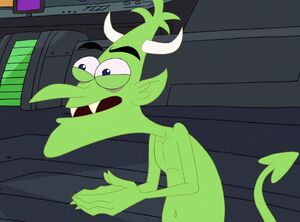 The Inner Doofenshmirtz is a supporting antagonist in the Phineas and Ferb episode "Sleepwalk Surprise". He is a being who lives inside the mind of Heinz Doofenshmirtz.
Just like the original Doofenshmirtz, he was voiced by Dan Povenmire.
Physical appearance
The Inner Doof looks similar to Doofenshmirtz in body shape, but he has bright green skin and looks like a devil. He is also half the size of Doofenshmirtz.
Biography
The Inner Doofenshmirtz appeared in a dream when Doofenshmirtz was sleeping after building three complex inators and being hugged by Norm. When Doofenshmirtz met his inner self, the latter replied that he had the former to build the inators in an attempt to help him take over the Tri-State Area.
However, Perry the Platypus destroyed the inators and left away in a huff, prompting an annoyed Doofenshmirtz to declare how redundant the events turned to be. Even an annoyed Inner Doofenshmirtz concurred on this, but Doofenshmirtz replies that he is fully conscious and there is no point for his inner self to appear in the real world. Realizing that Doofenshmirtz has a good point, the Inner Doofenshmirtz disappears back into Doofenshmirtz's mind.
Trivia
The Inner Doofenshmirtz is the second villain in the series to appear in the subconscious mind, the first was Candace's Id in "Monster from the Id".

Villains