Spider-Man: No Way Home Trailer Dropped - The Loop
Play Sound
The Innovators (in Japanese: イノベイター, Inobeitā) are a rogue group of Innovades (genetically engineered humans) that falsely identify themselves as True Innovators and the main antagonists of Season 2 of Mobile Suit Gundam 00, alongside the A-Laws.
Description
Combat-Type Innovades are one of the Innovade Types created by Celestial Being for the purpose of serving in combat during Aeolia Schenberg's Plan. They possess abilities and physique better than any ordinary humans, thanks to Quantum Brainwaves and nanomachines built into them.They were made to be "better," thus the sentiment of being superior were not surprising to stem out among them.However, as this sentiment began to grow strong, a contradiction also became apparent.Despite being superior, they were meant to serve humanity according to Aeolia's Plan. The purpose of serving a lowly species was a painful reality to some of the proud combat-types.Season 2 of Mobile Suit Gundam 00.
In 2301 A.D., Combat-Type Innovade Ribbons Almark was assigned by Veda to test the combat capabilities of the GN-000 0 Gundam in the Azadistan-Krugis War.Upon eliminating all the forces and witnesses on the battlefield, he saw a child looking at the Gundam with revered eyes. Ribbons, who was painfully aware of the contradiction behind his existence, approached epiphany and found his ultimate answer to his dilemma.Leaving the child alive for his own purpose, Ribbons embarked on a path of securing his place in realizing the dialogues to come. He realized that he, a superior being, is the Innovator Aeolia had sought to lead humanity to a new frontier.
After leaving Celestial Being, Ribbons sought the help of a conspirator, Alejandro Corner, and devised a plan to get a hold of Veda and take over Aeolia's Plan. After Alejandro's demise and Celestial Being's defeat in 2308 A.D., Ribbons pushed forth his plans of uniting the world under his rule. He awakened a group of Innovades, who he also fashioned in the ideology of being Innovators, as agents acting from the shadows to carry out his will and his world unification plan.
Members
Supporters/Allies
Desired Member
Mobile Weapons
GNZ-003 Gadessa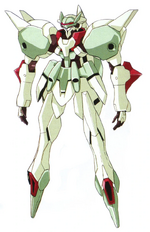 The Gadessa is a Mobile Suit that is developed solely for innovades to use, and serves as the main base of the GNZ series Mobile Suit. The Gadessa, together with many of its variants such as Garazzo and Gaddess, all has an escape pod to allow its innovade pilot to escape when they were defeated. The Gadessa is built for long range assault, thus it is often seen carrying a Mega GN Launcher. It is mainly piloted by Revive Revival.
GNZ-005 Garazzo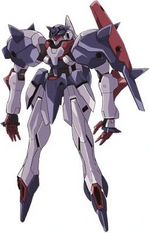 The Garazzo is one of the variant of the Gadessa. Unlike its sister unit, the Garazzo is developed for close range combat. It has GN Beam Claws to tear enemies apart and has enough physical strength to hold off the Seravve Gundam. It also has GN Cutter on its hands for the innovade pilot to crush enemies. It also has a GN Shield Generator for defense use. This Mobile Suit is mainly piloted by Bring Stabity and Hiling Care.
GNZ-007 Gaddess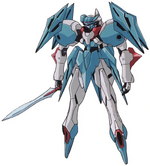 The Gaddess is another one of the Gadessa variant that is developed for melee combat. Unlike the Garazzo, the Gaddess has a GN Heat Saber as its main weapon instead. It also has serval GN Cutter, which is essentially flying blades. It is also the only GNZ series that is not equipped with Trans-Arm system. It is most well known for being piloted by Anew Returner.
GNZ-004 Gaga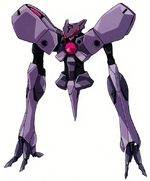 The Gaga is easily the GNZ series that has the weakest weapons, as its only weaponry is the GN Vulcans on its chest. However, the Gaga has rather high mobility to pay of the price. Their GN Tau also meant to blow up during battle. Thus, this unit serve as a kamikaze unit and is mass produced. It is piloted by a bunch of clones of Bring Stabity and Devine Nova.
GNW-20000 Arche Gundam
Rebuilt from the remains of the Gundam Throne Drei, the Arche Gundam still has the Throne Drei's Fangs equipped. The Arche Gundam is tuned for close range combat to fit its pilot, Ali Al-Saachez's preference of melee combat. Its GN Buster Sword has a gun barrel in it, which can be used for support use. This unit, just like the GNZ series, also has an escape pod on its back to allow Saachez to escape when the Gundam is badly damaged. The Arche Gundam also carries a small GN Shield.
CB-0000G/C Reborns Gundam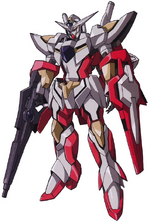 A Mobile Suit based on all mobile suit data of the supercomputer Veda, the Reborns Gundam is easily one of the strongest Mobile Suit the Innovators have to offer. Just like the 00 Raiser, it has two GN Drive Taus to power the Gundam. This mobile suit is also capable of transforming into cannon mode, allowing it to snip enemies down from far distances. In its Gundam mod, it has several GN Fangs together with a beam rifle and two beam sabers, thus, with its high performance its ability to quickly transform into the the Reborn Cannon and Reborns Gundam. This mobile suit provens itself to be one of the most dangerous foes the 00 Raiser has to face. It is piloted by Ribbons Almark.
GNMA-Y0001 Empruss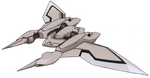 The Empruss is a prototype Mobile Armour equipped with a particle cannon and two GN cannon. It also has a GN Field for defence purpose. Its claws contain two grappling arms to disable enemies temporally. Its wings also act as Anti Ship GN Sword to slice enemies apart. In order to have a high mobility, it has two GN Drive Taus and is piloted by Devine Nova.
GNMA-0001V Regnant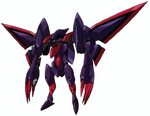 Developed from the Empruss, the Regnant had all the weapons its predecessor has together with serval new weaponry, just like the Reborns Gundam and Arche Gundam, the Regnant has GN Fangs to tear enemies apart and could fire GN Missiles. Another notable features of this Mobile Armour is that it is transformable and can transform into a Mobile Suit mode. It also has four grappling arms. This unit is given to Louise Halevy by Ribbons Almark.
Gallery
Trivia