Doctor Strange in The Multiverse o Madness - The Loop
Play Sound
The Invasion Garden Evolian are the main antagonistic faction of Bakuryuu Sentai Abaranger. They are a group of invaders from Dino Earth that emerge from the meteor that crashed into Earth 65,000,000 years ago. Their base was a castle-like structure called the Invasion Garden Palace until Dezumozorlya turned it into its final host, DezumoGevirus, to battle the Abarangers and invoke another 200 Days of Darkness.
History
The Evolians first emerged when the meteorite carrying Dezumozorlya crashed onto Earth, resulting in two parallel worlds being formed. The Evolians began a campaign to take over Dino Earth, but were opposed by a resistance that included Mahoro, Mizuho and Asuka. During an attack by the resistance on the Invasion Garden, Dezumozorlya brainwashed Mahoro and Mizuho into believing that Asuka had betrayed them and converted them into his minions.
The Evolians eventually made their way from Dino Earth to Earth so they could reunite the two halves of Dezumozorlya. However, they were repelled Asuka and the Abarangers.
After the destruction of Dezumozoryla's final form, DezumoGevirus, the Invasion Garden Evolian was effectively no more, with all of its members either having defected or been killed.
Arsenal
Invasion Garden
The Invasion Garden is the statue-like palace which serves as the headquarters of the Evolians. It resides in Dino Earth, although the Evolians can cross over into Another Earth using Disciple of Dawn Lije's powers. Within the Invasion Garden is a central area where the Evolian executives meet and where Dezumozorlya's dormant form is held. Its interior is organic and under Dezumozorlya's control.
The Invasion Garden was later converted by Dezumozorlya into his final form, Invasion Garden Ultimate Form DezumoGevirus.
Fortress Lifeform Anomalogaris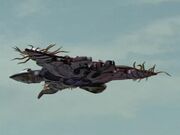 The Fortress Lifeform Anomalogaris is a class of large, flying warships used by the Evolians. They are virtually impenetrable and packed with firepower, but have a weak spot on the top. An Anomalogaris was piloted by Darkness Messenger Geildon to attack Earth but was destroyed.
Visionary Messenger Voffa later created an upgraded variant called the Fortress Lifeform Anomalogaris Mk. II. Destruction Messenger Jannu piloted it in an attempt to defeat the Abarangers, but the Fortress Lifeform was destroyed by Asuka after he boarded it.
After fusing with the Invasion Garden, Dezumozorlya greeted a huge number of Fortress Lifeforms to carry out his will of engulfing Earth in 200 days of darkness.
Members
Gallery
Trivia
Their name is a portmanteau of the words "evolution" and "alien".