Jurassic World: Dominion Dominates Fandom Wikis - The Loop
Play Sound

✓
This Villain was proposed and approved by Villains Wiki's Pure Evil Proposals Thread. Any act of removing this villain from the category without a Removal Proposal shall be considered vandalism (or a futile "heroic" attempt of redemption) and the user will have high chances of being terminated blocked. You cannot make said Removal Proposal without permission from an admin first.
Additional Notice: This template is meant for admin maintenance only. Users who misuse the template will be blocked for a week minimum.

Io (Japanese: イオ Io) is the main antagonist in the Phantom Thief Pokémon 7 manga. She is a ruthless woman who will not hesitate to eliminate whoever gets in her way even if it's one of her own subordinates. Despite being a member of Team Galactic, she is not loyal to Cyrus or them and plans to use the Pokémon Darkrai for her own gains.
History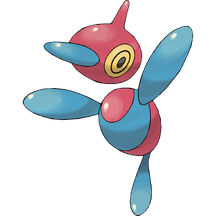 Io makes her first appearance as a silhouette in Stolen Memories giving orders to Lily to stop Pokémon 7 stating that it will be easy for the girl.
She makes her first actual appearance in Into The Hands Of Evil?! where it was revealed that she was in fact, the one who kidnapped Lily 5 years prior to the beginning of the story.
Her first action in her revelation is to attack and knock out the Galactic Number two for his failure to defeat Lily and states that he is a worthless fool. She then reveals her grand plan; to capture Darkrai and have it cover the world in darkness, using its hypnosis abilities so that she can have everyone on the planet do her bidding.
Hiori attempts to stop her but her Porygon-Z is too powerful and Io easily defeats him, she then proceeds to capture Darkrai in a special Poké Ball. Her success is short-lived however, as said Poké Ball begins to overload and explodes, releasing the captive Darkrai who then goes on a rampage. She attempts to try and stop Darkrai with her Porygon-Z despite Hiori's warnings and is put to sleep by Darkrai's Dark Void. It was later revealed that she and the other members were rescued by Rocco and his Gardevoir when the cave that they were in began collapsing. It can be assumed that she is in jail for her crimes.
External Links
Io on the Pure Evil Wiki.