The Sandman Will Keep You Awake - The Loop
Play Sound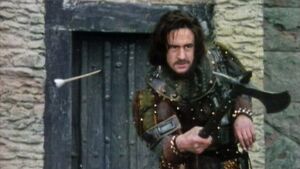 Irongron is the secondary antagonist of the Doctor Who story "The Time Warrior".
He was portrayed by David Daker.
Biography
Irongron was the leader of a group of brigands from c.13th century who had taken possession of a castle from its previous inhabitants. He had an enmity with his neighbour, Edward of Wessex, but neither had sufficient troops to challenge the other. Nevertheless, Irongron was bitter about the meagre food and drink available to him in comparison.
After witnessing the crash of a Sontaran spaceship, Irongron and his men went searching for it and discovered the craft and its occupant, Linx. Irongron agreed to give Linx sanctuary in exchange for advanced weapons, transporting him and his craft back to his castle. They were soon equipped with simple rifles and Irongron dreamed of not only capturing Sir Edward's castle but becoming king. Irongron's men captured Eric, Sir Edward's squire, and Irongron had Linx interrogate him, learning Edward was trying to get help from his neighbours.
Irongron also captured Edward's archer Hal when he tried to shoot him from a distance, along with Sarah. When Linx provided him with a remote-controlled robot knight, Irongron set it loose on Hal but the Doctor shot the control device from his hand with a crossbow, sending the robot mad and allowing Sarah and Hal to escape. Irongron later encountered the Doctor in the corridor and was shoved aside by him in his attempt to escape. On cornering him in the courtyard, Irongron prepared to kill him with his sword, declaring "He who strikes Irongron dies", but he was saved by Sarah and Hal.
Irongron led his party, including Linx, in an attack on Sir Edward's castle. He nearly turned back on seeing the battlements apparently fully-manned, but Linx realised they were simply manikins. However, Irongron's force was scared into full retreat by the Doctor using home-made explosives, consisting of a combination of fireworks and stink bombs. The Doctor and Sarah later infiltrated Irongron's castle and Irongron fought the Doctor when he posed as a new robot knight. After realising the truth, he had his men use him as target practise but he was saved by Sarah.
Linx warned Irongron that his spaceship would soon be ready for departure and its take-off would destroy the castle, but Irongron failed to understand so Linx left him to his fate. With the Doctor and Sarah having drugged their food, Irongron and his men lapsed into a stupour. However, Irongron revived when Hal tried to disarm him and, believing Linx had betrayed him, descended into the dungeon to confront him. Ironically arriving just as Linx was about to kill the Doctor and Sarah, Irongron lunged at Linx with his sword and Linx shot him dead.