Isaac Westcott's Elite or Isaac Westcott's Elites and Deus.Ex.Machina Adeptus are a DEM Wizard Elite Squad and a group of powerful fighters who were the strongest of Isaac's army. Almost all of Isaac's known elites were wiped out during the Volume 5 until Volume 13, including in the games. They all work under the Deus.Ex.Machina Industries.
The Elites took part in many battles, as they were the strongest minions of Westcott. They were some of the few minions of Isaac Westcott that he actually remembered the names of, or at least people who were important to Isaac's goal.
Members
High Ranking Elites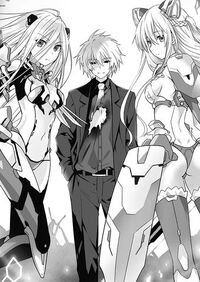 Lower Elites
Adeptus 4
Adepetus 5
Adepetus 6
Adepetus 7
Adepetus 8
Adepetus 9
Adepetus 10
Adepetus 11
Adepetus 12
Members Gallery
Community content is available under
CC-BY-SA
unless otherwise noted.