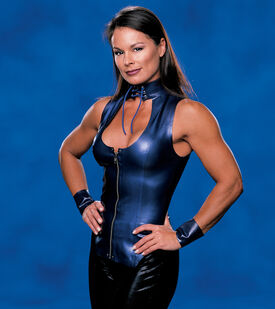 Ivory
is a former WWE Diva and a WWE Hall of Famer who has held the Women's Championship on three separate occasions. She has spent a majority of her WWE career competing as a villainess.
Ivory started out in the World Wrestling Federation as a valet for D'Lo Brown and Mark Henry before becoming an in-ring competitor in early 1999. After defeating Debra to win her first Women's Championship, Ivory became a villainess and feuded with Tori for months, including defeating her in the first women's Hardcore Match in WWF/E history. Ivory lost the title to The Fabulous Moolah, who was 76 years of age at the time, but she would regain the title over a week later.
2000 would see Ivory as the lone female member of the Right To Censor faction, due to her more conservative views. She also started dressing in more conservative gear; almost like a school marm. Ivory won her third Women's Championship as a member of RTC, but after losing the title, the faction disbanded. In 2001, the villainous Ivory defected to the WCW/ECW Alliance during the Invasion angle, and her plan was to build a women's division to rival the WWF's; taking Stacy Keibler and Torrie Wilson under her wing. In her role, Ivory also served as the valet for Alliance star Lance Storm.
After the Alliance angle ended, Ivory appeared as a villainous trainer on Tough Enough in 2002. She would call out the show's co-winners, Linda Miles and Jackie Gayda, which led to a match between Ivory and Linda on Velocity. Ivory went on to defeat Linda after Jackie shockingly became a villainess and shoved Linda off the top rope. Ivory aligned with the evil Jackie a week later, but they were defeated by Linda and Trish Stratus. She would continue to feud with Trish sporadically for the rest of that year. Ivory's villainous role ended in early 2003.
A list of Ivory's villainous traits include her arrogance, her outright viciousness, and her pleasure in intimidating other Divas.
Gallery
Community content is available under
CC-BY-SA
unless otherwise noted.