Jurassic World: Dominion Dominates Fandom Wikis - The Loop
Play Sound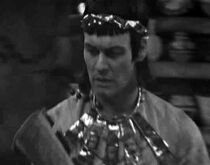 Ixta is one of two secondary antagonists in the Doctor Who serial "The Aztecs". He was portrayed by the late Ian Cullen.
Biography
Ixta was an Aztec warrior sometime aroung the 15th century. When the TARDIS arrived in the area, he was one of the conspirators in Tlotoxl's plot to expose Barbara as an imposter after she tried to abolish human sacrifice.
As Ian Chesterton's rival for command, Ixta had to defeat him in a duel. Tlotoxl supported Ixta and offered him untold riches if he killed Ian in the duel. Seeing an opportunity, Ixta manipulated the Doctor into giving him a needle that he could use to weaken Ian with just one scratch. 
When the duel began, Ian clearly had the upper hand until Ixta scratched him with the needle and began to strangle him. Tlotoxl called out for Ixta to kill Ian, only for Barbara to arrive and stop the fight by holding a knife to Tlotoxl's throat. When Ian awoke, Ixta was more affable and told him that he could beat him in the next fight.
However, Ixta had no intention of fighting Ian again. Instead, Ixta trapped Ian in one of the tombs. The tomb began to fill up with water due to an anti-graverobber mechanism, but Ian escaped. Tlotoxl congratulated Ixta on "killing" Ian and told him to guard a captive Susan. Ixta told Susan that he killed Ian, but Ian arrived and knocked him out.
An irate Tlotoxl berated Ixta for allowing them to escape, and ordered him to knock out the priest Autloc and frame Ian. Ixta did so, but Autloc soon realised that Ian was innocent. 
On finding that his latest plan had failed, a furious Tlotoxl tried to kill Barbara. Ixta attacked Ian, but without his poisoned needle he was quickly overpowered and Ian threw him off the roof of the temple to his death.