Jurassic World: Dominion Dominates Fandom Wikis - The Loop
Play Sound
| | | |
| --- | --- | --- |
| " | Come on, now, where's your sense of humor? | " |
| | ~ Jack O' Lantern | |
Jack O' Lantern is the main antagonist of the The Grim Adventures and Billy & Mandy special "Billy & Mandy's Jacked-Up Halloween".
He was voiced by Wayne Knight, who also played Dennis Nedry in Jurassic Park, Al McWhiggin in Toy Story 2 and Emperor Zurg in Buzz Lightyear of Star Command while in the video game he is voiced by Maurice LaMarche who voiced Father in Codename: Kids Next Door.
Biography
Jack was the village fool who would pull pranks on the villagers. The problem with Jack was, while he was a pleasant guy, he didn't know when to stop and his pranks ranged from harmless and annoying to dangerous and painful. Rumor had it, he would devise new pranks every evening and laugh himself to sleep at night. One day, the townspeople couldn't take it anymore and devised a prank of their own: the classic snake in a candy jar prank, signed it from Jack and sent it to the queen (who had no sense of humor). When the queen opened the gift from "Jack", she sent a knight out to kill him. Immediately, the Grim Reaper went to reap his soul, but Jack refused to go. When Grim insisted, Jack tickled him and stole his scythe and stated he would only give it back if Grim had granted him immortality so Jack could prank forever. When the deal was done, Jack returned the scythe but as punishment for tricking him, Grim decapitated him, ensuring that Jack would never show his face around town again, ever.
Later on, Jack got himself a pumpkin and wore it as his new head. He still lived in his old house that was untouched by time. Due to his appearance, Jack could not leave without being seen as a freak and waited to blend in on Halloween Night, after which Jack emerged with a sack full of tricks and played terrible pranks on the people of Endsville.
Billy and Mandy's Jacked Up Halloween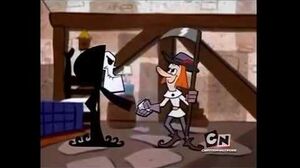 While he was out Trick-or-Treating in Downtown Endsville, Billy ran up to Jack's old house and looked for candy. Jack tried to ignore him and go off with his pranks while calling the Scythe fake but Billy said it was the real deal. When Jack realized that Billy was carrying Grim's Scythe, he tricked Billy into giving it to him, brought demons from the Underworld to the surface world, and had them use pumpkins for bodies. Jack revealed that he made a spell that would make sure that the sun would never rise again and that it would be Halloween forever.
Jack later kidnapped Grim, planning on using his Scythe to "return the favor," though Billy showed Jack that Grim's head was removable. However Jack revealed that any head cut off by the Grim Reaper's Scythe stays off forever.
Before he could put his plan into action, Mandy tried to save Grim by devising pranks of her own only to be caught by Jack. Irwin instead was the victim of Mandy's pranks, which caused Jack to burst out laughing and all of the possessed pumpkins to laugh themselves to death. When Jack was confronted by Grim, the former reminded him of the bargain they made. Grim told him he never goes back on his word, but Jack had overstayed his welcome and tickled him with his own feather, sending him with the pumpkin's spirits to the Underworld.
Once there, Jack continued his old ways of pulling pranks, but it's implied at the end he got his pumpkin head squished by the demons living there, though he's still alive thanks to his eternal life.
Video game(GBA)
Jack served as the boss of Mandy's level Squash Quash. He summons pumpkins with his taunts.
Gallery
Trivia
Despite just appearing physically once in the series and the rest of his appearances where relegated to non-physical cameos (not counting the video game), Jack O'Lantern is regarded as one of the most memorable Cartoon Network villains.
Jack's story is based off of the folk legend figure Stingy Jack, also known as "Jack of the Lantern".
According to The Grim Adventures of Billy and Mandy video game (not GBA), Jack  has a candle in his head that must be replaced every four hours. In the same game, Jack is featured with a suit he never wears in the series, Vine Jack.
Some fans sympathize with Jack due to his backstory as even though his jokes were dangerous sometimes, it's mentioned that he was a nice person, aside from the fact that the townspeople really crossed the line by pranking the Queen so she would order Jack's execution, as Jack's jokes never killed someone. Furthermore, it was really cruel from Grim's part to behead Jack after giving him immortality just because he didn't like to look like a fool.
In two shots of the episode in which he appears, Jack is depicted as smiling with real teeth, which is impossible, as his head is a pumpkin and thus it doesn't have real teeth. It's likely that this was an stylistic choice used to form the needed facial expression.