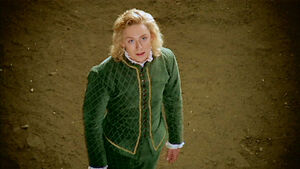 Jack the First was a posthumous character in Jack and the Beanstalk: The Real Story.
He was based exactly on the main character of the original fairy tale and he is the greedy ancestor of this miniseries' protagonist of the same first name, Jack Robinson. This Jack, unlike the one normally portrayed as the hero, was significantly vilified by Brian Henson due to morally questionable acts in the story.
Jack the First was played by J.J. Field.
History
According to the real story, as only four of the beans had been planted, Jack was treated by the giant, Thunderdell, with kindness, hospitality, and trust. Ondine, the film's leading lady, had been taken in as Thunderdell's daughter and made Jack promise that he wouldn't betray Thunderdell's trust. At one point, she showed him where the goose that laid the golden eggs and the singing harp were kept. So eventually, Jack betrayed Thunderdell's trust and hospitality by stealing those treasures, even as Thunderdell asked nicely to give them back and promised more golden eggs. Instead of listening, Jack went back down and cut the beanstalk down.
After Thunderdell fell to his death, he objected to cutting off the giant's head, so his mother did. Apparently, to prove the story that was known, he probably lied about the giant.
As punishment, starting on this Jack, the Giants were killing every descendant while each one was in his thirties and were about to end with Jack Robinson, and his (the first Jack's) mother had to live centuries to see this happen.
Community content is available under
CC-BY-SA
unless otherwise noted.