Jurassic World: Dominion Dominates Fandom Wikis - The Loop
Play Sound
Jackalopes are creatures from North American folklore and Huichol mythology. They are described as jackrabbits with antlers or horns similar to that of a deer.
Members
Jackalopes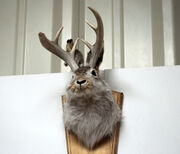 Legends of horned rabbits date as far back as Huichol myth, where they were described as mysterious creatures that gave the deer their horns.
The modern-day jackalope was thought to have been invented by the late hunter and taxidermist Douglas Herrick of Douglas, Wyoming, United States. It is believed that after he returned from a successful rabbit hunt, he entered a taxidermy shop and happened to set the carcasses down beside a pair of antlers, which gave him the idea to create a fake, joke mount of a rabbit head with deer antlers, which sold for ten dollars. However, the idea was so-well liked that they soon became a popular urban legend and "fearsome critter" (a term used for cryptids of lumberjack folklore), where they were described as virile, but hostile creatures that could mimic human voices and sing along in campfire songs. They would attack humans by goring their legs with their antlers, causing lumberjacks to wear stovepipes on their legs as protection. The legend stated the only way to calm an angry jackalope was to offer it whiskey to drink. The jackalope became such a popular legend that the state of Wyoming hands out joke Jackalope Hunting Licenses and has billed for it to become the official mythological creature of the state. Jackalopes were also included in the 1969 book Mythical Creatures of the North Country by the late historian Walker D. Wyman.
Additionally, many people have claimed to see jackalopes in the wild, though these could be rabbits affected by the Shope papilloma virus, which causes cancerous, horn-shaped growths to protrude from rabbits' bodies.
Wolpertingers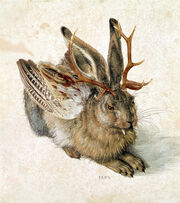 Wolpertingers were similar creatures originating from European myth, specifically in Bavaria and Germany. They are described as having the heads of rabbits, the horns of deer, the wings of a pheasant, and the fangs of a bat. These cryptids are said to inhabit forests and woods, and "stuffed" ones (which are combinations of several taxidermy animal parts) are sold as souvenirs in Bavaria and Germany.
Gallery