Wiki Targeted (Entertainment)
Play Sound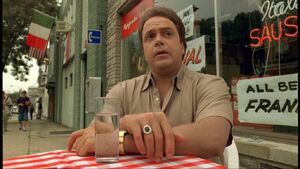 Jackie Aprile Sr. is a recurring secondary protagonist in the first season of The Sopranos.
He was portrayed by Michael Rispoli.
Biography
As a young boy, Jackie associated with Tony Soprano, Silvio Dante and Ralph Cifaretto. Together the four boys (except Ralph) robbed Feech La Manna's card game. Normally, the boys would be punished with death, but Johnny Boy, Uncle Junior and Richie Aprile all worked together to get them a pass. This event put Jackie on the fast track to being made.
Jackie married a woman named Rosalie, who he regularly cheated on. He loved their son Jackie Jr., which according to Ralph, led to Jackie being too lenient and Jr. being spoiled.
Jackie eventually became boss of the DiMeo crime family, but when cancer took him, he entrusted much of his roles to Tony. He authorized Tony's kidnapping of a Jewish hotel's owners son-in-law. Tony arranged for a stripper to give Jackie oral sex, which made him slightly happier for a moment, but Jackie was still rather depressed until he passed away. Before his death, he made Tony promise to keep his son out of the life which Tony tried (and failed) to honor.
Personality
Jackie was typically like many mobsters who can be prideful and stony-hearted, as shown by his approval of Tony abducting Ariel and regularly cheated on Rosalie. Despite that, it's clear he loved his family, as his wife and children clearly missed him after his passing and also seems he was a rather pleasant boss, as he offered Pussy money for his son's college fund and seemed genuinely concerned for him. Overall, it doesn't appear Jackie was that a bad a guy (at least in comparison to Tony and others). He was close friends with his subordinates, being childhood friends with Tony and being respected by many others.
External Links