Wiki Targeted (Entertainment)
Play Sound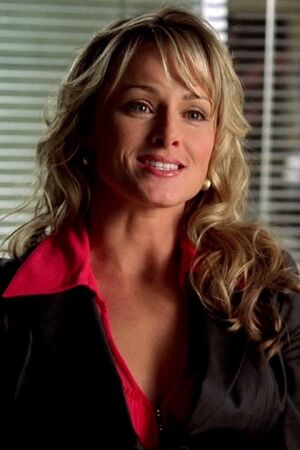 Jackie DeMartino is the main antagonist from "The Ride-In", episode 3.17 of CSI: NY.
She was portrayed by Jennifer O'Dell.
Biography
Jackie DeMartino is a con woman who was partners with Patrick Dent, aka Noah Hubler. She had helped Patrick escape custody in New Orleans by posing as a NYPD detective, and following their escape, Patrick underwent gastric bypass surgery to keep his identity hidden.
Unfortunately, the surgery was botched, as a pair of surgical scissors were left inside him, causing a bacterial infection that turned him into a religious fanatic who made claims that the world was coming to an end. Jackie ended her partnership with Patrick after this, but she wanted the money that he owed her: $10,000. Patrick had spent the money building an ark, but he stated to Jackie that he would come into some more money.
Sure enough, Jackie was paid that amount by Patrick, but she learned the hard way that the money was counterfeit, and she was almost arrested for being in possession. Patrick himself had been conned, as he found that money at a car auction; it was inside a car that belonged to a convicted counterfeiter. When Jackie angrily confronted her former partner at gunpoint, Patrick told her that he had been tricked. However, Jackie still believed that Patrick was conning her, and that prompted the villainess to shoot and kill Patrick, and later cover his body with the phony money. 
When interviewed by police regarding Patrick/Noah's death, Jackie stated that Patrick had conned her out of $10,000, portraying herself as a victim. However, the episode's climax revealed Jackie's true villainous role, and after Mac confronted her with the evidence, Jackie confessed to the murder. Mac informed Jackie that Patrick was actually telling the truth about being tricked, right before Jackie was arrested (off-screen) for her partner's murder.