House of the Dragon Trailer - The Loop
Play Sound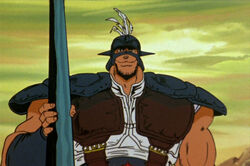 Jacob (in Japanese: ヤコブ, Yakobu) is a minor antagonist in Fist of the North Star. He is the leader of Ken-Oh's Lance Cavalry of motorcycle troops armed with lances.
He was voiced by Jūrōta Kosugi in the anime.
History
Jacob leads an assault on Kenshiro who is travelling with Lin, Bat and Fudo through a canyon first trying rocks. He then announces that if any of his henchmen can kill Kenshiro, they can get a new bike. Kenshiro fends off the bikers with a girder and kills Jacob in one blow.
In the anime, his screen time is extended. One of his henchmen reports Kenshiro's location to him. In addition to the bike as a reward, Jacob promises to reward his gang with bike parts for killing Bat and Lin and a years supply of gas for Fudo.
While much of the gang are decimated by Kenshiro and Fudo, Jacob then tries a motorcycle charge towards Kenshiro, but is given a flying kick hard towards him. At first, Jacob shrugs it off and charges at his enemy again, but the Hokuto Shinken effects blows him up.
Powers and Abilities
Jacob and his gang can charge through enemies on motorbikes with lances.
Gallery
Trivia
His Japanese voice actor, Jūrōta Kosugi would later voice Arlong as well as Nobunaga Oda in the Samurai Warriors series.