| | | |
| --- | --- | --- |
| " | But stealing is a big no-no! *turns into Hyde* TO WHICH I ALWAYS SAY YES-YES! | " |
| | ~ Jacqueline Hyde | |
Jacqueline Hyde is an antagonist in the Where in Time is Carmen Sandiego TV show and video game. She suffers from dissociative identity disorder, with one (Jacqueline) being nice and helpful, and the other (Hyde) acting as the real villain serving Carmen Sandiego. She was played by Alaine Kashian.
Appearance
Jacqueline wears a red blazer, a pink blouse, a red miniskirt and knee-length stockings, invoking an early-20th Century girlish school uniform. Her hair was strawberry-blonde in the first season, later changed to a vivid red tone in the second season. When speaking as Hyde, her usually calm and gentle voice becomes angry, loud and modulated, and her reddish-yellow aura radiates a lot more strongly.
Personality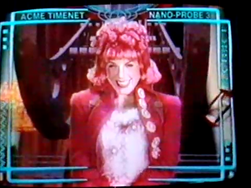 Jacqueline herself is a kind, gentle young woman with a cheery disposition. She considers Carmen to be her friend and acts very charmingly towards her (to which transparently-evil Carmen reacts with disgust), and also talks to the contestants as if wanting to help them when she breaks into their transmissions, reacting with horror and/or sadness when requested to steal or witnessing certain historical events.
Hyde, on the other hand, is abrasive and aggressive, speaking/screaming/growling in a modulated, nearly demonic tone of voice and showing far less restrictions with performing criminal activities, reacting with joy at tragic events and requests from Carmen for stealing items, often arguing with her gentler side and being disgusted at her.
Powers and behavior
Just like any other villain summoned by Carmen in the show, Hyde would steal something from the past and evade the Time Pilots throughout the show. In the first season, she would use her energy manipulation to throw an energy sphere at the Chronoskimmer to destabilize it, while in the second season she assaulted it by tearing the hatch wires apart by hand. Both seasons show her encasing herself in a sphere to teleport away and escape into the Trail of Time, where she was caught in a Prison Orb after three gates were opened.
Quotes
| | | |
| --- | --- | --- |
| " | HEY TIME PILOTS! CATCH!! | " |
| | ~ As Hyde, attacking the Chronoskimmer in Season 1. | |
| | | |
| --- | --- | --- |
| " | SEE YA, TIME PILOTS! I'M NOT DONE YET! | " |
| | ~ As Hyde, escaping into the Trail of Time in Season 1. | |
| | | |
| --- | --- | --- |
| " | HEY PILOTS! WANT DIRECTIONS TO THE JUNKYARD?? NOW YOU'RE GONNA NEED'EM, HAHAHA! | " |
| | ~ As Hyde, attacking the Chronoskimmer hatch in Season 2. | |
| | | |
| --- | --- | --- |
| " | *as Jacqueline* See? Good always wins over evil. *changes to Hyde* OH YEAH!? WELL WHO ASKED YOU!? | " |
| | ~ Escaping into the Trail of Time in Season 2. | |
Trivia
Her name is a phonetic pun on "Jekyll and Hyde", due to her split-personality. This is also a reference to the famous Robert Louis Stevenson novel, "Strange Case of Dr. Jekyll and Mr. Hyde".
The fact that Jacqueline despises stealing and is horrified by certain events that would delight her other side may imply that she is simply there as a patsy for Hyde's crimes.
Community content is available under
CC-BY-SA
unless otherwise noted.