Jurassic World: Dominion Dominates Fandom Wikis - The Loop
Play Sound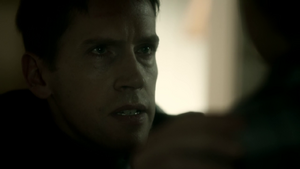 | | | |
| --- | --- | --- |
| " | You're gonna want to see this, son. | " |
| | ~ James to his son, Hunter, just before he kills Ashley. | |
James Zolomon is the posthumous overarching antagonist of season 2 of the TV series The Flash. He is the father of Hunter Zolomon, who would later go on to become the anarchistic supervillain Zoom due to his father's actions, which included being abusive towards his family and murdering Hunter's mother in front of him, scarring his son and triggering him into developing and uncontrollable bloodlust. He's portrayed by Shaine Jones.
Biography
James was a soldier on Earth-2 who was a veteran of a conflict known as "War of the Americas." He was thought to be a war hero. But in actuality, he was an abuser to his wife, Ashley Zolomon. When he returned home after being on the front lines for years, he would find his wife was in the process of leaving him with their son Hunter Zolomon. He would physically beat her in front of their son. He would go to his son, have him put on his helmet he wore during the war and said "You're gonna want to see this." He would then pull out a shotgun and murdered his wife in front of their son. He would then be sent to prison for the rest of his life. Assuming he didn't meet his end before 2019, he is assumed deceased when an antimatter wave cut a swath through Earth-2, destroying the universe, with all living beings destroyed in the process, which would have included James.
Legacy
Regardless if he was now dead, because of his actions, Hunter would be put in the system and would live in foster homes. Hunter would pick up homicidal tendencies because his father's actions psychologically damaged him. He would become a serial killer, which is a rarity on Earth-2. When the particle accelerator within S.T.A.R. Labs exploded, he became something much worse. He would terrorize Central City as the evil speedster Zoom, and lead Black Siren, Killer Frost, along with an army of meta-humans. He would eventually be stopped by The Flash and his team from Earth-1.

Villains