Jurassic World: Dominion Dominates Fandom Wikis - The Loop
Play Sound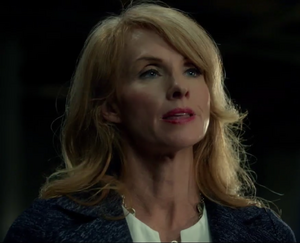 Janet Carroll is a villainess from the Arrow episode 5.02, "The Recruits."
She was portrayed by Suki Kaiser, who also played villainous werewolf pack leader Rose on Supernatural.
Biography
Janet Carroll is the CEO of AmerTek Industries, and after VP Evan Wender was attacked by Ragman, she is promised by Oliver Queen that she'll be protected at an event regarding the opening of a medical clinic. Despite Oliver and his new team of recruits attending the event, Janet is attacked by the Ragman and ends up hospitalized.
Once Oliver learns that Janet was released, Thea is sent to attempt to talk Janet out of filing a lawsuit due to the events, only to find Janet meeting with crime lord Tobias Church, with the revelation that Janet was selling weapons to Church for a $100 million payout. It was also revealed that AmeriTek was facing bankruptcy, and Janet's villainous deal was made to prevent it from happening. During another meeting with Church, the evil Janet again encountered Ragman, who was seeking revenge on AmerTek, but she escapes after Oliver orders Ragman to let her go.

Villains

Villains
Comics
Black Manta | Black Spider | Brain | Brick | Bronze Tiger | Brother Blood | Brotherhood of Evil | Catman | Cheshire | China White | Clayface | Clock King | Count Vertigo | Constantine Drakon | Crumbler | Cupid | Deadshot | Deathstroke | Double Down | Dr. Light | Dr. Sivana | Electrocutioner | Jinx | Joker | Killer Croc | Kodiak | Komodo | League of Assassins | Longbow Hunters | Mammoth | Merlyn | Metallo | Mister Freeze | Neron | Onomatopoeia | Professor Ojo | Professor Zoom | Prometheus | The Queen | Ra's al Ghul | Red Dart | Richard Dragon | Riddler | Royal Flush Gang | Skylark | Solomon Grundy | Stinger | Warp | Wizard
Movie
DC Showcase: Green Arrow: Merlyn | Count Vertigo
Television
Season 1: Oliver Queen | Malcolm Merlyn | China White | Edward Fyers | Billy Wintergreen | Adam Hunt | Constantine Drakon | Martin Somers | Deadshot | Jason Brodeur | Royal Flush Gang | Huntress | Frank Bertinelli | Firefly | Ted Gaynor | Count Vertigo | Amanda Waller
Season 2: Oliver Queen | Deathstroke | Isabel Rochev | Brother Blood | Anthony Ivo | League of Assassins (Nyssa al Ghul & Al-Owal) | China White | Dollmaker | Mayor | Officer Daily | Amanda Waller | Count Vertigo | Cyrus Gold | H.I.V.E. (Milo Armitage) | William Tockman | Suicide Squad (Bronze Tiger, Deadshot & Shrapnel) | Huntress | Frank Bertinelli | Clinton Hogue
Season 3: Oliver Queen | League of Assassins (Ra's al Ghul, Maseo Yamashiro, Nyssa al Ghul & Chase) | Matthew Shrieve | Amanda Waller | China White | Werner Zytle | Komodo | Cooper Seldon | Captain Boomerang | Roy Bivolo | Danny Brickwell | Deathstroke | Michael Amar | Joseph Cray | Suicide Squad (Deadshot & Cupid) | H.I.V.E. (Mina Fayad) | Jake Simmons
Season 4: Oliver Queen | H.I.V.E. (Damien Darhk, Ruvé Darhk, Malcolm Merlyn, Andrew Diggle, Milo Armitage, Phaedra Nixon, Mina Fayad, Thomas, Demolition Team, Michael Amar, Danny Brickwell & Cooper Seldon) | Shadowspire (Baron Reiter, Conklin & Joyner) | Amanda Waller | Lonnie Machin | Jeremy Tell | Rogue Anti-Vigilante Task Force (Liza Warner) | Vandal Savage | Calculator | Cupid | Brie Larvan | Evelyn Sharp
Season 5: Oliver Queen | Prometheus | Talia al Ghul | Evelyn Sharp | Black Siren | Konstantin Kovar | Ishmael Gregor | Tobias Church | Lonnie Machin | Ragman | Janet Carroll | J.G. Walker | Derek Sampson | Scimitar | Vigilante | Dominators | Laura Washington | Hideo Yamane | Sean Sonus | James Edlund | China White | Liza Warner | Cupid | Anatoly Knyazev | Captain Boomerang | Justin Claybourne
Season 6: Oliver Queen | (Ricardo Diaz, Black Siren, Anatoly Knyazev, Kimberly Hill & Sam Armand) | Cayden James | Sheck | Vigilante | Alex Faust | Jackals (Joe Wilson & Nylander) | Dark Arrow | Overgirl | Eobard Thawne | Prometheus (Earth-X) | Quentin Lance (Earth-X) | Athena
Season 7: Oliver Queen | Ninth Circle (Emiko Queen, Dante, Virgil & Beatrice) | Kevin Dale | Ricardo Diaz | Longbow Hunters (Red Dart, Kodiak & Silencer) | Stanley Dover | Danny Brickwell | Derek Sampson | John Deegan | Monitor | A.M.A.Z.O. | Psycho-Pirate | Ghost Initiative (Joe Wilson, China White & Cupid)
Season 8: Oliver Queen | Anti-Monitor | Deathstroke Gang (John Diggle, Jr. & Grant Wilson) | Monitor | Athena | Edward Fyers | Billy Wintergreen | Shadow Demons | Lex Luthor

Video Games
Injustice: Superman | Killer Frost | Solomon Grundy | Sinestro | Black Adam | Wonder Woman | Nightwing | Raven | Catwoman | The Flash | Bane | Gorilla Grodd