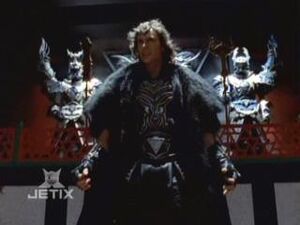 Jarrod is a major character in Power Rangers: Jungle Fury. He starts as a smug, bullying senior student in Pai Zhua, whose arrogance leads to him setting in motion the events of the series, being possessed by Dai Shi and serving as the series antagonist. He is eventually freed from Dai Shi's control, and reenlists in Pai Zhua.
He was portrayed by Bede Skinner.
Biography
At the opening of Jungle Fury, Jarrod is a top-tier student at Master Mao's Pai Zhua temple and wielder of the Black Lion spirit. He was then selected to be one of the guardians of Dai Shi's prison, after a series of tests, the last of which involved him defeating another, unnamed senior student. Unfortunately, Jarrod's arrogance forced Master Mao to dismiss him and select Casey Rhodes, a first year initiate, in his place. Jarrod found out what had happened, and after a brief battle with Master Mao, the chest containing the great evil of Dai Shi was accidentally opened and brought Dai Shi to the real world once again. Dai Shi mortally wounded Master Mao, then attacked the three guardians before escaping from the temple. Fearing for his life, Jarrod ran off, but Dai Shi saw his fear and took over Jarrod's body as a host. When Dai Shi became the Phantom Beast King, Jarrod adopted a stronger Griffin form. Dai Shi told Jarrod that he lacked the heart of lion, he chose him because he hadn not a shred of nobility or kindness. Three Phantom Beast Warriors were sent to kill Camille and he managed to destroy two of them, eventually realizing that he (Jarrod, not Dai Shi) loved Camille.
Casey believed in him and helped release him from Dai Shi. His Griffin armor was stripped from him by Dai Shi, and Camille's Phoenix armour was also confiscated. He helped fight against Scorch and Snapper, but when asked to help in the final battle, he was ashamed of his deeds and who he was and believed there was no going back. It was until Camille left to help, that he finally got the courage to stand up to Dai Shi. After the final battle, Jarrod and Camille joined Casey's class in the Phi Zhua academy. Despite being first-years, Jarrod and Camille had privileges, chiefly being able to assist if the opportunity arose.
Community content is available under
CC-BY-SA
unless otherwise noted.