Jason Bartlett was the supervisor of Project Ares and a recurring antagonist in the WB/CW TV series Smallville 's Sixth Season.
He was portrayed by Ben Ayres.
Biography
Combat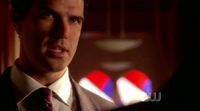 Bartlett was often seen advising Lex Luthor on the latest updates on the project. He apologized for reporting to Lex during his time of grieving but he didn't care. He found Titan at the destroyed metahuman fight club and he gave more information to Lex. Lex asked if they had Titan alive but Bartlett reported he was dead when their team arrived. Further, they retrieved his body and the autopsy revealed that Titan wasn't human.
Nemesis
After Lex escaped from Jodi Keenan, he returned to the facility where it was revealed that her husband, Wes Keenan, was indeed alive and being held as a test subject. Bartlett referred to him as "the prototype." Bartlett reported the prototype was just days from reaching its fullest functioning capacities.
Noir
Lex was leaving the hospital after visiting Lana who was shot at the Daily Planet. Bartlett informed Lex that her attacker was killed while in police custody. He also reported the gun that shot Lana didn't belong to the assailant but to Lex. The gun was unregistered but Bartlett pulled ballistic reports and it matched Lex's gun the one that's been missing. He speculates that she was carrying it for protection, but Lex doesn't know from whom.
Prototype
Lex and Bartlett were summoned to his laboratory located underneath Reeves Dam, where the doctor in charge, Donovan Jamison, reported that sections of the laboratory were becoming compromised systematically. The dozens of guards were being completely defeated as an unknown threat grows closer. As Bartlett and the doctor panic, the door bursts open. Lex fires, but the bullets were absorbed by a force field and a man emerges from the force field and levels a gun at Lex's face. It is Wes Keenan, but instead of shooting, he stops and waits for further instruction. After having Wes Keenan kill Senator Ed Burke, he returned to the laboratory. While being monitored by doctors, Bartlett announced there was a witness to the murder. Lex instructs the men to take care of it and they prepare Wes for programming.
When Lex returned home to spend an intimate moment with an unwillingly Lana. Bartlett suddenly appeared and interrupted them who reports that "the asset failed to return." Lex then leaves in a hurry apologizing.

Villains
Protagonists

Community content is available under
CC-BY-SA
unless otherwise noted.