Jurassic World: Dominion Dominates Fandom Wikis - The Loop
Play Sound
| | | |
| --- | --- | --- |
| " | The only respectable thing about you, old sport, is your money. Your money, that's it. Now I've just as much as you. That means we're equal. | " |
| | ~ Jay Gatsby to Tom Buchanan. | |
Jay Gatsby, formerly known as James Gatz, is the titular deuteragonist of F. Scott Fitzgerald's most famous work The Great Gatsby. He was a self-made businessman (who started off poor) that made his wealth in bootlegging in order to impress Daisy Buchanan with his great wealth in hope that she would be his again.
Gatsby's character became a character archetype when describing a self-made man who dreams of wealth and social status and he also became the inspiration for other wealthy characters with mysterious pasts. Unlike Tom Buchanan, he isn't outright villainous and is more of an anti-hero due to the process with how he gets his money.
In the 1974 film adaptation of the novel, he was portrayed by Robert Redford, who also portrayed Alexander Pierce in Captain America: The Winter Soldier. In the 2000 TV movie adaptation, he was portrayed by Toby Stephens, who also portrayed Gustav Graves in Die Another Day and Dr. Edward George Armstrong in And Then There Were None. In Baz Luhrmann's film adaptation, he was portrayed by Leonardo DiCaprio, who also played King Louis XIV in The Man in the Iron Mask, Frank Abagnale Jr. in Catch Me If You Can, Calvin Candie in Django Unchained and Jordan Belfort in The Wolf of Wall Street.
Biography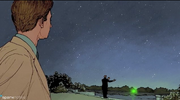 Unbeknowst to others, Gatsby actually started out poor. In fact, his name wasn't even Jay Gatsby at all; it was James Gatz. He was born on a farm in North Dakota, and, because of this, he was discontent with his life. When working on the docks, he spotted a yacht that belonged to Dan Cody, a wealthy copper mongul, and soon he began to go around the world with him and James created his new alter-ego Jay Gatsby because of this experience. After Dan died, Gatsby was supposed to receive the beneficiary, which was $25,000. However, he was swindled out of the money because of Cody's mistress. Since then, he vowed to become successful and rich no matter what cost.
When he was about to leave Louisville to fight in the Great War, Gatsby met Daisy and fell head-over-heels in love with her. However, he couldn't marry her because he didn't have any money, and asked her to wait for him. She ends up marrying Tom instead. Gatsby then moved to West Egg, Long Island, and built his mansion there in hopes of reuniting with Daisy. He was in love with the idea of her and wanted everything to be like it was those many years ago.
He later gets in a fight with Tom Buchanan over Daisy at the hotel. Gatsby hoped that Daisy would leave Tom, and make his dream a reality, while Tom reveals to Nick, Daisy, and Jordan that he did some research on this fellow and discovered that he got his wealth through illegal means such as bootlegging and selling drugs. When Daisy heard this, she was in denial, and she sides with her husband, leaving Gatsby's dreams crushed and in the dust. Still not willing to give up on Daisy, Gatsby takes the blame for her when she accidentally runs over Myrtle, and watches through the window at Daisy and Tom when they were sitting down eating cold chicken.
The next day, Gatsby decides to take a dip in his pool before it's drained for the season while waiting for the phone to ring. While waiting for the phone, George Wilson, husband to the deceased Myrtle, shoots Gatsby, instantly killing him, and then ends his life by pulling the gun on himself. This came about because Tom convinced him that Gatsby killed his wife, as a means to rid himself of him. Gatsby's funeral is attended by Nick, Owl-Eyes, and Gatsby's father, who had gotten the news that his son was murdered. To make matters worse, Tom gets away with both Gatsby's and Wilson's deaths, and he leaves with Daisy and their daughter to Chicago. Nick is so disgusted by all that's happened that he severs his ties with them and leaves. Gatsby ultimately died because he desired something that he could not have.
Personality
Gatsby was a very mysterious individual who seemed to get his money in unfathomable ways. He associates himself with the likes of Meyer Wolfsheim, who is a gangster who was believed to have fixed the World Series of 1919. He also was very inarticulate, secretive, and taciturn about his life.
He would tell things that were blatant lies with little tidbits of truth in them. He was also very obsessed and passionate with Daisy, so much so that he went into bootlegging to get rich just for her. He also seemed to be socially awkward and uncomfortable, since he accepted an invitation to a party, even though he never really wanted to go to the party with the owners.
He was also extremely optimistic to the point he believed that he could change his past with Daisy, which both delighted and disgusted Nick at the same time.
Impact
Gatsby himself became a go-to figure for shady business owners and his story was regarded as a deconstruction of the American Dream itself due to his position as a bootlegger and how he wasn't able to win Daisy over in the end. While many who read the story see only the life Gatsby built around his image, the truth is that Gatsby's undoing was letting his self-made image of others rule his own life.
Gallery
Trivia
In the 2013 film adaptation of the book, Gatsby demands a person to be beaten up, which gives more credibility to the rumor that he killed someone in the original book.
Relationships
Friends
Nick Carraway
Jordan Baker
Myrtle
Daisy Buchanan (formerly)
Enemies
Tom Buchanan (archenemy)
George Wilson (killer)
See also
Villains

Villains
Animated Features
Noah the Elder | Leopard Seal | Killer Whales | Surtr | Nyra | Kludd | Allomere | Jatt and Jutt | Pure Ones | Doomberg | Lord Business | Super Secret Police (Bad Cop & Sheriff Not-A-Robot) | Duplo Aliens | Joker | Harley Quinn | Phantom Zone Criminals (Zod, Sauron, Kraken, Lord Voldemort, Agent Smith, Jaws, Gremlins, Medusa, Lord Vampyre, Wicked Witch of the West, Flying Monkeys, The Swamp Creature & Daleks) | Catwoman | Poison Ivy | Two-Face | Bane | Riddler | Salvatore Maroni | Nolan Sorrento | Innovative Online Industries (I-R0k, F'Nale Zandor & Sixers)
Live-Action Films
Toecutter | Toecutter's Gang (Bubba Zanetti, Nightrider & Johnny the Boy) | Lord Humungus | Lord Humungus' Marauders (Wez) | Aunty Entity | Ironbar Bassey | Hughie Warriner | Sala | Sky Bandits | Xander Drax | Charlie Zephro | Skulls of Touganda | Quill | Singh Brotherhood (The Great Kabai Sengh, The Evil Kabai Sengh & Kabai Sengh) | Ray Zephro | Styles | Jack Farley | Morgan | Breen | Agent Smith | Cypher Reagan | Agents (Agent Jones, Agent Brown & Agent Johnson) | Susan McCallister | Jim Whitlock | Mako Sharks | Kathy Morningside | Jeremy Melton | Judith Fessbeggler | Lewis Strutt | Stanley Jobson | Gabriel Shear | Mr. Tinkles | Calico | The Russian | Alonzo Harris | Patrick Koster | Roger | Jacobim Mugatu | Terry Benedict | Lestat | Akasha | Spiders (Consuela & Tank) | Mayor Wade | Jack Ferriman | Francesca | Mr. Gray | Byrus | Machines (The Architect) | The Merovingian | Agent Thompson | Agent Jackson | Twins | Bane | Vamps | Deus Ex Machina | Trainman | Henry James | Jay McPherson | China | Luther | Martin Asher | Patience Phillips/Catwoman | Hedare Beauty (Laurel Hedare & George Hedare) | Gabriel | Mammon | Balthazar | Lucifer Morningstar | Bo Sinclair | Vincent Sinclair | Arthur Slugworth | Boss Hogg | Sheriff Rosco P. Coltrane | Bill Cox | Oliver Potter | Willy Bank | Alpha Male | Darkseekers | Royalton Industries (Arnold Royalton & Cruncher Block) | Snake Oiler | Agent 23 | KAOS (Siegfried) | Dalip | Shtarker | Spider | Smokie | Lord Henry Blackwood | Lord Coward | Irene Adler | Kitty Galore | Paws | James Moriarty | Sebastian Moran | Keith Clayton | Angelique Bouchard | Dr. Julia Hoffman | Collins Family | Mickey Cohen | Tom Buchanan | Jay Gatsby | Myrtle Wilson | George Wilson | Daisy Buchanan | Donaka Mark | Pearly Soames | Lucifer | Mimics | Nicolai Itchenko | Vladimir Pushkin | Slavi | Guy Danlily | Miss Hannigan | Annie's Fake Parents | Balem Abrasax | Titus Abrasax | Immortan Joe | Cult of the V8 (Rictus Erectus, Prime Imperator, Bullet Farmer, People Eater, Organic Mechanic, Coma-Doof Warrior, Nux, Slit, Ace, Morsov & War Boys) | Daniel Riddick | Susan Riddick | Slappy the Dummy | Monsters (Giant Praying Mantis, Will Blake, Lawn Gnomes, Madame Doom, Brent Green, Haunted Car, Count Nightwing, The Haunted Mask, Igor, Headless Horseman, Nila Rahmad, Grim Reaper & Bride of Frankenstein) | Rhonda George | Léon Rom | Rowan North | Mayhem | Martin Heiss | Electrocuted Ghost | Gertrude Aldridge | Marshmallow Man | Bartholomew Bogue | McCann | Denali | King Vortigern | Mordred | Nolan Sorrento | Innovative Online Industries (I-R0k, F'Nale Zandor & Sixers) | Damian Lewis | Arthur Fleck | Penny Fleck | Clowns (Clown & Ambulance Clown) | Wall Street Three | Penny Fleck's Boyfriend | The Analyst
See Also
20th Century Studios Villains | Amblin Entertainment Villains | Batman Villains | Buena Vista International Villains | Cats & Dogs Villains | Catwoman Villains | Constantine: The Hellblazer Villains | Disney Villains | Lantern Entertainment Villains | Mad Max Villains | Metro-Goldwyn-Mayer Villains | New Line Cinema Villains | Paramount Villains | Sony Pictures Villains | Sherlock Holmes Villains | Stephen King Villains | Steven Spielberg Villains | Tarzan Villains | The Equalizer Villains | The LEGO Movie Villains | The Matrix Villains | Tim Burton Villains | Universal Studios Villains | Warner Bros. Villains