Jurassic World: Dominion Dominates Fandom Wikis - The Loop
Play Sound
| | | |
| --- | --- | --- |
| " | I think I know where to find the Green Arrow which means the offer about no killing is off the table | " |
| | ~ Tell after entering the Arrowcave | |
Jeremy Tell, nicknamed Double Down, is a Meta-Human assassin able to draw an infinite number of deadly playing cards out of the tattoos on his body, using them as projectiles. He was employed by Mina Fayad to kill the Green Arrow.
He was portrayed by JR Bourne.
History
When Mina Fayad returns from Markovia, she is accompanied by Tell. Upon meeting Damien Darhk she introduces him as the asset he wanted from her. Darhk then asks for a demonstration of Tell's talent by ordering him to kill a H.I.V.E. agent who had failed to use his cyanide filled molar when captured. Tell kills the guard with his cards which impresses Darhk. Tell then tells Darhk that killing the guard was free but that killing the Green Arrow would cost. Darhk agrees.
Tell then stages a robbery in a to lure the Green Arrow in. Upon his arrival Oliver finds two dead workers and Tell, who attacks him with his cards. Although the fight is relatively even, Oliver retreats when he is wounded by one of Tell's cards. Returning to his hideout Oliver hands the card to Felicity who plans to analyse to find out information about the Hitman. After a conversation with Cisco Ramon in Central City Felicity learns the identity of Tell as well as that he is a metahuman who left Central City.
While Team Arrow is busy, Tell and Fayad return to Darhk who chides them both for their failure. Darhk then orders Tell to try to kill him. After making sure that in case of Damien's death he still gets payed, Tell thrusts a card at him but Darhk stops the card mid-air, shocking Tell with his mystical powers. He then lunges the card into Fayad's throat, executing her for her failure and then telepatically throws the card at Tell, stopping it close before his head. Darhk states that this was a demonstration for Tell and threatens him not to fail again.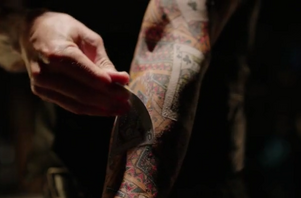 Being able to trace his cards, Tell appears at the lab at Palmer Industries where Felicity Smoak and Curtis Holt try to backtrack the card to him. He wants them to tell him where the Green Arrow's hideout is, stating that the first one to tell him will live. However, Felicity and Curtis escape through a secret elevator into the Arrowcave. Followed by Tell the three of them fight in the basement lair. While Tell manages to use his card to sever a lamp which knocks out Curtis, Felicity shoots the Meta-Human in the shoulder with an SMG which prompts Tell to retreat.
Unable to return to H.I.V.E. Tell plans to return to Central City but Diggle and Oliver stop him. While exiting his car Tell bemusedly tells them that the Green Arrow has to be a special kind of stupid because Tell was about to leave town. Tell then hurls three of his cards at Diggle but Oliver jumps into the way, getting hit. Angrily Diggle beats Tell unconscious before helping his friend up.
Tell was then incarcerated at the Meta-Human wing at Iron Heights prison.
Gallery
Trivia
Tell was the second Meta-Human featured as the main antagonist of an episode, the first was Jake Simmons/Deathbolt.

Villains

Villains
Comics
Black Manta | Black Spider | Brain | Brick | Bronze Tiger | Brother Blood | Brotherhood of Evil | Catman | Cheshire | China White | Clayface | Clock King | Count Vertigo | Constantine Drakon | Crumbler | Cupid | Deadshot | Deathstroke | Double Down | Dr. Light | Dr. Sivana | Electrocutioner | Jinx | Joker | Killer Croc | Kodiak | Komodo | League of Assassins | Longbow Hunters | Mammoth | Merlyn | Metallo | Mister Freeze | Neron | Onomatopoeia | Professor Ojo | Professor Zoom | Prometheus | The Queen | Ra's al Ghul | Red Dart | Richard Dragon | Riddler | Royal Flush Gang | Skylark | Solomon Grundy | Stinger | Warp | Wizard
Movie
DC Showcase: Green Arrow: Merlyn | Count Vertigo
Television
Season 1: Oliver Queen | Malcolm Merlyn | China White | Edward Fyers | Billy Wintergreen | Adam Hunt | Constantine Drakon | Martin Somers | Deadshot | Jason Brodeur | Royal Flush Gang | Huntress | Frank Bertinelli | Firefly | Ted Gaynor | Count Vertigo | Amanda Waller
Season 2: Oliver Queen | Deathstroke | Isabel Rochev | Brother Blood | Anthony Ivo | League of Assassins (Nyssa al Ghul & Al-Owal) | China White | Dollmaker | Mayor | Officer Daily | Amanda Waller | Count Vertigo | Cyrus Gold | H.I.V.E. (Milo Armitage) | William Tockman | Suicide Squad (Bronze Tiger, Deadshot & Shrapnel) | Huntress | Frank Bertinelli | Clinton Hogue
Season 3: Oliver Queen | League of Assassins (Ra's al Ghul, Maseo Yamashiro, Nyssa al Ghul & Chase) | Matthew Shrieve | Amanda Waller | China White | Werner Zytle | Komodo | Cooper Seldon | Captain Boomerang | Roy Bivolo | Danny Brickwell | Deathstroke | Michael Amar | Joseph Cray | Suicide Squad (Deadshot & Cupid) | H.I.V.E. (Mina Fayad) | Jake Simmons
Season 4: Oliver Queen | H.I.V.E. (Damien Darhk, Ruvé Darhk, Malcolm Merlyn, Andrew Diggle, Milo Armitage, Phaedra Nixon, Mina Fayad, Thomas, Demolition Team, Michael Amar, Danny Brickwell & Cooper Seldon) | Shadowspire (Baron Reiter, Conklin & Joyner) | Amanda Waller | Lonnie Machin | Jeremy Tell | Rogue Anti-Vigilante Task Force (Liza Warner) | Vandal Savage | Calculator | Cupid | Brie Larvan | Evelyn Sharp
Season 5: Oliver Queen | Prometheus | Talia al Ghul | Evelyn Sharp | Black Siren | Konstantin Kovar | Ishmael Gregor | Tobias Church | Lonnie Machin | Ragman | Janet Carroll | J.G. Walker | Derek Sampson | Scimitar | Vigilante | Dominators | Laura Washington | Hideo Yamane | Sean Sonus | James Edlund | China White | Liza Warner | Cupid | Anatoly Knyazev | Captain Boomerang | Justin Claybourne
Season 6: Oliver Queen | (Ricardo Diaz, Black Siren, Anatoly Knyazev, Kimberly Hill & Sam Armand) | Cayden James | Sheck | Vigilante | Alex Faust | Jackals (Joe Wilson & Nylander) | Dark Arrow | Overgirl | Eobard Thawne | Prometheus (Earth-X) | Quentin Lance (Earth-X) | Athena
Season 7: Oliver Queen | Ninth Circle (Emiko Queen, Dante, Virgil & Beatrice) | Kevin Dale | Ricardo Diaz | Longbow Hunters (Red Dart, Kodiak & Silencer) | Stanley Dover | Danny Brickwell | Derek Sampson | John Deegan | Monitor | A.M.A.Z.O. | Psycho-Pirate | Ghost Initiative (Joe Wilson, China White & Cupid)
Season 8: Oliver Queen | Anti-Monitor | Deathstroke Gang (John Diggle, Jr. & Grant Wilson) | Monitor | Athena | Edward Fyers | Billy Wintergreen | Shadow Demons | Lex Luthor

Video Games
Injustice: Superman | Killer Frost | Solomon Grundy | Sinestro | Black Adam | Wonder Woman | Nightwing | Raven | Catwoman | The Flash | Bane | Gorilla Grodd