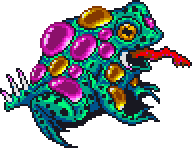 Jewel Beast is a boss from Romancing SaGa. It appears as a giant toad-like monster with gems encrusted into it's body.
Story
The Jewel Beast is a monster created when Saruin implanted Fatestones of his own into a monster. It gained substantial power, the ability to completely resist magic, and the ability to use magic as well. Saruin couldn't control it, so he sealed it away in the Frontier in a deep sleep.
The Jewel Beast's awakening is determined if one clears the frontier quests early. By defeating all the fixed encounters in each quest the Jewel Beast's awakening will be delayed. Getting to it's lair involves clearing the Assassin's Guild quest first as Strife will mention the Jewel Beast.
If the Jewel Beast awakens, it destroys the Frontier towns and stays in one of them for a period of time. It can use Jewel Blaster which is a Quad Element damage skill and deals magic based damage. It will do so every 6 turns then when low on health it will do it every 3. In the SNES version, the Jewel Beast will actually migrate to Kjaraht if the player gives it enough time to do so.
Trivia
The Jewel Beast is very reminiscient of the Tarrasque from Dungeons&Dragons, as the Jewel Beast itself is also a nearly indestructable and unstoppable force, which destroys everything in its path.
Community content is available under
CC-BY-SA
unless otherwise noted.