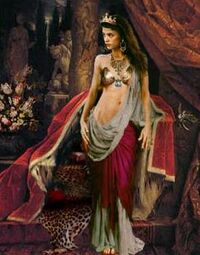 Jezebel
was a villainess whose story was told in 1st and 2nd Kings, two books in the Hebrew and Christian Bible.
In the book of 1st and 2nd Kings she is the wife of the wicked King Ahab who was king of Israel. She is the archenemy of the prophet Elijah and has been known for several clashes with him.
She has many of God's prophets killed and tried to kill Elijah when he slew her prophets of Baal.
She also indirectly murders Naboth, a man who owned a vine yard because her husband desired it. So she has him stoned after she used two false witnesses to accuse him of blasphemy. Elijah then tells Ahab that God will punish him and the Phoencian princess.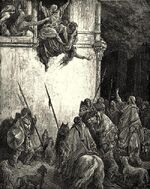 Ahab is later slain in battle and Jehu heads towards Jezebel. In an attempt to save her life, she paints her eyes and waits at the window. Jehu then orders his men to toss her out of the window. She dies and dogs eat her remains.
In popular culture
The film Jezebel (1938) starred Bette Davis.
Frankie Laine recorded "Jezebel" (1951), written by Wayne Shanklin, which became a hit song.
In the film Sins of Jezebel (1953), Jezebel was played by Paulette Goddard.
In his novel The Caves of Steel (1953, 1954), Isaac Asimov portrayed Jezebel as an ideal wife and woman who, in full compliance with the mores of the time, conscientiously promoted her own religion.[citation needed]
Lesley Hazleton wrote a revisionist historical non-fiction account, Jezebel, The Untold Story of the Bible's Harlot Queen (2004), that presents Jezebel as a sophisticated queen engaged in mortal combat with the fundamentalist prophet Elijah. Hazleton is also the author of several non-fiction books about the Middle East.
Nigerian-born singer Sade Adu recorded a song titled Jezebel on her Promise album in 1985 about a girl who knows how to get what she wants.[8] The song lyric somehow suggests about the struggle of a beautiful, proud and determined young prostitute, with ruthless ambition fuelled by poverty.[9]
The film "Jacob's Ladder (film)" (1990) includes a character named Jezebel. Allegorically she may be interpreted as a part of purgatory (in the sense described in the movie) because she strives to keep Jacob grounded in the real world instead of going to Heaven.
The song "Jezebel" (1993) performed by 10,000 Maniacs is the 11th song on the album MTV Unplugged.[10]
The lyrics of the song "I Wish You Were Here" by Tak Matsumoto Group read, "Gone to hell with Jezebel / I'm never coming home."
Recoil, a project of Alan Wilder, included a song titled Jezebel, describing a conflict with 'John' (the Baptist, presumably, a New Testament type of Elijah in many minds).
The 1995 Iron and Wine EP "Woman King" contains a haunting song called Jezebel, with lyrics that reference both the biblical character who was thrown from a window and torn by dogs and the modern sense of a Jezebel as a fallen woman.
Depeche Mode released a song "Jezebel" (written by Martin Gore) on its Sounds of the Universe album in 2008.
The song "The Adegan System" (2010) written by the Christian band, The Gun Show, refers to "Jezebel" as placing a spell on men. She then needs to repent to God for her ways of prostitution and deception.
In Scream Queens Jane Hollis calls Sadie Swenson "Jezebel" referencing her Jezebel's corrupting influence personality.