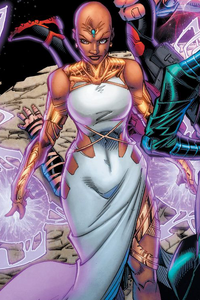 Jinx is an East Indian elemental sorceress whose powers include the ability to command elements such as air, the manipulation of magical energy that she can manifest as offensive force bolts and green flame, the ability to dissolve matter, and create ground tremors. Jinx is bald and attractively slender. She traditionally wears only a white two-piece loincloth bikini with golden jewelry, and she is always barefoot.
Biography
Jinx first encountered the Fearsome Five when that group attacked a research facility belonging to S.T.A.R. Labs where Jinx and another criminal, Neutron were being incarcerated. The Five are defeated by the Teen Titans, but Jinx and Neutron decided to join the Fearsome Five. Jinx remained with the group even after Neutron subsequently left it, but after their next appearance in Adventures of Superman #430 (July 1987), in which they fought Superman alongside new members Deuce and Charge, the group disbanded, and Jinx was incarcerated in the metahuman prison on Alcatraz along with her teammates Mammoth and Gizmo.
Jinx was part of Circe's army of female supervillains that was defeated by Wonder Woman and Earth's superheroines. Shortly thereafter, Jinx was recruited by Queen Clea into the reformed all-female crime organization Villainy Inc. Together with Cyborgirl, Doctor Poison, Giganta, and Trinity, Jinx assists Clea in conquering the other-dimensional land of Skartaris. However, the plan is commandeered by Trinity. The team has not appeared since.
Later, in a storyline in Outsiders #12–15 (July 2004 – October 2004), frequent Captain Marvel archenemy Dr. Sivana freed Jinx, Mammoth, and Gizmo from Alcatraz. Having summoned teammate Psimon and having brought her teammate Shimmer back to life after she had been turned into glass and shattered, Sivana put the team to work for him in a scheme to short sell Lexcorp stock by having them steal its accounts from its corporate building in Metropolis, and then driving down the stock by killing all the people in the building. Sivana also had them destroy two other Lexcorp properties. At the latter of the two, a microchip processor factory of Lexcorp's subsidiary, Kellacor, the Five were confronted by the Outsiders. After escaping, the criminally unsophisticated Five urged Sivana to take Lexcorp's nuclear missile facility near Joshua Tree, California. When Sivana refused, Psimon asserted that they would take it anyway, and in response, Sivana killed Gizmo with a laser blast to the head, and severed relations with the remaining four, warning them that he would kill them if they ever crossed his path again. The Five decided to enact their plan to take the facility and fire a nuclear missile at Canada, but were defeated by the Outsiders. Mammoth was returned to Alcatraz Island, but Jinx and the other members of the Five remain at large.
Most recently, she as seen among the new Injustice League, and is one of the villains featured in Salvation Run. She is one of the villains sent to retrieve the Get Out of Hell free card from the Secret Six.
Powers and Abilities
Jinx Magic: Jinx's body produces mystical energy which she can use for a variety of effects. Though an act of will, Jinx can cause electrical systems to malfunction. Jinx's sorcery also enables her to affect the elements. She can generate a whirlpool or tidal wave in the middle of the ocean, or summon heavy winds to knock opponents off their feet. Jinx has the ability of Probability Control, or manipulation over luck or - in Jinx's case - bad luck. Jinx is described as an enchanting sorceress who wields the power of bad luck, which manifests as pink, lightning-like energy blasts/waves fired from her hands. Jinx's powers portray a manipulation of probability, or more specifically, the ability to "jinx" her enemies, hence her name. How she does this has never been explored in the series. When she is not shooting waves of energy her eyes glow a bright pink instead, and can make structures crumble.
In early episodes, it was shown that her powers are magical in nature; however, in later episodes, she has seen exhibiting her powers as a free flow output through her brain, common for most psionics. When she wants her enemies to be "jinxed", she mostly uses her energy waves to disrupt solid structures in her surroundings, though other effects are also possible, such as tidal waves. Her bad-luck energy can also serve a direct offensive role as concussive blasts. As shown in the Teen Titans Go! issue #1, her powers cannot bypass Raven's dark-energy shields. Jinx is also an accomplished gymnast, capable of dodging beam-bursts, starbolts, and pillars of stone telekinetically launched at her with ease. She also excels at hand to hand combat. She is not as experienced as the other Titans but she was able to hold her own against Raven. Most of it was probably learned at H.I.V.E. Academy.
Probability Manipulation: Among these is the ability to affect probability fields around specific objects.
Energy Projection: Primarily though, Jinx uses her power to produce bursts of concussive mystical energy. She can hurl this energy either as a blast, or as a pink wave/hex, which she uses to knock her opponents off their feet.
Expert Gymnast: Jinx is extremely agile and uses various somersaults and tumbling to avoid offensive attacks. She has also incorporated her gymnastic skill into close-quarter combat.

Villains
Comics
Andre LeBlanc | Anti-Monitor | Arsenal | Blackfire | Blizzard | Brother Blood | Brotherhood of Evil (Brain, Monsieur Mallah, Madame Rouge & General Immortus) | Brutale | Calculator | Cheshire | Clock King | Damien Darhk | Deathstroke | Deuce & Charger | Deathwing | Ding Dong Daddy | Doctor Light | Doctor Polaris | Duela Dent | Electrocutioner | Gentleman Ghost | Gizmo | Holocaust | Ice Kate | Jericho | Jinx | Kid Kold | Kwiz Kid | Legion of Doom (Superboy-Prime, Sun Girl, Headcase, Inertia, Indigo, Persuader, Zookeeper) | Mammoth | Mantis | Mister Twister | Neron | Neutron | Ocean Master | Phobia | Prometheus | Psimon | Puppeteer | Pylon | Ravager | Royal Flush Gang | Shimmer | Sunburst | Terra | Terror Titans | Trident | Trigon | Twister | Two-Face | Veil | Ultra-Humanite | Warp | Wildebeest | Wintergreen
Television
Teen Titans (2003)
Slade | Terra | Trigon | Blackfire | H.I.V.E. Five (Jinx, Gizmo, Mammoth, Billy Numerous, See-More, & Kyd Wykkyd) | Dr. Light | Cinderblock | Brother Blood | Brotherhood of Evil (Brain, Monsieur Mallah, Madame Rouge & General Immortus) | Control Freak | Puppet King | Killer Moth | Mad Mod | Mother Mae-Eye | Mumbo Jumbo | Plasmus | Overload | Nega Cyborg | Nega Starfire | Nega Beast Boy | Fang | Kitten | Angel | Adonis | Johnny Rancid | Malchior | Master of Games | Ternion | Glgrdsklechhh | The Source | Guard | Kardiak | White Monster | Thunder & Lighting | Atlas | XL Terrestrial | H.I.V.E. Academy | Private H.I.V.E. | Krall | Radiation Creature | I.N.S.T.I.G.A.T.O.R. | Professor Chang | Sammy & Cash | Steamroller | Wrestling Star | Baron Ryang | Punk Rocket | Soto | Space Monster | Katarou | Red X | Trogaar
Teen Titans Go!
Trigon | Terra | Slade | Cinderblock | Plasmus | H.I.V.E. Five (Gizmo, Jinx, Mammoth, See-More & Billy Numerous) | Brother Blood | Dr. Light | Control Freak | Mumbo Jumbo | Mad Moe | Killer Moth | Kitten | Mother Mae-Eye | Punk Rocket | Brotherhood of Evil (Brain, Monsieur Mallah & Madame Rouge) | Rose Wilson | Raging Raven | Blackfire | Darkseid | Doomsday | Pain Bot | Sandwich Guardians | Ed | Flex | Muscle | Magic God | Vegetor | Twin Destroyers of Azarath | Slime Monster | Scary Teri | The Invisible Man | Pelicans | Perfect Sandwich | Death | Honk | Giant Robotic Alien | Klatak | Legion of Doom | Santa Claus | Tooth Fairy | Halloween Spirit | Hurt Bot | The Whisper | Money Mummy | Dr. Otto Von Death | Lumino | Piglets | Evil Dragon | The Lumberjack | Dr. Military | Toy Master | Richard Nixon | Muscleor | Punk Crabs | Ultralak | Taker | Ratings Monster
Titans (2018)
Trigon | Dr. Adamson | Nuclear Family (Nuclear Dad, Nuclear Stepdad, Nuclear Mom, Nuclear Sis & Nuclear Biff) | Angela Azarath | Deathstroke | Cadmus Laboratories (Mercy Graves & Walter Hawn) | Dr. Light | Wintergreen | Shimmer | Blackfire
Video Games
Injustice: Superman | Damian Wayne | Cyborg | Raven | Deathstroke
Movies
Teen Titans: Trouble in Tokyo: Uehara Daizo | Brushogun | Saico-Tek | Nya-Nya | Deka-Mido | Timoko | Mecha-Boi | Scarface
Justice League vs. Teen Titans: Trigon | Legion of Doom (Lex Luthor, Cheetah, Solomon Grundy, Toymaster, & Weather Wizard) | Atomic Skull | Ra's al Ghul
Teen Titans: The Judas Contract: H.I.V.E./Church of Blood (Brother Blood, Mother Mayhem, Deathstroke & Terra)
Teen Titans Go! To the Movies: Slade | Balloon Man
Teen Titans Go! vs. Teen Titans: Hexagon (Trigon (Teen Titans Go!) & Trigon (Teen Titans)) | Master of Games | Gentleman Ghost | Megan Claus | Raven's Demon
Community content is available under
CC-BY-SA
unless otherwise noted.