Hawkeye Is Here To Amaze - The Loop
Play Sound
Jafar says: Read my lips and come to grips with the reality!


This article is a stub and is in need of expansion. You can help Villains Wiki by expanding it.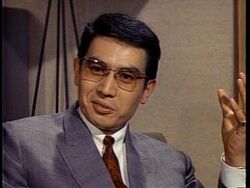 Jiro Torahata is the owner of Head Enterprises and the secondary antagonist in the 1964 Godzilla film, Mothra vs. Godzilla.
He was portrayed by Kenji Sahara.
Role
The next day, Kumayama barges into Torahata's room and demands Torahata to give him his money back that Torahata had recently swindled from Kumayama. The two get into a fistfight and Kumayama knocks Torahata down.
Kumayama crawls into Torahata's money cabinet and begins to steal the money from it. Torahata wakes up and sees Godzilla approaching the hotel. He grabs a gun and kills Kumayama.
Torahata tries to escape with his money but Godzilla destroys the Hotel, crushing the greedy head of Happy Enterprises to death.