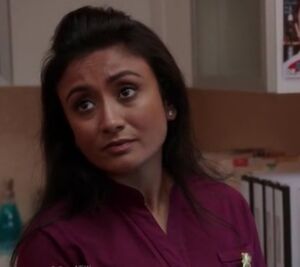 Jiya Alexander is the secondary antagonist of the Law & Order: SVU episode "Decaying Morality"'.
She was portrayed by Gayatri Patel Bahl.
Biography
Jiya Alexander is the wife and anesthetic nurse of dentist Neil Alexander, as well as the aunt of the episode's protagonist, Jenna Davis.
As revealed in the episode, Neil is a serial statutory rapist, and Jiya was a willing accomplice to his actions. She would drug various teenage girls so Neil could rape them, and she even did the same to her own niece, Jenna; drugging her during her dental check-up, and would stand watch in front of the door while Neil raped Jenna. In her encounter with Amaro and Carisi regarding Jenna, the evil Jiya even accused Jenna of stealing the drugs, claiming she did so because she is a teenager.
Jiya is shown once more standing by Neil as he denied the claims from his numerous victims, who came forward after an article about Neil was printed in the front page. After Neil was arrested and charged following Jenna obtaining a recorded admission, Jiya was arrested (off-screen) for her role as well.