Jurassic World: Dominion Dominates Fandom Wikis - The Loop
Play Sound
This article's content is marked as Mature
The page Mature contains mature content that may include coarse language, sexual references, and/or graphic violent images which may be disturbing to some. Mature pages are recommended for those who are 18 years of age and older.


If you are 18 years or older or are comfortable with graphic material, you are free to view this page. Otherwise, you should close this page and view another page.
| | | |
| --- | --- | --- |
| " | This world, including Morioh, is crazy. And the one thing you can be certain of in this mad world... Is the one that wins is the one in the right. | " |
| | ~ Jobin Higashikata | |
| | | |
| --- | --- | --- |
| " | There is good and bad luck in this world... That's... something I've been told... There are situations where if you'd gotten somewhere one second sooner... You might have been in an accident or avoided an accident... Or... You met or didn't meet someone important when you went somewhere... Things where the result... is good or bad. And the cause is good or evil. There are situations like that... I've been told. But that is a misapprehension. A societal misunderstanding caused by large numbers of people living together. Once you clear away everything extraneous and view each individual in individual situations... What we find existing around us is... simply... Strength and Weakness. Good and bad luck... Good and evil, legal and illegal... You can forget all that. There exist simply the strong that survive and the weak which are destroyed. Those two, and nothing more. | " |
| | ~ Jobin Higashikata | |
Jobin Higashikata is the central antagonist of JoJo's Bizzare Adventure: JoJolion.
He is the eldest son of Norisuke Higashikata IV and Kaato Higashikata and also the only member of the Locacaca Organization who is not a Rock Human. Later on he betrays the group, wanting the power of the Locacaca to fullfill his own ambitions and get rid of the curse of his family. Jobin wields the Stand known as Speed King.
Biography
Past
Not much is known about Jobin's early life. At the age of twelve, he received the rock disease that plagues the firstborn of each Higashikata generation and causing his short term memory loss. due this he was frequently bullied by two classmates who forced him to wear his mother's underwear, one of students reported to police about Jobin's suffering hands by his classmates. that night one of bullies dragged Jobin to the house which his savor lived them and tried to force him to set fire on the denouncer's house, but Jobin refused to commit arson. This angered the bully, who threatened to burn Jobin's face. That was the moment Jobin awakened Speed King and critically injured his bully. Kaato had him bury the body and preformed a equivalent exchange, curing him.
JoJo's Bizzare Adventure: JoJolion
In 2011, some time around August 19, Jobin briefly meets Josuke who is coming to live with his family before leaving on a trip to Vietnam and the Philippines. He eventually returns and gifts Josuke a stag beetle. Josuke challenges Jobin to three stag beetle fights. Josuke wins the final fight and in return gets the keys to Jobin's golden Lamborghini Gallardo.
Later, Jobin enlists the help of Dolomite to attack Josuke. Jobin then helps himself by using his stand, Speed King, to knock out Yasuho Hirose, who is helping Josuke. After this, Jobin gets a call from Poor Tom requesting his appearance in a parking lot, Poor Tom teams up Jobin to stop Josuke. Giving him a toy house, he asks that Jobin bury it in his orchard. He buries it, but when Tsurugi goes to confront him, he is hurt badly by the depressurization. Realizing the trick, Jobin helps the others stop Poor Tom, and then takes the real branch. Noting of his foe's family's strength to his wife, his plans are interrupted by meeting with Tsurugi, who tells him of Ojiro Sasame. Trying to check on his plant, he notices Ojiro's attack, revealing the location of his branch. Ojiro attacks, getting Jobin affected by Fun Fun Fun in the process. Revealing the upcoming harvest through threat of having Jobin choke Tsurugi, he reveals his stand to Ojiro on his request, who unsuccessfully kills them, takes the branch, and flees. Jobin then follows Ojiro to his apartment, kills him and his girlfriend, and takes the branch back.
On the day of the harvest, Jobin originally with the rest of the family as they hide from Satoru Akefu's wrath. Norisuke uses King Nothing to find about the fate of Ojiro and his girlfriend, Jobin being the one who killed them, and his involvement with the Locacaca Organization. Needing it to complete his plans but not without a heavy heart, Jobin critcally injures his own father by boiling his blood. With the rest of the family stunned, Jobin coldly reminds them that to prepare themselves for the family's new direction. Covering his father's body in tarp, he then announces the coming harvest and frees Paisley Park. Having revealed the importance of the Locacaca, he pronounces that the fruit will save the family from their enemies. Jobin also assures his family that he didn't kill Norisuke, and didn't plan on it. Commanding the others to bring him and the Locacaca to the second floor, he is later warned of Satoru's presence, and attacks the hiding doctor. However, the attack misses at Satoru disappears, leaving behind a can of hair spray. Jobin originally decides against heading after the plant and checks the security cameras for clues, discovering Yasuho and Tooru. After realizing a surprise wound caused by the dipping tube of the hair spray, Jobin is killed from the blood loss as the potted pant rolls to the garage door.
Personality
| | | |
| --- | --- | --- |
| " | Even for someone like me... someone fortunate enough to be born as the eldest son of a wealthy family, I need to keep climbing higher... or I will never be happy. It's all relative. | " |
| | ~ Jobin Higashikata | |
Jobin is very childish. He plays with toys and obsessively collects stag beetles, but he also is a fan of the poet, Aida Mitsuo and has a philosophy that whatever standing in life one starts at, that is "zero" for them and everyone seeks to raise their position regardless of where their "zero" is.
Powers and Abilities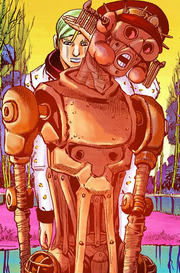 | | | |
| --- | --- | --- |
| " | Whether the climate or the era we're in changes, or how the rules and laws of society change... whatever cruel enemy has set foot on the Higashikata Family's land... we are without mercy. | " |
| | ~ Jobin Higashikata | |
Jobin's Stand, Speed King, has the ability to store heat inside objects or parts of the human body, said heat being transferable on touching the object/area where it is stored. Speed King can only affect objects ten centimeters from it, but the effect can keep its potency long after the object leaves the area. Jobin can raise the heat to a known maximum of 572°F, and can use his ability for a number of uses, such as melting objects or boiling blood inside one's blood vessels.