Doctor Strange in The Multiverse o Madness - The Loop
Play Sound
| | | |
| --- | --- | --- |
| " | You thought it was funny... calling me names, making me cry... making me wish I were dead rather than fat. | " |
| | ~ Jodi Melville to Dustin, before attacking him. | |
Jodi Melville, aka the Fat Sucking Vampire, was an overweight teen obsessed with losing weight who became a metahuman with the ability to absorb fat in the WB Television series Smallville.
She appeared as the main antagonist in the First Season episode "Craving", and her Earth-2 counterpart appeared in the Smallville comics.
She was portrayed by Amy Adams, who also played Kathryn Merteuil in Cruel Intentions 2.
Biography
Early life
Jodi and her family owned a greenhouse that contained a wide variety of plants and vegetables. Her mother passed away years prior, and she was raised by her father. Attending Smallville High School, she was frequently bullied for being overweight, more commonly so by her classmate, Dustin Crenshaw.
Due to her bullying, Jodi suffered from depression, and even wished that she was dead rather than being fat due to Dustin's comments. Despite the abuse she suffered, Jodi was friends with Clark Kent, Chloe Sullivan and Pete Ross, and would occasionally write for the Smallville Torch with them.
She also had a crush on Pete, since he was one of the few people who was nice to her.
Smallville
Jodi attended Smallville High as a freshman and participated in the school newspaper "The Torch" submitting articles occasionally. Lana Lang was having a birthday party and invited everyone in the school including Jodi.
Obsessed with losing weight, Jodi stopped eating and began to only consume vegetable shakes that she had made with vegetables from her father's greenhouse as she wanted to look her best for the party. Unknown to Jodi, the vegetables were grown in soil mixed with green meteor rocks.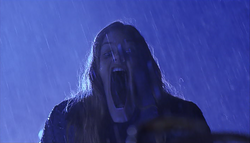 At school, Jodi was cutting the heads off pictures of supermodels and pasting their bodies into her scrapbook with pictures of her own head when Chloe and Pete asked her for help with their algebra homework.
When they offered to buy her lunch, Jodi instead showed them her vegetable shake which looked revolting.
Fellow student Dustin Crenshaw approached and brutally bullied Jodi for her weight by bouncing a basketball that caused her to spill the drink over herself. In tears, Jodi consumed another vegetable shake and after only a day on her new diet, Jodi got dramatic results.
She watches in the mirror as her double chin recedes and checked her weight again; losing twenty-nine pounds as she watches the numbers on the scale go down. At school, Jodi worked up the courage to ask Pete to Lana's party.
Jodi makes herself another shake and checks her weight. She watches as her waistline melts away, and loses another 27 pounds in seconds. Initially, she is elated, but then she felt an overwhelming craving and rushes to the kitchen.
She eats frantically from the fridge and cupboard until she's stuffed. She spies her vegetable shake and guesses that it is responsible for her insatiable appetite. She throws it against the wall in a rage.
Though she lost all of her weight, her metabolism was accelerated to the point that she couldn't keep up with what her body demanded. She was forced to eat extreme amounts of food, and when driving to get some, she accidentally hit a deer that was crossing the road.
Jodi then succumbed to her craving and her face contorts and she seems to uncontrollably devour the deer by sucking the fat out of it. She returned to school with new admirers since she was thin. Jodi hid from her dad in the bathroom, surrounded by hamburger wrappers and pizza boxes.
At school, Jodi wasn't feeling well when she saw Dustin again. Jodi decided to get her revenge on him for his bullying, by seducing him and took him to the boiler room nearly killed him until Clark arrived. She was forced to flee from the area, and Dustin was put into a coma due to Jodi sucking most of his fat from his body.
Around this time, Jodi agreed to go to Lana's birthday party with Pete. Jodi felt her craving returning and attempted to stay home so she wouldn't hurt Pete. He refused, and Jodi succumbed to her craving and attacked Pete when preparing to leave her house, but was stopped by Clark.
He battled her in the greenhouse where the meteor Kryptonite weakened him, but Jodi saw her reflection, and felt remorse for her actions and attempted to commit suicide. Clark stopped her, and she was taken to the Metropolis Grand Hospital to be treated.
Gallery
Trivia
Jodi's actress, Amy Adams, would go on to play Lois Lane in the DC Extended Universe.

Villains
Protagonists