| | | |
| --- | --- | --- |
| " | You see that, kid? That's what happens when you try and be a hero! | " |
| | ~ Joe Chill to young Bruce Wayne in Batman: Arkham VR. | |
Joseph Chillton, also known as Joe Chill or just Joe, was a small time crook but is a minor yet extremely pivotal antagonist in the Batman franchise (with Lew Moxon being the overarching antagonist). He was a petty thug who had the most severe effect on Bruce Wayne, because he was responsible for killing Bruce's parents: Martha and Thomas Wayne, however he regrets his decision after he discovers he is the reason why the Batman exists.
In the Pre-Crisis era, Joe Chill was revealed to not just be a mugger but a hitman who was hired to kill the Waynes on Lew Moxon's orders. In the present, he has become a small-time crime boss and murdered at least one other man — a partner of his who squealed to the police.
Batman investigates Chill and eventually his identity as Bruce Wayne, the son of the couple that Chill murdered. When Chill goes to his men for help, they angrily turn on him upon finding out he is behind the existence of the hated Batman and fire on him, Batman incapacitates the criminals and rescues Chill. Mortally wounded by the gunshots, Chill admits it's fitting Bruce got him after all and expires from his injuries.
During the Post-Crisis era, Batman continues to watch Chill for many nights until he finally confronted him and provides Chill with the same gun he used to shoot the Waynes many years ago. After realizing who Batman really is and that he was responsible for his creation, Chill proceeds to commit suicide knowing that the entire criminal underworld would want him dead if they ever found out.
In the New 52 continuity, before becoming Batman, Bruce Wayne confronts Joe Chill on the street with a loaded handgun and demanded why he killed his parents. Chill admits that he didn't even know who the Waynes were when he held them up in the ally and only wanted money to buy more alcohol. Chill's explanation enraged Bruce greatly but he managed to relent himself from killing Chill at the last moment.
Biography
Not much is known about Chill except that he is, in most versions of Batman, a petty mugger who kills Bruce's parents Thomas and Martha while trying to take their money and jewelry after the Wayne family were walking home from seeing a movie by taking a shortcut in Crime Alley. When he demands Martha's necklace, Thomas moves to protect his wife and Chill kills him; he then kills Martha when she screams for help (In the Golden Age story that named chill, the event was censored to Martha dying from a heart attack brought on from the shock of seeing her husband murdered). Chill panics and runs away when Bruce begins crying and calling for help — but not before the boy memorizes his features.
In at least three versions of the Batman mythos, the Waynes' killer is never identified.
Appearances in film
Batman (1989 film)
In the original script for 1989's Batman, written by Tom Mankiewicz, crime boss Rupert Thorne hires Joe Chill to murder Thomas Wayne because he is running against Thorne for city council. Chill is not mentioned in the final version of the film which was directed by Tim Burton. In that film, a young Jack Napier (who would later become The Joker) is the Waynes' killer. Rupert Thorne is changed to Carl Grissom and the mugger is unnamed.
Joe Chill mugged Thomas and Martha Wayne, and tore away her necklace. The Waynes were then shot and murdered by his partner, Jack Napier, although his reaction implied that he did not anticipate that Jack would actually kill them. Then Chill began to run away in order to escape from the scene of the crime, and urged Jack to follow him.
Batman Begins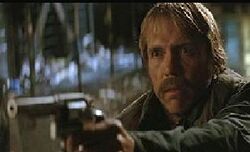 Chill appears in the live-action film Batman Begins as a minor yet crucial antagonist. Like in the majority of Batman continuity, Chill is a small time criminal who, out of desperation because of extreme poverty (At the time, Gotham City was in the middle of an economic depression that was caused by the League of Shadows) mugs the Waynes outside of an opera house and subsequently kills both Thomas and Martha Wayne. He is immediately apprehended by the GCPD and is sent to jail, where he shares a cell with mob boss Carmine Falcone.
Fifteen years later, Chill cuts a deal with the GCPD, arranging for his release on parole in exchange for testifying against Falcone in court. Bruce Wayne has returned to Gotham to attend Chill's disciplinary hearing (which the presiding judge, paid off by Falcone, makes public in order to get Chill "in the open") to apparently speak on behalf of his parents. During the hearing, Chill claims to regret his crime. Following the hearing, Bruce attempts to shoot Chill, but he is robbed of his chance for revenge when an assassin working for Falcone guns Chill down first.
After Bruce's revelation to his close friend Rachel Dawes that he wanted to kill Chill, Dawes slaps him and says that his father would have been ashamed of him. Feeling guilty, Bruce hurls the gun into the Gotham Bay and vows never to touch one ever again. During Bruce's confrontation with Carmine Falcone, Falcone claims that when he and Chill were in jail together that Chill bragged that when he murdered the Waynes, that Bruce's father "begged like a dog" for mercy. This, of course, isn't true, as the audience can see that Thomas didn't begged for his life as a dog when Chill went to kill him and his wife in the scene where the Waynes are killed, though it's unknown if Chill actually said that, considering that he was desperate for the money and seemed to regret his actions (most likely, Falcone made up the story to provoke Bruce, knowing that it would hurt him).
As in most Batman continuity, Chill's murder of Thomas and Martha Wayne leads to Bruce's desire to fight injustice, which once again makes Chill indirectly responsible for Bruce becoming Batman.
Batman v. Superman: Dawn of Justice
A Bronze Age version of Joe Chill appears in a flashback in the DC Extended Universe film. He is responsible for the deaths of Thomas and Martha Wayne. It's unknown if he acted on his own or was hired to kill them.
Joker (2019)
See Clown (Joker)
In the 2019 psychological thriller, an unidentified man in a clown mask kills Thomas and Martha Wayne during riots orchestrated by Joker, feeling they had it coming for their "injustice" towards Gotham City. It was never confirmed if the man is named Joe Chill.
Animated and TV Series Versions
In the Super Powers Team: Galactic Guardians episode "The Fear", a flashback depicts Thomas and Martha being mugged by someone who might be Joe Chill. When his father tries to fight him, young Bruce says "No Dad, he's got a..." and lightning is shown in the sky as his parents are shot. This flashback is later induced by The Scarecrow's fear toxin. This episode represents the first time that Batman's origin is portrayed on television. Batman in this instance is voiced by Adam West.
The Justice League Unlimited episode "For the Man Who Has Everything" features an appearance by Joe Chill voiced by Kevin Conroy (the voice of Batman in the DC animated universe). In the episode, Batman is captured by the Black Mercy plant, which traps its prey in the fantasy of their heart's desire. While under the plant's spell, Batman hallucinates that his father beats Chill up after disarming him. When Wonder Woman tears the plant off of Batman, however, the vision returns to reality with Chill shooting and killing Bruce's parents.
Joe Chill is the main focus in the Batman: The Brave and the Bold episode "Chill of the Night!", voiced by Peter Onorati. This version of the character is a hitman who kills Thomas and Martha on orders from his boss Lew Moxon as revenge for Thomas Wayne putting him in jail. In the present day, Moxon is dying and confesses to a priest (Batman in disguise) that Joe Chill is an arms dealer who sells weapons to super-criminals on the black market. Joe Chill is then shown auctioning a sonic weapon to the assembled villains (consisting of The Joker, Mad Hatter, Mr. Freeze, The Penguin, Poison Ivy, Solomon Grundy and Two-Face). Batman confronts him, revealing his secret identity. Terrified, Chill asks for the villains for help, but when he acknowledges that Batman is the son of people he killed, the villains turn on him, accusing him of "creating" Batman. Batman defeats the villains, but Spectre manipulates events so that Chill dies when Batman redirects the attack of a sonic gun, causing the roof to collapse on him. Chill admits this was fitting punishment for his crime and dies in Batman's arms. This episode marked the first time in the history of animation that Batman confronts the killer of his parents. The episode was also a Batman reunion of sorts, featuring Adam West as Thomas Wayne, Julie Newmar (who portrayed Catwoman in the 1960s Batman TV series) as Martha Wayne, with 90's Animated Batman Kevin Conroy as The Phantom Stranger and Mark Hamill (who voiced The Joker in the DC Animated Universe) as The Spectre.
In the television series Gotham, Matches Malone occupies the role of Joe Chill and kills Bruce Wayne's parents in the first episode "Pilot". His identity as the killer isn't uncovered until the second half of the season 2 story arc "Wrath of the Villains", where it is revealed Malone was hired to kill the Waynes by The Lady and Hugo Strange. In the comics Matches Malone is an arsonist, whom Bruce Wayne takes the identity of in order to infiltrate the criminal underworld.
In 1980, DC Comics published a mini-series called The Untold Legend Of The Batman, a codifying of his origins at and up to that point. The Joe Chill/Lew Moxon storyline figured prominently in the first issue. When an audio play was produced based on this comic, Chill's dialogue was voiced by as-yet unknown actor.
Videogames
Chill appeared in Telltale Games' Batman: The Telltale Series, where he was ordered by Mayor Hamiliton Hill to assassinate Thomas and Martha Wayne. This version was voice by Jarion Monroe, who also voiced Michael Kaufmann in Silent Hill and James Seth Lynch in Kane & Lynch.
Gallery
Villains
Animated Features
Meowrice | Meowrice's Henchmen | Mouse King | Mouse Queen | Joker | Phantasm | Salvatore Valestra | Arthur Reeves | Chuckie Sol | Buzz Bronski | Grundel Toad | Berkeley Beetle | Mr. Mole | Mrs. Toad | Ms. Fieldmouse | Queen Gnorga | King Llort | Darla Dimple | Max | Mrs. Prysselius | Thunder Karlsson and Bloom | Ruber | Griffin | Ruber's Minions | Bladebeak | Kent Mansley | Kralahome | Master Little | The Jokerz (Dee Dee Twins, Chucko & Woof) | Count Grisham | Cheswick | Mojo Jojo | Gangreen Gang | Anubis | Seto Kaiba | Dark Yugi | Pegasus J. Crawford | Mokuba Kaiba | Marik Ishtar | Ebenezer Scrooge Puppet | Barkis Bittern | Maudeline Everglot | Stan Beals | Noah the Elder | Leopard Seal | Aguila | Stone Generals (Gato & Mono) | Karai | Foot Clan | Eddy's Brother | Kanker Sisters | Kevin | Surtr | Nyra | Kludd | Pure Ones | Lord Business | Super Secret Police (Bad Cop & Sheriff Not-A-Robot) | Duplo Aliens | Mr. Ross | Future Mordecai | Rigby | Benson Dunwoody | Muscle Man | Hunter | Pigeon Toady | Wolf Pack | Penguins | Joker (Lego) | Harley Quinn (Lego) | Phantom Zone Criminals | Catwoman (Lego) | Poison Ivy (Lego) | Two-Face (Lego) | Lord Garmadon | Slade (Teen Titans Go!) | Balloon Man (Teen Titans Go!) | Lex Luthor (Teen Titans Go!) | Stonekeeper | Rex Dangervest | Velociraptors (Lego) | Foot Clan (Shredder & Baxter Stockman) | League of Assassins (Ra's al Ghul (Batman vs. TMNT), Ubu (Batman vs. TMNT) & Talia al Ghul (Batman vs. TMNT)) | Joker (Batman vs. TMNT) | Harley Quinn (Batman vs. TMNT) | Scarecrow (Batman vs. TMNT) | Mr. Freeze (Batman vs. TMNT) | Poison Ivy (Batman vs. TMNT) | Bane (Batman vs. TMNT) | Two-Face (Batman vs. TMNT) | Penguin (Batman vs. TMNT) | Hexagon (Trigon (TTG) & Trigon (Original)) | Spinel | Pink Diamond | Scorpion | Quan Chi | Shang Tsung | Goro | Shao Kahn | Kano | Baraka | Reptile | Moloch | Motaro | Dick Dastardly (2020) | Muttley (2020) | Rotten Robots | Dusty | Cerberus
Live Action Films
Jack Torrance | Hotel Caretaker | Lorraine Massey | Socs (Bob Sheldon, Randy Adderson, Paul Hoden & David) | Mrs. Cade | Scut Farkus | Grover Dill | Stripe | Ruby Deagle | Gremlins | Mama Fratelli | Audrey II | Orin Scrivello | Mr. Igoe | Max | David | Beetlejuice | Sandworms | Joker | Bob the Goon | Alicia Hunt | Carl Grissom | Max Eckhardt | Vinnie Ricorso | Joe Chill | Witches (Grand High Witch, Susan Irvine, Nicola Cuttle, Pamela, Lois Leffour, Mildred, Elizabeth, Henrietta, Jacqueline & Beatrice) | Brain Gremlin | Daffy | George | Lenny | Bat Gremlin | Electric Gremlin | Cushing Catheter | Penguin | Max Shreck | Catwoman | Red Triangle Circus Gang | Charles "Chip" Shreck | Dr. Charles Nichols | Frederick Sykes | Lawrence Van Dough | Ferguson | Lestat | Clarice Kensington | Miss Minchin | Riddler | Two-Face | Sugar | Spice | NygmaTech (Frogmen) | Neon Gang | Salvatore Maroni | Jonas Miller | Mr. Swackhammer | Monstars | Martians (Martian Leader, Martian Ambassador & Martian Girl) | John Wesley | Poison Ivy | Mr. Freeze | Bane | Grant Frost | Agent Smith | Cypher | Agents (Agent Jones, Agent Brown & Agent Johnson) | Susan McCallister | Jim Whitlock | Mako Sharks | Mr. Tinkles | Thrax | Mayor Phlegmming | Bruiser | Joe Cramp | Thrax's Henchmen | Scrappy-Doo | N' Goo Tuana | Zarkos | Demons | Luna Ghost | Akasha | Spiders (Consuela & Tank) | Mr. Chairman | Bob Smith | Clara Dalrymple | Sir Trenton | Ruffshodd | Trenton's Pride | Ra's al Ghul | Scarecrow | Carmine Falcone | League of Shadows (Decoy of Ra's al Ghul) | Victor Zsasz | Joe Chill | Jonathan Jacobo | Arthur Slugworth | V | Adam Sutler | Lewis Prothero | Norsefire | Peter Creedy | Colonel Coetzee | Captain Poison | Zodiac Killer | Arthur Leigh Allen | Xerxes | Agent 23 | Siegfried | Dalip | Joker | Two-Face | Sal Maroni | Gambol | Joker's Thugs | Principal Deedle | Ezekial Gallows | Prudence Prufrock | Lord Henry Blackwood | Lord Coward | Esther Coleman | Decoy Queen | Kitty Galore | Paws | Mayor Brown | Wanda Grubwort | Lake Monster | Mal Cobb | Blue Jones | Angelique Bouchard | Dr. Julia Hoffman | Bane | Talia al Ghul | Barsad | Catwoman | John Daggett | Tom Buchanan | Jay Gatsby | Myrtle Wilson | George Wilson | Daisy Buchanan | Precursors | Kaiju (Trespasser, Knifehead, Mutavore, Otachi, Leatherback, Raiju, Scunner & Slattern) | Artemisia | M.U.T.O. | Dr. Mann | Victoria Vinciguerra | Léon Rom | Skullcrawlers (Skull Devil) | Preston Packard | IT | Bowers Gang (Henry Bowers, Patrick Hockstetter, Belch Huggins & Vic Criss) | Alvin Marsh | Butch Bowers | Mathias Vogel | Ana Miller | Nolan Sorrento | Innovative Online Industries (I-R0k, F'Nale Zandor & Sixers) | Claire Wyden | Brett Wyden | George, Ralph and Lizzie | The Meg | Jack Morris | Shere Khan | Tabaqui | Howard Clifford | Ditto | Sebastian | Ann Laurent | King Ghidorah | Rodan | Alan Jonah | Asher Jonah | Emma Russell | The Banana Splits (Fleegle, Drooper, Snorky & Bingo) | Poppy | Karl | Leo | Cry Baby | Kelly | The Principal | The Biology Teacher | Arthur Fleck | Penny Fleck | Randall | Clowns (Joker) (Clown & Ambulance Clown) | Wall Street Three | Penny Fleck's Boyfriend | Rose the Hat | The True Knot | Andrei Sator | Priya Singh
Shorts
Daffy Duck | Sylvester | Tasmanian Devil | Wile E. Coyote | Elmer Fudd | Yosemite Sam | Marvin the Martian | Instant Martians | Gossamer | Tom | Jerry | Spike
Television
The Grinch | Cousin Mel | I.M. Slime | Snow Miser | Heat Miser | North Wind
See Also
Batman Villains | Catwoman Villains | Cartoon Network Villains | DC Extended Universe Villains | Eraser Villains | Game of Thrones Villains | Gremlins Villains | Hanna-Barbera Cinematic Universe Villains | Harry Potter Villains | Lethal Weapons Villains | Looney Tunes Villains | Melanie Martinez Villains | Middle-Earth Villains | MonsterVerse Villains | Mortal Kombat Villains | Pokemon Villains | Powerpuff Girls Villains | Regular Show Villains | Rick and Morty Villains | Robot Chicken Villains | Rush Hour Villains | Scooby-Doo Villains | Steven Universe Villains | Superman Villains | The LEGO Movie Villains | The Matrix Villains | Tom and Jerry Villains | TMNT Villains | Wild Wild West Villains | Xiaolin Showdown Villains | Yu-Gi-Oh! Villains
Villains
Villains
Movies
Beetlejuice: Beetlejuice
Batman (1989): Joker | Bob Hawkins | Alicia Hunt | Carl Grissom | Max Eckhardt | Vinnie Ricorso | Joe Chill |
Edward Scissorhands: Jim
Batman Returns: Penguin | Red Triangle Circus Gang (Organ Grinder, Poodle Lady, Tattooed Strongman, Stungun Clown, Thin Clown, Fat Clown, Sword Swallower & Knifethrower Dame) | Max Shreck | Catwoman | Charles "Chip" Shreck
The Nightmare Before Christmas: Oogie Boogie | Lock, Shock and Barrel
Batman Forever: Riddler | Two-Face | Sugar | Spice | NygmaTech (Frogmen) | Neon Gang (Neon Gang Leader) | Salvatore Maroni
James and the Giant Peach: Aunt Sponge | Aunt Spiker | Rhino | Skeleton Pirates | Shark
Batman & Robin: Poison Ivy | Mr. Freeze | Bane | Snowy Cones Thugs | Golums | Jason Woodrue
Mars Attacks!: Martian Leader | Martians (Martian Ambassador & Martian Girl)
Sleepy Hollow (1999): Lady Van Tassel | Headless Horseman | Reverend Steenwyck
Planet of the Apes (2001) General Thade | Attar | Limbo
Charlie and the Chocolate Factory: Arthur Slugworth
Corpse Bride: Barkis Bittern | Maudeline Everglot
Sweeney Todd: The Demon Barber of Fleet Street: Sweeney Todd | Mrs. Lovett | Judge Turpin | Beadle Bamford | Jonas Fogg | Adolfo Pirelli
9: Fabrication Machine | 1 | 8 | Machines (Cat Beast, Winged Beast, Seamstress, Steel Behemoths, Seeker Drones & Spiderbots) | Chancellor Fredinand | The Chancellor's Party
Alice in Wonderland (2010): Red Queen | Knave of Hearts | Card Soldiers | The Jabberwock | Jubjub Bird | Hamish Ascot
Dark Shadows: Angelique Bouchard | Julia Hoffman
Abraham Lincoln: Vampire Hunter: Adam
Frankenweenie: Mr. Whiskers | Shelley | Were-Rat | Sea Monkeys | Mr. Burgermeister
Big Eyes: Walter Keane
Miss Peregrine's Homes for Peculiar Children: Mr. Barron
Dumbo (2019): V.A. Vandevere | Neils Skellig | Pink Elephants | Rufus Sorghum
Community content is available under
CC-BY-SA
unless otherwise noted.