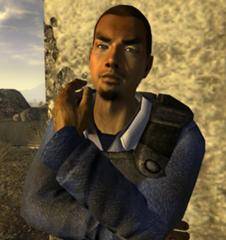 Joseph "Joe" Cobb is a minor antagonist in the video game Fallout: New Vegas. He is an escaped convict and is also one of the Powder Gangers and wants to take over the town of Goodsprings for the Powder Gangers. He is the main antagonist of the Ghost Town Gunfight quest.
He was voiced by Avery Kidd Waddell.
History
Previously, Cobb was imprisoned in the NCR Correctional Facility for robbery, arson, and murder. Shortly after his escape, he encountered a merchant named Ringo and beat him down, causing Ringo to hide out in Goodsprings.
Cobb can recruit The Courier in his quest to take over Goodsprings. If the Courier sides with him, they will fight against the local militia defending Goodsprings and take over the town. However, the Courier can also side with Ringo to defend Goodsprings from the Cobb and the Powder Gangers.
Community content is available under
CC-BY-SA
unless otherwise noted.