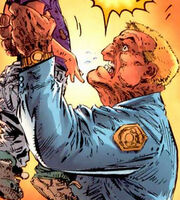 Joe Frank is a minor antagonist in the Spawn series. He was the abusive father of Andy Frank and Eddie Frank, and one of the main factors that would turn the latter into The Redeemer.
History
Joe Frank was a cop and a Catholic who had a wife and two sons named Eddie and Andy. After his wife's death he would take his rage and frustrations out on his sons whenever they disobeyed him and later encountered Spawn who unintentionally made things worse by attacking him. Following this, Joe went insane and beat on his sons even harder until Eddie grabbed a gun and killed him. He kept his secret of abusing his sons from the public and goes to church praying. After Joe's death Eddie went insane himself and later blamed Spawn for killing his father which would cause him to become the third and current Redeemer. However, Eddie eventually realizes that Spawn was trying to protect from his abusive father all along and thus tries to save him from Mammon.
Community content is available under
CC-BY-SA
unless otherwise noted.