✓
| | |
| --- | --- |
| | This Article Contains Spoilers - WARNING: This article contains major spoilers. If you do not wish to know vital information on plot / character elements in a story, you may not wish to read beyond this warning: We hold no responsibility for any negative effects these facts may have on your enjoyment of said media should you continue. That is all. |
This article's content is marked as Mature
The page Mature contains mature content that may include coarse language, sexual references, and/or graphic violent images which may be disturbing to some. Mature pages are recommended for those who are 18 years of age and older.


If you are 18 years or older or are comfortable with graphic material, you are free to view this page. Otherwise, you should close this page and view another page.
| | | |
| --- | --- | --- |
| " | Muscles can't be trusted. When skin is exposed to the wind, muscles become stressed and begin to subtly expand and contract. The body can't control these movements. A rifle should be supported with bone. Bones sense the stability of the ground and unify the gun with it. That's the kind of anchorage one can trust. | " |
| | ~ Johngalli A | |
| | | |
| --- | --- | --- |
| " | Meteorologists say the wind's movements are unpredictable. They have a point. But the wind isn't completely unreadable. Is this fly just flying around aimlessly? No. It's sensing scents and the flow of the air as it flies. The fly's movements are the wind. | " |
| | ~ Johngalli A before shooting a fly mid-flight. | |
Johngalli A is a minor antagonist in JoJo's Bizarre Adventure: Stone Ocean. A nearly-blind assassin, Johngalli is an assassin and a loyal minion of Dio Brando, and seeks to kill Jotaro and Jolyne for the death of his master. He wields the Stand Manhattan Transfer.
He was voiced by Satoshi Hino (who also voiced Ainz Ooal Gown and Kamui) in Japanese and David Mantranga (who previously voiced Bertolt Hoover) in English.
Biography
A loyal follower of Dio, Johngalli A is a former soldier who even despite him being nearly blind due to cataracts, is a master at assassinating targets. Desiring the death of Jotaro for him killing his master, Johngalli A intentionally got himself sent to Green Dolphin Street Prison for murder while Enrico Pucci became the jail's priest. Having some thugs toss a random man into the streets for Jolyne and Romeo to run over and paying the judge bribe money, Johngalli A is responsible for Jolyne being framed for murder.
Johngalli A makes his first appearance when Jotaro goes to pay a visit to his daughter, with Johngalli A in the showers to attack. Inside Whitesnake's dream realm, Johngalli A first sends out Manhattan Transfer to the visitation room while the Stand's master snipes from afar. Even with Jolyne tripping the fire alarm to try and trap it, the Stand keeps on its "reading" tactic. Following Emporio into the sewer, Johngalli A tries to stalk and land a shot on the hiding child and even shoots off the bolts to the pipe he was hiding in, but Jolyne uses Stone Free to trap the Stand before delivering a hit hard enough to destroy it. Moving to the ceiling for an ambush attack, the illusion of Johngalli A is killed when Jotaro uses Star Platnium strikes a pipe, giving enough pressure to have the gas to cause a explosion. However, this is only inside the dream Whitesnake created, and the real Johngalli A lives on.
After Joylne's awakening after Dio's bone causing a wound and Jotaro's using Stone Free, father and daughter eventually truly find Johngalli A in disguise, shooting a guard dead. Using Manhattan Transfer, Johngalli A teams up with Whitesnake to deal a pincer strike, with Whitesnake being able to take Jotaro's Memory and Stand Discs. Joylne uses Stone Free's stings to block the fired shots and eventually plug Johngalli A's gun. Trying to get them out, Jolyne quickly ties his feet together and although Johngalli A tries one last trick by attempting a false surrender before firing again, Jolyne pummels Johngalli A into submission.
The final thing a wounded, defeated Johngalli tries is to ask Whitesnake to help him back to his cell, only to be shot dead and his death made to look like a suicide.
Appearance
Johngali A is of a average height and build, with long whiteish-blue hair, white eyes, and spiral markings on his cheeks. For clothing, Johngalli A wears a light blue, circular-cut shirt, a red studded tie, and indigo pants. Johngalli A also has a large tattoo of the Earth on his back. In the manga, his hair and tie are pink.
Personality
Johngalli A is fanatically loyal to his master, even despite possibly never meeting the man in the flesh himself. Due to this, Johngalli A also has an extreme grudge towards the Joestars, framing Jolyne for murder so he can kill both her and her father in prison.
Powers and Abilities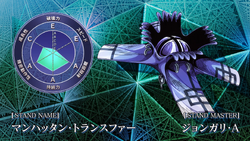 | | | |
| --- | --- | --- |
| " | My Stand, Manhattan Transfer, is completely tracking your movements inside that meeting room! The time has come to finish off your bloodline! Now my life can finally begin! You robbed my heart of its support, and for that, I must take revenge! | " |
| | ~ Jongalli A | |
Manhattan Transfer, although unable to attack for itself, is able to help its master successfully assassinate his target. The first of its two abilities is reading the wind around it to "read" the movement of the air to sense where the target is and what they look like. Manhattan Transfer can use this ability to he incredibly precise, dodging drops of water to find and hunt down hidden targets. Although this ability is good, it does run the risk of misreading some gasses as air, confusing it. The second ability of the Stand allows it to redirect bullets Johngalli A fires from his sniper rifle, shooting around cover and hitting blind spots. These traits makes Johngalli A an expert marksman.
Gallery