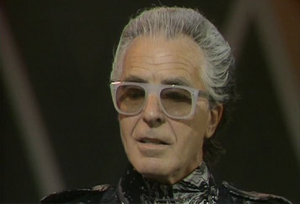 Joinson Dastari is a supporting antagonist in the Doctor Who story "The Two Doctors".
He was portrayed by the late Laurence Payne.
Biography
Dastari was an accomplished scientist and an old friend of the Doctor, who was the head of the research space station Camara J7. His main field of expertise was genetic engineering and his crowning achievement was technically augmenting the Androgum Chessene to genius levels. He hoped to harness the Androgums' energy tempered with intelligence, but the Doctor warned him that he would never be able to change their basic brutal nature. Blind to Chessene's faults, he joined with her in her scheme to gain the power of time travel, even though it meant allying with the Sontarans and allowing them to massacre his fellow scientists.
As Chessene had guessed, the Time Lords sent the Second Doctor and Jamie to see Dastari to question him about time experiments being conducted on the station. The Sontarans then attacked, killing nearly everyone present and capturing the Doctor, with Dastari leaving a fake journal entry that would cast suspicion on the Time Lords, as well as allowing himself to be drugged as part of the charade. With Sontaran Grand Marshall Stike, he took the Doctor to Earth, where Chessene had already set up a bridgehead. He intended to dissect the Doctor in order to discover the Time Lord genetic secret that would make their experimental time capsule work.
When the arrival of the Sixth Doctor disrupted the experiment, Chessene had Dastari use material from her associate Shockeye to transform the Second Doctor into an Androgum hybrid in the hope of entering a partnership with him. Dastari was uncomfortable that she also meant to kill the Sontarans, but helped her lure Stike and his aide Varl into a trap. The Second Doctor rejected the genetic transfer and Dastari joined Chessene in recapturing the Doctors, Peri and Jamie.
With the time capsule apparently primed and the Sixth Doctor having escaped, Chessene ordered Dastari to kill the still captive Second Doctor and Peri. Dastari was reluctant, partly because he feared reprisal from the Time Lords. Seeing Chessene lapping up the Doctor's blood, he was forced to accept that her nature had never changed and refused to kill the Doctor, reconciling with him instead. He was immediately killed by Chessene.