Doctor Strange in The Multiverse o Madness - The Loop
Play Sound
"Joker" may be referring to two or more different villains. If you're uncertain which one you're looking for, just flip a coin.
If you came here from a link, please go back and make the right link for one of the villains listed below.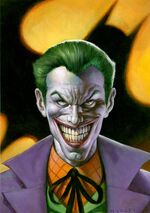 The Joker is one of the most iconic fictional villains in history. He is a supervillain that originates from DC Comics. His first appearance was in April 25, 1940 in the Batman comic books. Originally, the Joker would have been killed in his initial appearance, but he ended up becoming the archenemy of the Batman. He was created by the late Bill Finger, the late Bob Kane, and the late Jerry Robinson.
Here, you can find links to pages for his various appearances, villains who share his alias, and other similar villains.
DC Comics' Joker
Curtis Base - The second Joker
Dick Grayson (Frank Miller) - The Frank Miller interpretation of Dick Grayson, who went insane from Batman's abuse and became the "New Joker".
Gaslight Joker - A Victorian-era version of the Joker from the MOBA Infinite Crisis.
Hyena (Amalgam) - Combination of Joker and Sabretooth
Jeremiah Valeska - The version of the Joker in Gotham.
John Doe (Telltale) - Joker from the Telltale series.
Joker (2008 Graphic Novel); A darker version of Joker in the comics.
Joker (2019) - Joker from the 2019 film of the same name, starring him as the protagonist. This interpretation is considered one of the best versions, rivaled only by Heath Ledger's iconic take.
Joker (Adam West Batman) - Joker from the campy 1960's live-action show.
Joker (Arkhamverse) - Joker from the Batman: Arkham series of video games.
Joker (Arrowverse) - Joker from CW's Arrowverse.
Joker (Batman 1989) - Tim Burton's version of the Joker.
Joker (Batman Feira da Fruta) - Joker from the Brazilian gag dub episode from the 1960's live-action show.
Joker (Batman Ninja) - Joker from Batman Ninja.
Joker (Batman: Return of the Caped Crusaders) - Joker from the 2016 animated film. He is based the Joker from the 1960's show.
Joker (Batman: The Brave and the Bold) - Joker from the Batman: The Brave and the Bold cartoons.
Joker (Batman: The Killing Joke) - Joker from the animated adaptation of the comic book. This version, compared to most versions, has an actual backstory.
Joker (DC); Joker from mainstream DC comics.
Joker (DC Animated Film Universe) - Joker from the DC Animated Film Universe
Joker (DC Animated Universe) - Joker from Batman the Animated Series and the rest of the "DC Animated Universe".
Joker (DC Extended Universe) - DC Cinematic version of the Joker, who appears in Suicide Squad.
Joker (Early Cartoons) - Joker from 1960s/70s cartoons such as The Adventures of Batman.
Joker (Harley Quinn TV Series) - Joker from the 2019 Harley Quinn cartoon.
Joker (Injustice) - Joker in Injustice video games and comics.
Joker (JLA: The Nail) - An extremely powerful version of the Joker from JLA: The Nail.
Joker (Justice League Action) - Joker from Justice League Action.
Joker (Nolanverse) - Joker from The Dark Knight trilogy.

Joker (Reevesverse)

- Joker from the The Batman 2022 film, played by Barry Keoghan.
Joker (The Batman) - Joker from The Batman cartoon.

Joker 2.0 - Nanomachines that took the form of Joker in the episode "The Metal Face of Comedy".

Joker (The Batman Who Laughs) - Joker from Earth -22, the Dark Multiverse Earth where originated The Batman Who Laughs.
Joker (The Dark Knight Returns) - Joker from The Dark Knight Returns. This version is older than most, as here, the Joker comes out of his "retirement".
Joker (The Lego Batman Movie) - Joker from the Lego movie.
Joker (Under the Red Hood) - Joker from the Under the Red Hood film.
Joker (Young Justice) - Joker from Young Justice.
Joker (Flashpoint) - This version is actually Martha Wayne. In the Flashpoint timeline, Bruce gets shot and killed instead of his parents, making Martha go crazy.
Neo Joker - Real name Marian Drews, she was originally a henchwoman for the Joker and Harley Quinn. However, after the Joker redeemed himself, she tried to draw out his insanity once again.
The Jokerz - Joker's followers
Similar Villains
Other Jokers
See Also