Wiki Targeted (Entertainment)
Play Sound

✓
This Villain was proposed and approved by Villains Wiki's Pure Evil Proposals Thread. Any act of removing this villain from the category without a Removal Proposal shall be considered vandalism (or a futile "heroic" attempt of redemption) and the user will have high chances of being terminated blocked. You cannot make said Removal Proposal without permission from an admin first.
Additional Notice: This template is meant for admin maintenance only. Users who misuse the template will be blocked for a week minimum.

| | | |
| --- | --- | --- |
| " | Now, that was rude. The first boy blunder had some manners. I suppose I'm going to have to teach you a lesson so you can better follow in his footsteps. ...Nah, I'm just gonna keep beating you with this crowbar! | " |
| | ~ Joker while torturing Jason Todd after he spits in his face. | |
| | | |
| --- | --- | --- |
| " | I'm the only one who's going to get what he wants tonight! Yes! Big bang-boom! We all go out together! Don't you just love a happy ending?! | " |
| | ~ Joker's last words as he tries to stop Batman from defusing Jason's bomb. | |
The Joker is one of the two main antagonists (alongside the titular Red Hood) of the 2010 animated film Batman: Under the Red Hood and its 2020 animated interactive sequel Batman: Death in the Family.
Like his comic book counterpart, he is a psychopathic master criminal, Batman's archnemesis and the murderer and later attempted victim of Jason Todd), the second Robin. He also works as a henchman to Ra's al Ghul and Black Mask, though only as long it suits him.
He was voiced by John DiMaggio, who also played Jekhide in Mia and the Migoo, Dr. Drakken in Kim Possible, Hannibal McFist in Randy Cunningham: 9th Grade Ninja, Brother Blood in Teen Titans, Bender Bending Rodríguez in Futurama and Toyman in Superman: Doomsday.
History
The Joker was the one who used the moniker of the Red Hood before Jason Todd. At a botch robbery at Ace Chemicals, he was confronted by Batman. The frightened man tried to plead with Batman, who pulled out some cuffs. The man said he was setup and he wasn't a criminal. He tried to take off his hood, but he stumbled on his cape and fell into a vat of chemicals. The chemicals dyed his hair green, turned his lips red and bleached his skin, along with destroying his sanity. His fate as the Joker was sealed.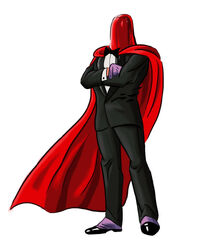 The Joker is hired by Ra's al Ghul to distract Batman and Jason Todd, the second Robin, from the terrorist's plan to destroy the world economy. The Joker lures the Dynamic Duo to Sarajevo, Bosnia, where he beats Jason with a crowbar and leaves him to be killed by a bomb, although not before sadistically requesting that Jason "tell the big man [Joker] said 'hello'". Feeling guilty for his death, Ra's al Ghul revives Jason with the Lazarus Pit. Five years later, Jason returns to Gotham as a crime lord calling himself the Red Hood, purposely taking his murderer's former criminal identity to attract his attention. In addition, by that point, the Joker was placed in Arkham Asylum under extensive security measures to ensure he could not escape. After his first encounter with the Red Hood, Batman goes to Joker for information in Arkham Asylum. He claims that there is no connection, although he nonetheless proceeds to cruelly reference his role in Jason Todd's death to Batman, and also implied a desire for Batman to kill him in rage. When Red Hood tries to kill him, Black Mask reluctantly hires the Joker as a hitman to take down the Red Hood. Upon being freed, Joker, under the premise of wanting water, used a glass to slice one of Black Mask's men's throat and gunned down the crime lord's remaining bodyguards in quick succession with a stolen handgun, before requesting his standard outfit, a big truck, as well as some henchmen. He then starts laughing at the thought of killing Black Mask's minions much to the latter's discomfort.
The Joker kidnaps Jason's eight under-bosses, and then proceeds to betray the Black Mask by placing him among the under-bosses (as they formerly worked for Black Mask), and holds them hostage inside the truck, also crashing the truck on the bridge and causing a spectacle causing the GCPD to arrive and news reporters to swarm in on the breaking report, also dousing the underbosses and Black Mask with gasoline with the intention of torching them. However, his lighter ended up acting temperamental as Jason arrives and reveals that his previous actions were designed to lure the Joker away from the safety of Arkham so that he could kill him, also making clear they had met before. He ultimately manages to light it before dropping it into the truck, with only the timely arrival of Batman foiling the torching attempt. However, Joker was freed from the Batplane's restraints by Jason, who proceeded to abduct him in turn. At a secluded apartment in Crime Alley, Joker was beaten by Jason, who cryptically alludes to Joker's earlier torture of him being responsible for his existence when Joker inquired about how they knew each other. He forces Batman to either kill him, kill the Joker directly, or otherwise let Jason kill the Joker. Batman refused the offer, and threw a batarang into Jason's gun barrel, detonating it, with Joker taking amusement in how, despite Batman finding a way to win, "everybody still loses." After Jason activated a bomb set to a 20 second timer that would kill all three, Joker prevents Batman from disarming the bomb, maniacally declaring that he'll be "the only one who gets what he wants tonight!" while pinning Batman down. However, he is knocked unconscious by Batman, and managed to save himself, Jason and the Joker. While Jason escapes, Batman takes the Joker back to Arkham.
Quotes
| | | |
| --- | --- | --- |
| " | No! Please, don't! Stay away! It's a set up! Wait! I'm not a crook, I swear! | " |
| | ~ Joker, as Red Hood, pleading with Batman before falling into a vat of chemicals. | |
| | | |
| --- | --- | --- |
| " | Wow! That looked like it really hurt. Whop, now hang on, that looks like it hurt a lot more. So let's try and clear this up, okay, pumpkin? What hurts more? A? Or B? Forehand? Or backhand? | " |
| | ~ Joker while beating Jason Todd. | |
| | | |
| --- | --- | --- |
| " | Ah, ah, ahh! A little louder, lamb chop? I think you may have a collapsed lung. That always impedes the oratory. | " |
| | ~ Joker taunting Jason Todd. | |
| | | |
| --- | --- | --- |
| " | Okay, kiddo, I gotta go. It's been fun, though, right?... Well, maybe a smidge more fun for me than you. I'm just guessing since you're being awful quiet. Anyway, be a good boy, finish your homework, and be in bed by nine. And, hey, please tell the big man I said..."hello". | " |
| | ~ Joker leaving Jason to die from his bomb after beating him. | |
| | | |
| --- | --- | --- |
| " | Oh, Bird Boy, you're so much less fun now. All grown up and in your big-boy pants. Still, better off than his replacement, right? Even tougher making with the yuks when you're worm food, huh? | " |
| | ~ Joker taunting Batman about Jason Todd's death. | |
| | | |
| --- | --- | --- |
| " | You gonna do it this time? Or are you just going to put me in another body-cast for six months? | " |
| | ~ Joker trying to prompt Batman to kill him. | |
| | | |
| --- | --- | --- |
| " | ...So disappointing. But back to the matter at hand. Do you really think I would go through all that trouble and not make sure you knew it was me?! | " |
| | ~ Joker revealing that he has nothing to do with the new Red Hood. | |
"
Joker: Hey, look at you! Mr. Hood! Or do you prefer Red? You know, I used to wear an outfit a lot like that. Mine was more flashy maitre d' than motorcycle fetish. You kids today...I'm sorry, could you hold on? I was just in the middle of setting fire to your gang!
Red Hood: Go ahead! You think I care if that scum dies?
Joker: Don't know. I just wanted your attention!
Red Hood: You've always had my attention. But what I really wanted was an audience with you!
Joker: I'm sorry, that seems to imply that YOU organized this little flambe?
"
~ Joker confronting Red Hood.
"
Joker: So I've been bamboozled. Oh, my.
Red Hood: I wouldn't undersell it. It took a lot of work to bring about our reunion.
Joker: Reunion? Have we met before?
Red Hood:...Yes. We have.
Joker: Well, here's to warm memories!
"
~ Joker learning he had been manipulated by Red Hood before igniting his gang.
"
Joker: Gotta give the boy points! He came all the way from the dead to make this shindig happen! So, who's got a camera? Ooh! Ooh! Get one of me and the kid first. Then you and me, then the three of us, and then the one with the crowbar. Then—ack!
Jason Todd: You be as quiet as possible. Or I'll put one in your lap first.
Joker: Party pooper. No cake for you.
"
~ Joker after being revealed to Batman.
| | | |
| --- | --- | --- |
| " | Awwww. So you do think about me. | " |
| | ~ Joker upon finding out that Batman has secretly wanted to kill him. | |
| | | |
| --- | --- | --- |
| " | This is turning out even better than I'd hoped! | " |
| | ~ Joker reacting to Jason's ultimatum to Batman. | |
| | | |
| --- | --- | --- |
| " | I can't believe you got him! You expert, rootin'-tootin', eagle-eyed, Goth-loving marksman! I love it! You managed to find a way to win...and everybody still loses! | " |
| | ~ Joker before Jason triggers a bomb. | |
Gallery
Trivia
Patton Oswalt was considered to voice the Joker before John DiMaggio was selected.
Unlike most animated incarnations of the Joker, where they are given a high-pitched voice, this incarnation speaks with a much deeper (although nonetheless somewhat humorous) voice.

He also sometimes speaks with a Texan accent as well as a seeming cowboy fetish whenever he gets excited about something, as shown when Batman defeats Red Hood or when he realized that Jason was blocking out all the times that he killed people.
Similarly, unlike most incarnations of the Joker, who were usually depicted as extremely thin, this incarnation was given a more muscular, slightly imposing figure. They likely did this to fit in with his less comedic side as this Joker is much more thuggish than normal.

This is one of the darkest animated incarnations of the Joker character to date. He is more thuggish than normal and is portrayed even more seriously than normal by the narrative.

Adding onto that, Watchmojo.com describes his voice actor, John DiMaggio, as portraying him as a more calculated villain despite his insanity, replacing the laughably evil qualities with more realistic malice and cruelty.

In Batman's flashback to his encountering the man who would become the Joker, the man is seen yelling "Please, no! Stay away! It's a set-up! Wait..." and "I'm not a crook, I swear!" while attempting to unmask himself, implying that he had the same backstory as the one given in Batman: The Killing Joke, or at the very least a similar backstory.
Elements of this rendition for the Joker were reused in at least three other renditions:

Joker from The Dark Knight Returns Part 2 proceeded to kill Dr. Wolper in a similar manner to how Joker in Under the Red Hood murdered one of Black Mask's armed guards, via slitting the latter's throat with a shard from a cup he smashed earlier (in this case, a novelty mug for the show). In the original comic, Wolper had been murdered by his neck being snapped by one of Joker's robotic henchmen. Furthermore, this Joker is less comedic and more openly deadly.
Jerome Valeska from the Gotham Season 2 episode Gotham proceeded to douse a bus full of cheerleaders with ship fuel and then attempted to set the bus on fire as one of his first crimes upon being broken out of Arkham Asylum, only to be delayed long enough to be stopped largely because of a temperamental lighter, just like the Joker from Under the Red Hood did, in that case dousing gasoline inside a crashed transport truck on both Black Mask, Ms. Lu, and Black Mask's former drug dealing associates.
Joker from Batman: The Killing Joke animated film, when he encountered Batman while acting as the Red Hood, proceeded to trip over his cape while attempting to plead for his life and fall over a railing into a chemical drainage vat below with Batman attempting to reach out for him as he fell, similar to Joker in Under the Red Hood. In the original comic, Joker instead deliberately jumped into the vat in a desperate effort to escape Batman.
External Links
Villains
Comics
Abraham Langstrom | Alfred Protocol | Alfred Stryker | Alice | Amanda Waller | Amygdala | Anarky | An Innocent Guy | Arkham Knight | Arnold John Flass | Azrael | Bane | Barbatos | The Batman Who Laughs | Black Glove | Black Mask | Blockbuster I | Blockbuster II | Brain | Broker | Brother EYE | Calculator | Calendar Man | Castle Bat | Captain Fear | Captain Boomerang | Carmine Falcone | Catman | Catwoman | Cheshire | Circus of Strange | Clayface | Claything | Clock King | Clownface | Club of Villains | Cluemaster | Composite Superman | Condiment King | Copperhead | Cornelius Stirk | Court of Owls | Crazy Quilt | Crime Doctor | Curtis Base | Dark Archer | David Cain | Dark Knights | Deacon Blackfire | Deadshot | Dealer | Deathstroke | Dick Grayson (Frank Miller) | The Dawnbreaker | The Devastator | Dr. Crane | Doctor Death | Doctor Double X | Doctor Phosphorus | Doctor Randolph Porter | Donna Troy | Dr. Silversmith | The Drowned | Electrocutioner | Emperor Penguin | Enigma | Ernie Chubb | Faceless | Firebug | Firefly | Flamingo | Floronic Man | Gearhead | General Ulysses Armstrong | Gilda Dent | Gorilla Boss | Gotham City Police Department | Gillian B. Loeb | Great White Shark | The Grim Knight | Harley Quinn | Holiday | Holly Robinson | Humpty Dumpty | Hugo Strange | Hush | Jack the Ripper | James Gordon, Jr. | Jason Todd | Joe Chill | Joker | Judge of Owls | Joker's Daughter | Key | KGBeast | King of Cats | King Snake | King Tut | Killer Croc | Killer Moth | Kite Man | Lady Shiva | League of Assassins | Leviathan | Lex Luthor | Lock-Up | Mad Hatter | Mad Monk | Magpie | Malochia | Man-Bat | Mary Keeny | Maxie Zeus | Maxwell Lord | The Merciless | Merrymaker | Micheal Atkins | Monk | Mr. Freeze | Mrs. Freeze | Mayor Oswald Cobblepot | Mr. Toad | Mr. Whisper | Mutants | Neo Joker | Neron | Nightslayer | Nocturna | Omega | Onomatopoeia | Orca | Outsider | Owlman | Phantasm | Penguin | Penny Plunderer | Phosphorus Rex | Planet Master | Poison Ivy | Polka Dot Man | Professor Arnold Hugo | Professor Pyg | Prometheus | Punchline | Ra's al Ghul | Ragdoll | Ratcatcher | Reaper | Red Death | Reverse-Flash | Riddler | Robin King | Roland Daggett | Roxy Rocket | Royal Flush Gang | Rupert Thorne | Saint Batman | Sal Maroni | Scarecrow | Sensei | Sewer King | Signalman | Simon Hurt | Sinestro | Snowman | Solomon Grundy | Spellbinder | Squid | Steeljacket | Suicide Squad | Talia al Ghul | Talon | Tally Man | Ten Eyed Man | Terrible Trio | Thomas Wayne | Tiger Shark | Timecode | Tony Zucco | Tweedledum and Tweedledee | Two-Face | Ubu | Vandal Savage | Ventriloquist | Ventriloquist II | Ventriloquist III | Vertigo | Victor Zsasz | Whisper A'Daire | Wrath | The Wonderland Gang | Zebra-Man
Theatrical Movies
Batman (1966): Joker | Catwoman | Penguin | Riddler
Batman (1989): Joker | Joker Goons (Bob Hawkins) | Alicia Hunt | Carl Grissom | Max Eckhardt | Vinnie Ricorso | Joe Chill
Batman Returns: Penguin | Red Triangle Circus Gang (Organ Grinder, Poodle Lady, Tattooed Strongman, Stungun Clown, Thin Clown, Fat Clown, Sword Swallower & Knifethrower Dame) | Max Shreck | Catwoman
Batman: Mask of the Phantasm: Joker | Phantasm | Salvatore Valestra | Arthur Reeves | Chuckie Sol | Buzz Bronski
Batman Forever: Riddler | Two-Face | Sugar | Spice | NygmaTech (Frogmen) | Neon Gang (Neon Gang Leader) | Salvatore Maroni
Batman & Robin: Poison Ivy | Mr. Freeze | Bane | Snowy Cones Thugs | Golums | Jason Woodrue
Batman Begins: Ra's al Ghul | League of Shadows (Ra's Decoy) | Scarecrow | Carmine Falcone | Victor Zsasz | Joe Chill
The Dark Knight: Joker | Joker's Thugs (Thomas Schiff, Chuckles, Kilson, Happy, Dopey, Grumpy & Bus Driver) | Two-Face | Sal Maroni | The Chechen | Gambol | Lau | Bank Manager | Michael Wuertz | Burmese Bandit
The Dark Knight Rises: League of Shadows (Bane, Talia al Ghul & Barsad) | Catwoman | John Daggett
Batman v Superman: Dawn of Justice: Lex Luthor | Doomsday | Anatoli Knyazev | Mercy Graves | Cesar Santos | Amajagh | Joe Chill | Superman | Zod | Joker | Steppenwolf
Suicide Squad: Eyes of the Adversary (Enchantress & Incubus) | Suicide Squad (Deadshot, Harley Quinn, Captain Boomerang, El Diablo, Killer Croc, Slipknot & Amanda Waller) | Joker's Gang (Joker, Jonny Frost, Panda Man & Monster T) | Griggs
The Lego Batman Movie: Joker | Harley Quinn | Phantom Zone Criminals (Zod, Sauron, Kraken, Lord Voldemort, Jaws & Gremlins) | Catwoman | Poison Ivy | Two-Face | Bane | Riddler
Joker: Clowns (Joker, Clown & Ambulance Clown) | Penny Fleck | Randall | Wall Street Three | Penny Fleck's Boyfriend

Direct-to-video Movies
Batman & Mr. Freeze: SubZero: Mr. Freeze | Dr. Gregory Belson
Batman Beyond: Return of the Joker: Joker | The Jokerz (Chucko, Dee-Dee, Ghoul, Bonk, & Woof) | Harley Quinn
Batman: Mystery of the Batwoman: Penguin | Bane | Rupert Thorne | Carlton Duquesne
The Batman vs. Dracula: Dracula | Penguin | Joker
Superman/Batman: Public Enemies: Lex Luthor | Major Force | Metallo | Amanda Waller | Toyman | Solomon Grundy | Gorilla Grodd | Killer Frost | Lady Shiva | Giganta | Mongul | Captain Cold
Batman: Under the Red Hood: Jason Todd | Joker | Black Mask | Ra's al Ghul | Riddler
Superman/Batman: Apocalypse: Darkseid | Female Furies (Granny Goodness, Gilotina, Mad Harriet, Lashina & Stompa) | Doomsday
Batman: Year One: Batman | Gotham City Police Department (Commissioner Loeb, Arnold John Flass, & Howard Branden) | Falcone Crime Family (Carmine Falcone & Johnny Viti) | Catwoman | Joker
Batman: The Dark Knight Returns: Batman | Joker | Mutant Leader | Ellen Yindel | Harvey Dent | Selina Kyle
Son of Batman: Deathstroke | League of Assassins (Ra's al Ghul & Talia al Ghul) | Ubu | Killer Croc | Man-Bats
Batman: Assault on Arkham: Suicide Squad (Amanda Waller, Deadshot, Harley Quinn, Captain Boomerang, Killer Frost, King Shark, Black Spider, KGBeast) | Joker | Riddler | Penguin | Scarecrow | Victor Zsasz | Bane | Two-Face | Poison Ivy
Batman vs. Robin: Court of Owls (Samantha Vanaver, Talon, Owls Lieutenant, & Talon Warriors) | Dollmaker
Batman Unlimited: Animal Instincts: Animalitia (Penguin, Killer Croc, Man-Bat, Cheetah & Silverback)
Batman Unlimited: Monster Mayhem: Joker | Scarecrow | Clayface | Silver Banshee | Solomon Grundy
Batman: Bad Blood: League of Assassins (Talia al Ghul, The Heretic, Onyx, Firefly, Tusk, Mad Hatter, Electrocutioner, Hellhound, Calculator, & Killer Moth) | Black Mask
Batman: The Killing Joke: Joker | Vinnie & Joe | Paris Franz
Batman Unlimited: Mechs vs. Mutants: Penguin | Mr. Freeze | Cheetah | Hush | Mad Hatter | Two-Face | Bane | Chemo | Killer Croc | Clayface | Joker | Dr. Kirk Langstrom
Batman: Return of the Caped Crusaders: Joker | Penguin | Riddler | Catwoman | Archer | Black Widow | Bookworm | Clock King | Egghead | False Face | King Tut | Louie the Lilac | Mad Hatter | Minstrel | Mr. Freeze | Sandman | Shame | Siren
Batman and Harley Quinn: Harley Quinn | Poison Ivy | Floronic Man
Batman vs. Two-Face: Two-Face | Hugo Strange | Catwoman | King Tut | Bookworm | Joker | Penguin | Riddler | Clock King | Egghead | Mr. Freeze | Shame | Harley Quinn
Scooby-Doo! & Batman: The Brave and the Bold: Riddler | Clayface | Joker | Mr. Freeze | Catwoman | Penguin | Harley Quinn | Poison Ivy
Batman: Gotham by Gaslight: Jack the Ripper | Barbara-Eileen Gordon | Selina Kyle | Harvey Dent | Hugo Strange
Suicide Squad: Hell To Pay: Professor Zoom | Suicide Squad (Amanda Waller, Deadshot, Harley Quinn, Captain Boomerang, Bronze Tiger, Copperhead, Punch, Jewelee, & Count Vertigo) | Killer Frost | Blockbuster | Silver Banshee | Vandal Savage | Scandal Savage | Professor Pyg | Tobias Whale | League of Assassins (Deathstroke) | Two-Face
Batman Ninja: Joker | Harley Quinn | Catwoman | Gorilla Grodd | Bane | Penguin | Poison Ivy | Deathstroke | Two-Face
Batman vs. Teenage Mutant Ninja Turtles: Foot Clan (Shredder & Baxter Stockman) | League of Assassins (Ra's al Ghul & Ubu) | Joker | Penguin | Harley Quinn | Mr. Freeze | Scarecrow | Two-Face | Poison Ivy | Bane
Batman: Hush: Riddler/Hush | Catwoman | Poison Ivy | Bane | Joker | Harley Quinn | Clayface | Scarecrow | Lex Luthor | Lady Shiva | Two-Face | Penguin | Mr. Freeze | Thomas Elliot
Batman: Soul of the Dragon: Nāga | Kobra (Jeffery Burr, Schlangenfaust, Lady Eve, King Snake & Rip Jagger) | Ben Turner | Shiva | Richard Dragon | Jade
Batman: The Long Halloween: Holiday | Falcone Crime Family (Carmine Falcone, Milos Grapa, Alberto Falcone, Johnny Viti, & Sofia Falcone) | Two-Face | Joker | Solomon Grundy | Salvatore Maroni | Poison Ivy | Penguin | Scarecrow | Mad Hatter | San Ho Hui (Mickey Chen) | Calendar Man | Catwoman

Television
Batman 60s show
Joker | Penguin | Catwoman | Riddler | Mr. Freeze | The Archer | Black Widow | Bookworm | Egghead | Clock King | Queenie Goldstein | Sandman | Dr. Cassandra Spellcraft | Cabala | Minstrel | Shame | False Face | The Siren | Undine | Chandell & Harry | King Tut | Louie the Lilac | Mad Hatter | Cornelia | Baby Jane Towser | Lydia Limpet | Zelda the Great | The Puzzler | Olga, Queen of Cossacks | Marsha, Queen of Diamonds | Lord Marmaduke Ffogg | Lady Penelope Peasoup | Ma Parker | Freddy the Fence | Lola Lasagne | Nora Clavicle | Colonel Gumm | Minerva | Killer Moth | Calamity Jan
1970s Filmation series
Joker | Catwoman | Penguin | Riddler | Clayface | Mr Freese | Sweet Tooth
Batman: The Animated Series
Joker | Two-Face | Harley Quinn | Penguin | Catwoman | Rupert Thorne | Riddler | Poison Ivy | Scarecrow | Mad Hatter | Killer Croc | Clayface | Ra's al Ghul | Mr. Freeze | Man-Bat | Ventriloquist and Scarface | Roland Daggett | Clock King | Bane | Hugo Strange | Lloyd Ventrix | Kyodai Ken | Baby Doll | Emile Dorian | Red Claw | Boss Biggis | Sewer King | Talia al Ghul | Maxie Zeus | Lock-Up | Professor Milo | Count Vertigo | Daniel Mockridge | Grant Walker | Gil Mason | Arkady Duvall | Fake Harley | Ferris Boyle | Arnold Stromwell | Tony Zucco | H.A.R.D.A.C. | Calendar Girl | Batman Clone
The Batman
Joker | Penguin | Bane | Catwoman | Mr. Freeze | Ethan Bennit | Killer Croc | Man-Bat | Firefly | Riddler | Punch & Judy | Kabuki Twins | Hugo Strange | Cluemaster | Ragdoll | Temblor | Poison Ivy | Tony Zucco | Count Vertigo | Harley Quinn | Maxie Zeus | Clayface | Gearhead | Francis Grey | Killer Moth | D.A.V.E. | Dracula | Rumor | Toyman | Mirror Master | Lex Luthor (DC)Lex Luthor | Black Mask | Sinestro | Joker 2.0 | Prank | Killgore Steed | Team Penguin | Julie | Spellbinder | Blaze | The Joining | Cosmo Krank | Marty Slacker | Scorn | Wrath
Batman: The Brave and The Bold
Joker | Music Meister | Catwoman | Penguin | Mr. Freeze | Clayface | Riddler | Poison Ivy | Lex Luthor | Flower Children | Harley Quinn | Morgaine Le Fey | Sweet Tooth | Queenie Goldstein | Bane | Kite Man | Black Manta | Gentleman Ghost
Beware the Batman
Anarky | Ra's al Ghul | Deathstroke | Two-Face | Killer Croc | Simon Stagg | Professor Pyg | Mr. Toad | Man-Bat | Cypher | Magpie | Lady Shiva | Tobias Whale | Phosphorus Rex | Lunkhead | Humpty Dumpty | Silver Monkey | Key | Bethany Ravencroft
Harley Quinn
Harley Quinn | Poison Ivy | Joker | Scarecrow | Queen of Fables | Darkseid | Parademons | Penguin | Mr. Freeze | Bane | Lex Luthor | Killer Croc | Man-Bat | Riddler | Deadshot | Solomon Grundy | Kite Man | Doctor Psycho | Clayface | King Shark | Sy Borgman | Doctor Trap | Frank the Plant | Felix Faust | Toyman | Metallo | Black Adam | Captain Cold | Gorilla Grodd | Black Manta | Cheetah | Giganta | Sinestro | Two-Face | Catwoman | Nick Quinzel | Sharon Quinzel
Video Games
LEGO Batman
Joker | Penguin | Riddler | Harley Quinn | Catwoman | Two-Face | Bane | Clayface | Killer Croc | Killer Moth | Mad Hatter | Man-Bat | Mr. Freeze | Poison Ivy | Scarecrow | Ra's al Ghul | Hush
Lego Batman 2: DC Super Heroes
Lex Luthor | Joker | Harley Quinn | Riddler | Two-Face | Catwoman | Bane | Penguin | Poison Ivy | Scarecrow | Captain Boomerang | Clayface | Mad Hatter | Ra's al Ghul | Killer Croc | Bane | Killer Moth | Mr. Freeze | Man-Bat | Hush | Zod | Sinestro | Brainiac | Gorilla Grodd | Captain Cold | Black Manta | Black Adam | Bizarro
Lego Batman 3: Beyond Gotham
Brainiac | Joker | Lex Luthor | Cheetah | Solomon Grundy | Firefly | Killer Croc | Sinestro | Atrocitus | Larfleeze | Star Sapphire | Composite Superman | Bane | Arkillo | Condiment King | Music Meister | Captain Cold | Black Adam | Black Manta | Black Hand | Bronze Tiger Cyborg Superman | Deadshot | Deathstroke | Lobo | Dex-Starr | Doomsday | Gorilla Grodd | Harley Quinn | Hush | Kalibak | Killer Moth | Man-Bat | Mad Hatter | Manchester Black | Metallo | Mr. Freeze | Mr. Mxyzptlk | Parasite | Penguin | Poison Ivy | Polka Dot Man | Red Hood | Riddler | Toyman | The Trickster | Ultra-Humanite | Catwoman | Bizarro | Amanda Waller | Captain Boomerang | El Diablo | King Shark | Killer Frost | Plastique | Terra | Zod | Faora | Joker | Two-Face | Ra's al Ghul | Bane | Catwoman | Scarecrow | Blight | Joker | Mr. Freeze | Arrow Deathstroke | Malcolm Merlyn | Darkseid
Injustice
Superman | Wonder Woman | Yellow Lantern | The Flash | Aquaman | Nightwing | Cyborg | Raven | Solomon Grundy | Catwoman | Bane | Black Adam | Deadshot | Poison Ivy | Scarecrow | Joker | Deathstroke
See Also
Arkhamverse Villains | Telltalle Batman Villains