The Sandman Will Keep You Awake - The Loop
Play Sound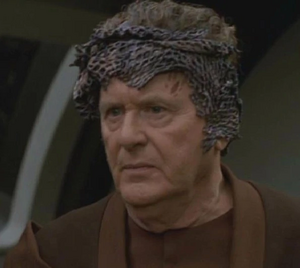 Jor Brel is the main antagonist of the Star Trek: Voyager episode "Remember".
He was portrayed by the late Eugene Roche, who also played Charlie Thorncrest in Foul Play and voiced Arnold Stromwell in Batman: The Animated Series.
Biography
Jor Brel ("Jor" appeared to be a title rather than a name) was a member of the Enaran race. The species had a relatively low level of technology but enhanced telepathic abilities. He was part of a group encountered by USS Voyager who accepted a ride home aboard the faster ship. During the journey, Brel used his telepathic abilities to help Janeway operate a musical instrument, apologising when it became clear she hadn't intended him to do so.
However, the older Enarans were hiding a secret. Decades earlier, the Enaran authorities had decided to eradicate the regressives, a culture who lived outside the cities and shunned modern technology. They had been forcibly relocated, supposedly to a colony but in reality massacred, with those who resisted being publicly executed. The incident had been buried, with the official history stating that the regressives had all died of disease because of their lack of medical knowledge.
When Torres began experiencing the memories of Korenna Mirell, another member of the group, during her sleep, she, Janeway and Tuvok spoke to Brel about it. Brel acknowledged it was probably the result of Enaran telepathy but claimed that Torres was not experiencing real events but a narrative formed by her own mind from different people's experiences. In truth, he had realised what Mirell was doing. That night, Mirell died in her quarters, probably murdered by Brel and the other older Enarans, but not before showing Torres the whole story.
As Voyager arrived in orbit around Enara, Torres publicly confronted Brel in the mess hall about both the massacre and the death of Mirell. Brel dismissed her claims and quickly left the room. Janeway believed Torres and cut all ties with the Enarans, intending to leave as soon as they were off the ship. Before they did so, Torres shared Korenna's memories with one of the younger Enarans, Jessen, and encouraged her to find out the truth.

Villains
Movies
Star Trek: The Motion Picture: V'Ger: Klingons ( Barak )
Star Trek II: The Wrath of Khan: Augments (Khan & Joachim)
Star Trek III: The Search for Spock: Klingons (Kruge, Torg, Maltz) | Valkris
Star Trek IV: The Voyage Home: Whale Probe | Kamarag
Star Trek V: The Final Frontier: The One | Klingons (Klaa & Vixis) | Sybok
Star Trek VI: The Undiscovered Country: Khitomer Conspiracy (General Chang, Nanclus, Valeris, Admiral Cartwright, Patrick West, Harlan Burke, Thomas Samno)
Star Trek Generations: Tolian Soran | Klingons (Lursa & B'Etor)
Star Trek: First Contact: The Borg (Borg Queen)
Star Trek: Insurrection: Son'a (Ahdar Ru'afo & Gallatin) | Matthew Dougherty
Star Trek: Nemesis: Remans (Shinzon, Viceroy, Tal'aura, Suran & Donatra)
Star Trek (2009): Romulans (Nero & Ayel)
Star Trek Into Darkness: Khan | Alexander Marcus
Star Trek Beyond: Krall | Manas | Kalara
Television
Adam Soong | Ah-Kel | Alixus | Anan 7 | Apollo | Arctus Baran | Ardra | Arik Soong | Armus | Arne Darvin | Arthur Coleman | Augris | Automated Unit 3947 | Khan | Ba'ul | Balok | Banean Doctor | Barjan T'Or | Basso Tromac | Ben Finney | Benjamin Maxwell | Beta XII-A entity | Bok | The Borg | Bothan | Bractor | Broca | Brunt | Cal Hudson | Cardassian Union (Dukat, Damar & Cardassians) | Charlie Evans | Chu'lak | Claudius Marcus | Clown | Colonel Grat | Colonel Phillip Green | Crell Moset | Crystalline Entity | Culluh | Cyrus Redblock | D'Ghor | D'Nesh | Damrus | Danby Connor (MU) | Devinoni Ral | Denevan parasites | Dereth | Dexter Remmick | Doctor Chaotica | Dolim | Dr. Janice Lester | Dular Garos | Duras | Ekosian SS (Melakon) | Elim Garak (Mirror Universe) | Ellen Landry | Equinox EMH | Erik Pressman | Evil Kirk | Fallit Kot | Gabriel Lorca (MU) | Garth of Izar | Gary Mitchell | Gorgan | Gorn | Female Changeling | Gowron | Grebnedlog | Hagath | Harry Mudd | Henoch | Hikaru Sulu (MU) | Hoshi Sato (Mirror Universe) | House of Duras | Ibudan | Ilon Tandro | Imperial Starfleet | Ira Graves | J'Dan | Jabin | James Leyton | James T. Kirk | Jaro Essa | Jem'Hadar | Jev | John Frederick Paxton | John Gill | Jonathan Archer (Mirror Universe) | Jor Brel | Joran Dax | Julian Bashir (Changeling) | J'Vini | Karnas | Kathryn Janeway (Kyrian Recreation) | Kar Kantar | Kazon | Kell | Kennelly | Keyla | Kieran MacDuff | Kila Marr | Kira Nerys (Mirror Universe) | Kivas Fajo | Kodos the Executioner | Kol | Kol-Sha | Koloth | Konmel | Kor | Korok | Korris | Kras | Krax | Kunivas | Kyril Finn | L'Rell | Landru | Lazarus | Leland | Lenore Karidian | Letek | Locutus | Locutus | Lon Suder | Lore | Lurin | Lutan | Luther Sloan | M-113 Creature | Maab | Madred | Malcolm Reed (MU) | Malon | Maras | Marla McGivers | Martok (Changeling) | Martus Mazur | Matthew Harris | Matthew Ryan | Maxwell Burke | Mazarites | Menos | Michael Eddington | Michael Jonas | Miles O'Brien (Changeling) | Morag (Klingon) | Na'kuhl | Nagilum | Navaar | Neela | Neral | Neural Parasites | Nomad | Norah Satie | Nyota Uhura | Oracle of the People | Patar | Paul Stamets (MU) | Pavel Chekov (Mirror) | Pe'Nar Makull | Philippa Georgiou (MU) | Professor Moriarty | Q | Rao Vantika | Razik | Redjac | Regent of Palamar | Dr. Roger Korby | Rojan | Romulan Commander (Balance of Terror) | Ron Tracey | Rota Sevrin | Rudolph Ransom | Ruon Tarka | Sabin Genestra | Sela | Seska | Seven of Nine (KR) | Sharat | Shran | Silaran Prin | Silik | Sobi | Spawnmother (2364) | Sphere-Builders | Spock (Mirror Universe) | Sulan | Surata IV Vine | Sylvia Tilly | Sylvia (Ornithoid) | T'Kuvma | T'Paal | Tahna Los | Talosian Keeper | Talosians | Tarah | Tarr | Tedran | Terra Prime | The Albino | The Doctor (Kyrian Recreation) | Thot Gor | Thot Pran | Tomalak | Toral | Toran | Trabe | Traeg | Travis Mayweather (MU) | Trekal Darhe'el | Trelane | Tret | Tristan Adams | Ulis | Ux-Mal Entity | V'Las | V'latak | Vaal | Vaatrik Pallra | Valdore | Verad Kalon | Ves Alkar | Voq | Wesley Crusher | Weyoun | William Ross | Winn Adami | Worf (Mirror Universe) | Yuta | Zorn
Comic Books
Alfred Bleikoff | Enab
Novels
B'orel | Darok | Dralath | Dovraku | Kazanak | Korak | Krit | Lokog | Mettus | Romulan Praetor (2280s) | Spawnmother (2376) | Tron | True Sons of Antar | Valak | Zakal