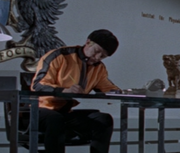 Josef is a minor antagonist in the 1969 James Bond film On Her Majesty's Secret Service. He is a guard at the Piz Gloria clinic, which is in reality a front for the criminal organization SPECTRE. He was portrayed by Joseph Vasa.
Biography
Josef greets MI6 agent James Bond, who is at the sham clinic investigating Ernst Stavro Blofeld, when he arrives at the Piz Gloria, scheduling him a meeting with "the doctor" (in reality Blofeld). During the first half of the film, Josef is constantly seen in the background, at one point putting through a phone call warning Blofeld that Bond's ally Shaun Campbell is scaling the mountain to Piz Gloria, resulting in his capture. Josef then puts another call through ordering his execution.
While escaping from Piz Gloria, Bond encounters Josef, who attacks him. During the fight, Bond knocks Josef unconscious, leaving him with a nasty cut on his face, before leaving him tied up and gagged in the cupboard. Josef is not seen again after this, but it's likely that he died when Piz Gloria was destroyed in the final battle.

|

Villains
Community content is available under
CC-BY-SA
unless otherwise noted.