Doctor Strange in The Multiverse o Madness - The Loop
Play Sound
Joseph Altman is a major antagonist in the WB TV series Smallville, serving as the main antagonist of the Season 3 episode "Hereafter".
He was portrayed by Greg Kean.
Biography
Early life
Joseph Altman's daughter Julia was a cheerleader at her junior high school and was close friends with Lana Lang and Megan Calder. One night, Julia was tragically hit by a car and severely injured.
She was not expected to recover, but Joseph kept his daughter on life support for years.
Season Three
Sadly, Joseph made the hard decision to take Julia off life support. Joseph tried to carry on with his life and worked at Smallville High School as a cross-country running coach.
During a PE class, Lana approached Coach Altman and tentatively asked the coach if there was anything she can do, but he seems extremely depressed and just replies that no one can do anything.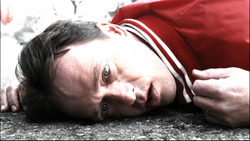 Coach Altman approached Jordan Cross and put a hand on his shoulder asking him when he's going to join the team.
Jordan, a metahuman student with the power of tactile precognition, had a vision of the coach standing directly in front of an oncoming car being hit head on. Upset by now, Jordan ran away from the field.
Coach Altman was deeply depressed and could not cope any longer, deciding to commit suicide. Clark Kent witnessed Altman step into the path of an oncoming car and dashed out into the road, pulling the coach out of the way. Coach Altman dissolved into tears, saying he just wanted to be with his little girl.
The coach was later hospitalized and kept under sedation. While recovering, Megan Calder and Lana Lang visited him and he overheard the two talking about the night of Julia's accident.
He was unconscious when Megan cried at his bedside lamenting that she and Julia were fighting the night of the accident and she blames herself.
Lana tried to comfort her, noting that she didn't go after her either. Lana lead Megan away and Coach Altman awakens as they leave. Upon recovery, Mr. Altman decided that Julia's death was Megan and Lana's fault.
After leaving the hospital Mr. Altman ambushed Lana and Megan, knocking them out and taking them back to his house. He kidnapped both of them and took them to his basement that held a collection of photographs and mementos of his daughter.
Coach Altman tied both girls up and planned to kill them and himself by burning them alive in his basement.
He says that he heard Megan confessing in the hospital and now he blames them for Julia's death and intends to set the basement on fire to avenge his daughter. He starts the fire just as Clark and Jordan arrive. Clark instructs Jordan to stay in the car and went to rescue the girls.
He gets Lana loose as Altman tries to pull him away. Altman tried to stop Clark, but Clark threw him against a wall. Clark pushes him away as Jordan arrives and frees Megan. Altman attacks Jordan who is stunned by multiple touches.
However, Jordan's vision corresponds with reality, indicating that he sees Altman's own death. Altman is last seen crawling away further into the burning house.
After the girls are safe, Clark reenters the basement to rescue Jordan, who is unconscious and carries him out. Clark attempted to save Coach Altman as well, but he was unable to locate him before the house exploded.

Villains
Protagonists