Jafar says: Read my lips and come to grips with the reality!


This article is a stub and is in need of expansion. You can help Villains Wiki by expanding it.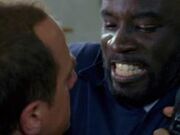 Joseph Serumaga, also known by the alias Samuel Mbazzi and by his nickname, "The Devil of Gulu", is the main antagonist of the Law & Order: Special Victims Unit episode "Hell".
He was portrayed by Mike Colter.
Biography
Serumaga is a former soldier in the Lord's Resistance Army of Uganda. After burning a church with 12 people in it, he was known as The Devil of Gulu. In an attempt to evade authorities, he hid out in New York City under the name Samuel Mbazzi, posing as a simple janitor and refugee. His cover was ruined, however, when his former sex slave, Miriam Burdett, saw him and pointed him out to another former LRA soldier, Elijah Okello, who swore he would kill Serumaga for what he done to her. However, while Okello went looking for him, Serumaga tracked down Miriam and slashed her throat in order to try and silence her. She survived, ironically because he left her to freeze to death, and the cold air slowed down her blood flow enough to stop her from bleeding to death. The Special Victims Unit soon found Mbazzi, and he was handed over to the United Nations' International Criminal Court to be tried for his crimes.
Community content is available under
CC-BY-SA
unless otherwise noted.