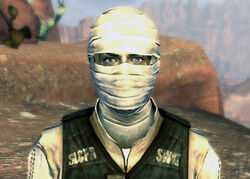 Joshua Graham was a member of Caesar's Legion who used to be the Legate (military leader), and was "executed" brutally prior to the events of Fallout: New Vegas for losing Hoover Dam to the NCR. He miraculously survived.
History
The canonical version of Graham went on to become a heroic Christian who would defend the tribals of Zion Valley from the White Legs. However, in the cancelled version of Fallout 3 known as Van Buren for which the character was originally conceived, Graham would have been a bitter, sociopathic and actively subversive villain of a follower who would do everything in his power to hinder the player's interactions with others if he was brought along, requiring the player to have excellent negotiation skills if things weren't going to turn violent with him around when they wouldn't otherwise. For instance, having him around would cause the tribals in the game to be hostile as he would anger them and even try to kill them. Also, he would have been the "Hanged Man" instead of the "Burned Man", and would have been encountered hanging from a noose, somehow still alive and asking to be cut down. Again, however, this version of Graham is not canon.
Community content is available under
CC-BY-SA
unless otherwise noted.