She-Hulk Trailer Dropped - The Loop
Play Sound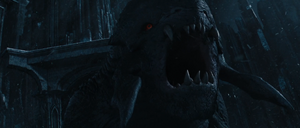 The Jotunheim Beast is a recurring antagonist in the Marvel Cinematic Universe, It serves as a minor antagonist in the 2011 film Thor, and its 2013 sequel Thor: The Dark World. It is a large monster that is native to the planet Jotunheim (the home of the Frost Giants).
Role
Thor
A Jotunheim Beast first appeared in the film, serving as the pet of the Frost King Laufey. When Thor prepares to ascend to the throne of Asgard, he was interrupted when Frost Giants attempt to retrieve the Casket. Against the orders of his father Odin, Thor travels to Jotunheim to confront Laufey, accompanied by his brother Loki, childhood friend Sif and the Warriors Three (Volstagg, Fandral, and Hogun).
Having expected their arrival, Laufey and his Frost Giants gave them an unwelcome visit, but also gave them a chance to leave. At first Thor and his friends are about to leave, but when Hailstrum taunts Thor by calling him a "little princess", this provoked an angry Thor to use his hammer to smack Hailstrum in the head, crushing his skull instantly. This event is what led to brief fight against the Frost Giants and the fracture of the truce between the Asgardians and the Frost Giants. During the fight, Laufey summons the Jotunheim Beast to attack the Asgardians and finish them off. The Jotunheim Beast was able to corner Loki, Sif and the Warrior Three on a large cliff, but Thor uses his hammer to strike the monster through the mouth, killing it and sending its corpse falling off the cliff, much to Laufey's anger.
Thor: The Dark World
Another Jotunheim Beast made a cameo in the film, where it was disturbed by the battle between Thor and Malekith (the leader of the Dark Elves) during the Convergence. It tried to attack both Thor and Malekith, but this causes the ledge to break, sending all of them falling. However, the powers of the Covergence took in effect, and the Jotunheim Beast ended up in London, where it rampaged for two days. It is unknown what happened to it afterwards following Malekith's death.
Villains